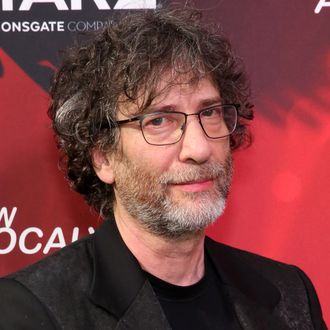 Photo: Robin Marchant/Getty Images for Starz
At your fervent behest, author Neil Gaiman has turned on his magic beam (that guy's gotta have one at this point, right? If anyone does!) and sent you a dream: a television adaptation of his iconic DC Comics series The Sandman. According to The Hollywood Reporter, Netflix has reportedly made a "massive financial commitment" to bring Gaiman's cult favorite Vertigo comic, which follows the story of Dream, one of a group of immortal entities known as the Endless, to the streaming platform as a live-action television show.
Wonder Woman writer Allan Heinberg is reportedly onboard to write and act as showrunner on the series. THR says "a formal deal has not yet closed," but between Fox's Lucifer, Starz's American Gods and Amazon's Good Omens, it would be a nightmare to let any beloved Neil Gaiman property slip through their fingers at this late hour.
Update: On Monday, Netflix confirmed this weekend's reports by officially announcing a ten-episode order for the rumored Sandman series.
"We're thrilled to partner with the brilliant team that is Neil Gaiman, David S. Goyer and Allan Heinberg to finally bring Neil's iconic comic book series, The Sandman, to life onscreen," Netflix's Vice President of Original Content Channing Dungey said per Variety. "From its rich characters and storylines to its intricately built-out worlds, we're excited to create an epic original series that dives deep into this multi-layered universe beloved by fans around the world."