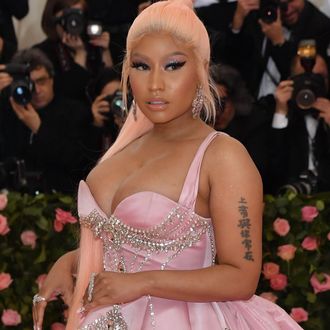 Photo: ANGELA WEISS/AFP/Getty Images
After accepting an invitation to headline the Jeddah World Fest in Saudi Arabia on July 18, Nicki Minaj has cancelled her performance in the ultraconservative kingdom. But on Friday, the Human Rights Foundation wrote an open letter to Minaj asking her not to perform, citing Saudi Arabia's record on human rights. It seems that since then Minaj has had a change of heart, announcing on Tuesday she had changed her mind about appearing at the festival. "After careful reflection I have decided to no longer move forward with my scheduled concert at Jeddah World Fest," she said in a statement.
"While I want nothing more than to bring my show to fans in Saudi Arabia, after better educating myself on the issues, I believe it is important for me to make clear my support for the rights of women, the LGBTQ community and freedom of expression." In response to disappointed fans, the rapper held something of an informal Q&A on Instagram, where she interacted with a number of Saudi fans who were upset by her decision. In response to one who suggested her performance would "push boundaries," the rapper responded "and what would I wear?"
On Twitter, Minaj appeared to explain herself more, invoking the recent arrest of A$AP Rocky in Sweden as an example. "I performed in Jamaica before & when i got off the stage I was surrounded by police with guns drawn," the rapper wrote. "They were ready 2 take me to jail b/c they said I forgot to bleep a couple curses…. I could make one mistake & go to jail in a diff country where women have no rights. #FreeAsap"
She also continued to seek out answers about life in Saudi Arabia from her female and LGBTQ fans there, retweeting statements and questions and asking her followers "true or false?" Later, she said she would seek out more information from the Saudi government.