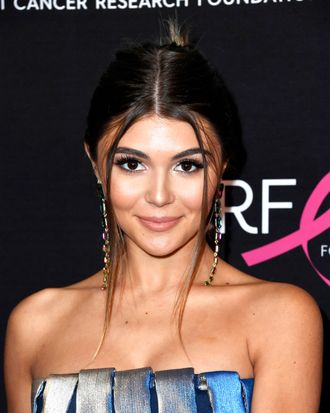 Olivia Jade Giannulli posted on Instagram for the first time in months for her mother's birthday.
Photo: Frazer Harrison/Getty Images
They're baaaaack. After a months-long hiatus from posting, both of Lori Loughlin's daughters emerged on Instagram over the weekend to wish their mother a happy birthday. Neither daughter had posted since her parents, actress Lori Loughlin and designer Massimo Giannulli, were each charged with a count of conspiracy to commit mail fraud and honest-services mail fraud, a felony charge, in Operation Varsity Blues.
Bella Gianulli posted on her mom's actual birthday, sharing a black-and-white photo of the two. "happy birthday mama. I love you ❤️," she captioned the picture. How sweet.
Her younger sister, influencer Olivia Jade, followed suit with a belated post. Comments on both posts are "limited," according to an Instagram notification. Meaning you won't find anything aside from heart emoji and good vibes in response to either post.
Since the world's on fire and that time a whole bunch of rich, hot people got caught bribing their children's way into college feels like it was years ago, here's a quick refresher. Loughlin and Giannulli and more than 45 other people were charged in the scandal back in March. The couple later rejected a plea deal that carried a maximum of 24 months of jail time. Instead, they pleaded not guilty. (Actress Felicity Huffman and 13 others pleaded guilty, with prosecutors recommending four to ten months along with a $20,000 fine and restitution costs.)
Bella and Olivia Jade were both enrolled at the University of Southern California after being admitted as recruits to USC's crew team. (Neither daughter ever actually rowed, and their applications included photos of them posing on ergometers.) Their parents paid half a million dollars to get the girls into the school. At one point, Olivia Jade's guidance counselor asked about Bella's admission as a rower. The counselor "was concerned their [Olivia and her sister's] applications may have contained misleading information," according to court filings. It remains unclear if the Giannulli daughters were in on their parents' scheme. (For our comprehensive list of which kids knew what, click here.)
Olivia Jade was reported to have withdrawn from USC, but the university said in a statement that it has "placed holds on the accounts of students who may be associated with the alleged admissions scheme." Those students cannot withdraw or get records of their transcripts until investigations are complete, at which point the university says it will "take the proper action related to each student's status, up to revoking admission or expulsion."
Hallmark parted ways with Lori Loughlin following the scandal. Her show When Calls the Heart is on "creative hiatus." Nor is she going to appear in further episodes of Netflix's Fuller House. Brands including Sephora and Estée Lauder similarly parted ways with Olivia Jade.
Mossimo Giannulli's birthday was in June, for the record. It apparently did not warrant posts from his daughters.