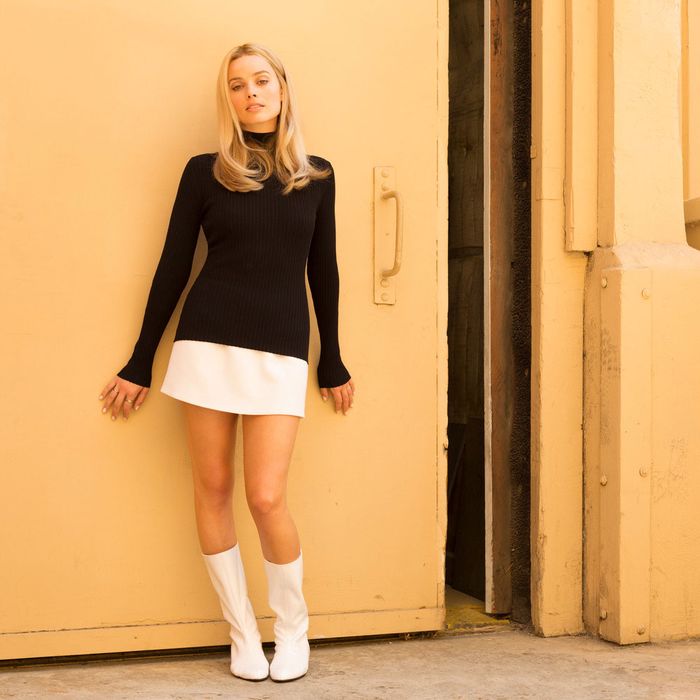 Photo: Andrew Cooper/Columbia Pictures
Back in May, at the Cannes press conference for his new film Once Upon a Time in Hollywood, Quentin Tarantino got testy with a New York Times reporter who asked about the fact that Margot Robbie's Sharon Tate has relatively few lines of dialogue in the film. The only response the director had was to snap, "I reject your hypothesis," before sitting there silent and stone-faced as Robbie chimed in with a more nuanced and detailed answer. "I did feel like I got a lot of time to explore the character without dialogue," the actress said. "Rarely do I get an opportunity to spend so much time on my own as a character."
That might sound like a bit of public diplomacy on Robbie's part, but she's correct. And it's also absurd for Tarantino to reject the reporter's "hypothesis," since Robbie's character is often pointedly silent in the film, even during some of her key scenes.
How much of the picture is she in? Not a ton, though she's in it enough to justify Robbie's third billing. Most of the movie focuses on fading star Rick Dalton (Leonardo DiCaprio) and his stunt double Cliff Booth (Brad Pitt), with Sharon Tate's story line as a young actress with a famous director husband representing the other side of the coin: She's a performer who is on the rise, with a seemingly bright future.
Robbie is excellent, and she has at least one amazing scene that might be the movie's high point. But the reporter's question is a valid one, and Tarantino, had he been listening carefully, might have been able to offer some insights on how he's chosen to depict Sharon Tate, and what that reveals about stardom in 1960s Hollywood (and maybe even today). Because in the film, Tate is a character who is often looked at and talked about but who rarely has a voice. This also aligns with the shape her career had taken at the time: While she had a lot of talent, she was often cast for her beauty, and was often known more for her photo shoots than for her performances.
The first several times we see Sharon, she is mostly quiet but talked about and watched by others: Rick sees that she and Polanski have moved in next door, and he's excited about what that might mean for his career. Later, we see Sharon and Polanski drive to a pool party filled with Playboy Bunnies. There, Steve McQueen (Damian Lewis) sees how close the couple remain with Sharon's former fiancé Jay Sebring (Emile Hirsch) and remarks that she clearly has a type: "Cute, short talented guys who look like 12-year-old boys." McQueen then adds, wistfully, "Yeah, I never stood a chance."
Later, when Charles Manson (Damon Herriman) shows up at Jay's house looking for his old pal, Beach Boy Dennis Wilson, Sharon shows up at the door and she and Manson exchange a brief glance, which seems quite eerie given what we know eventually happened to the real Sharon Tate. (This, by the way, is the only time we see Charles Manson in the film.)
Sharon is even largely quiet during her biggest scene, which might be the film's most moving part. One afternoon, she sees a movie theater showing the Dean Martin action comedy The Wrecking Crew, in which she has a supporting part. She looks lovingly at her name on the poster, and the lobby cards featuring images of her. She buys a ticket, hoping that the girl in the booth might recognize her. She doesn't, so Sharon awkwardly asks how much her ticket will be if she's "in the movie." The employees still don't really recognize her — there's a funny exchange in which they try to remember the part Sharon played in The Valley of the Dolls — but they eventually let her in and even take a picture of her standing next to the poster, so that people will know who the hell she is.
Then, we see Sharon settle into the theater and we watch her watching her movie, beaming proudly whenever someone in the audience chuckles at one of her sight gags or lines. During one of The Wrecking Crew's fight sequences (which are taken from the real film, featuring images of the real Sharon Tate), we even see a brief flashback to the martial-arts training she received from Bruce Lee (which is a thing that actually happened in real life). This whole section is one of Once Upon a Time in Hollywood's most moving parts, but again, Sharon doesn't get much dialogue. Margot Robbie does remarkable work here, and she uses pretty much just her face to do it. We're sitting in a movie theater, watching Margot Robbie as Sharon Tate sitting in a movie theater, watching the real Sharon Tate on the screen.
Still, this is a movie about the Manson murders, and Sharon Tate is pretty much the face of the Manson murders. So there must be more of her, right?
(Warning: some spoilers ahead, so only proceed if you have no problems with vaguely knowing how the movie ends.)
We do see Sharon Tate a bit in the film's final scenes, but, surprisingly, not all that much. As he did with Inglourious Basterds, Tarantino rewrites history here. Without going into too much detail, Once Upon a Time's conclusion is very gruesome, maybe even cathartic, but it also has the effect of denying Sharon Tate much of a role in a movie purportedly about the tragedy that came to signify her life. In a way, Tarantino's decision to tie up his movie this way feels like a letdown, and another reason why we feel like we don't see enough of Sharon throughout.