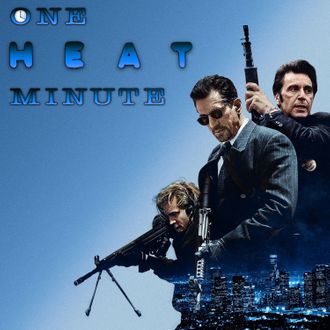 One Heat Minute is one of those things that can be really hard to explain to people who aren't already predisposed to what's on offer. In many ways, it's not unlike trying to get someone into sports, or religion. Indeed, religious analogies aptly apply to this podcast project of epic proportions: Each episode echoes the feel of a daily devotional, though instead of the Almighty, the subject being worshipped is Heat, Michael Mann's 1995 cat-and-mouse classic that brought Al Pacino and Robert De Niro together on the silver screen for the first time.
An epic vessel of film appreciation, One Heat Minute is defined by its obsessive structure, in which each episode is dedicated to unpacking, analyzing, and celebrating a different minute of the movie. The podcast was created by Blake Howard, an Australian film critic and Heat superfan, who launched the podcast back in August 2017 after being prodded into the idea by a friend and fellow critic. The early episodes, which featured Howard and rotating guest list of friends, can broadly be described as the epitome of what a lot of people tend to think about when they think about podcasts: barely edited recordings of people sitting around talking enthusiastically about something they really enjoy. But just because something fits a few predictable tropes doesn't necessarily inhibit it from transcending them.
And I do think One Heat Minute transcends them. Over the course of the podcast's two-year run, Howard remained admirably committed to the conceit. Through the repetitive structure of the format, which engendered something fascinatingly close to meditation, he would go on to discover new dimensions to the film, over and over again. He would also expand the nature of the guest list. It grew to include a broader ensemble of fellow film critics and Heat superfans from around the world, including Manohla Dargis, K. Austin Collins, and Vulture's own Bilge Ebiri and Matt Zoller Seitz. At a few points, Howard would throw unexpected and really intriguing guest-booking curveballs, as he did when he brought on a suicide-prevention expert to discuss Natalie Portman's character in the film. The roster would eventually even include people who actually worked on Heat, including editor Pasquale Buba, whose guest spot on One Heat Minute turned out to be one of his final media appearance before his death last September.
Howard's adventure reached its conclusion last week, when he dropped the final episode covering the final synth-filled minute of the movie. And he did so with what amounts to an apotheosis: having Michael Mann himself call in for an interview.
In case you're wondering, the movie runs for exactly 166 minutes, not including credits, which is precisely how many official episodes Howard published over the podcast's two-year run. He also published a few extras, bringing the total number of actual One Heat Minute installments up to 177. (Interestingly, when you include credits, Heat runs for 172 minutes.)
One Heat Minute's achievements are impressive, but it should be noted that the project itself isn't quite unprecedented. To begin with, you could broadly group the project together with the wide universe of culture podcasts, already rich with reappraisal shows, like The Greatest Generation. There is also, specifically, a fairly robust subgenre of film podcasts that applies the minute-by-minute structure to various movies with considerable fandom. (The Ringer's Ben Lindbergh published a great piece in January 2017, called "The Microculture Is Coming," which identifies Star Wars Minute as the Ur-text of this subgenre.) Furthermore, the repetitive, stunt-obsessional construct of One Heat Minute is also reminiscent of The Worst Idea of All Time, a popular podcast in which the Kiwi duo Tim Batt and Guy Montgomery mine a good deal of comedy from rewatching and rereviewing the same movie every week week for a full year. (The film currently on tap: Sex and the City.)
What makes One Heat Minute distinct, though, is the sheer, unfiltered sincerity with which Howard conducts the proceedings. Howard is a true believer in the power of film and this film specifically. Heat is his means of bringing people together, accessing their worldviews, and cultivating a sense of solidarity. And he does so with enviable conviction. "Sometimes you get this perfection, you know," Howard told KQED's Carly Severn in a September 2018 interview. "It's like, it was made to be examined. It was made for me to have a conversation about."
I'm envious. Look, I'm not the type of person who would be prone to religious feeling, nor would I consider myself a Heat superfan. I am, at best, somewhat agnostic to both those things, though I do enjoy Pacino a lot more than church. But I look at the committed intensity of One Heat Minute, and I think to myself, Man, I wish I had what that guy has. I might not share Howard's predisposition, but I can definitely appreciate his process.