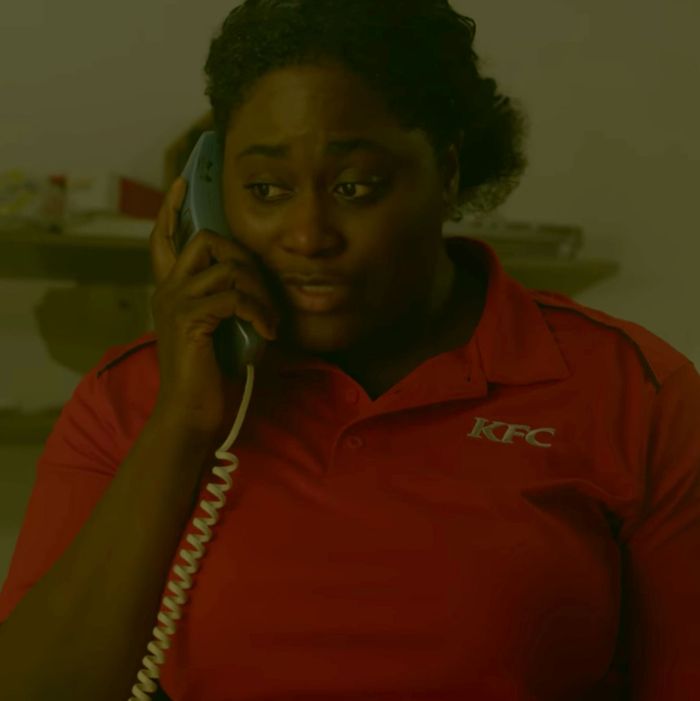 Spoilers ahead for Orange Is the New Black's final season.
There is no way Orange Is the New Black could end without a Poussey Washington moment. The most beloved character of the series always lit up the screen as much as the prison yard, crushing hearts when she died in the fourth season, choked by a prison guard.
It takes Poussey (Emmy-winning Samira Wiley) and her inner joy to help her best friend Tasha "Taystee" Jefferson (Danielle Brooks) emerge from the darkness that plagues her mind throughout the seventh and final season, after wrongfully being sentenced to life in prison for killing a guard during the prison riot. Taystee has spent most of the season contemplating suicide, going as far as trying to hang herself in her cell and buying poison.
In a flashback to the short period of time Taystee was out of Litchfield in the first season, "The Big House" features a short but spirit-cleansing phone call between friends. Taystee has just learned that she has nowhere to live and is in despair when the phone rings. "You gotta hold on a little longer than you think you can, 'cause there's good shit working its way to you that you don't even know about," Poussey says, trying to boost her bestie. The memory strikes Taystee as she's walking back to her cellblock, poison in hand, presumably about to swallow it.
"Poussey's name came up a lot with Taystee's story," executive producer Tara Herrmann told Vulture. "And Samira's just a joy. She's actually a close friend of mine as well. We missed her on set. She has such a life about her and creates a lot of harmony on set, so it was nice to have her back. The sets from the old jail camps were destroyed when we moved on to max, but the place where we shoot our stages had kept the phone bank as a museum piece, which we were so grateful for because we used it twice in the final season, including Poussey's piece."
As Taystee begins to feel like herself again, she teaches financial literacy at the prison and creates a fund in Poussey's name to give microloans to women about to be released from prison. In real life, producers also announced the Poussey Washington Fund, which will support eight nonprofit advocacy groups that focus on criminal-justice reform, protecting immigrants' rights, ending mass incarceration, and supporting women who have been affected by it.
"I think her story was obviously so moving and inspiring, and we're happy that there's something that exists that can continue to remind us of it," Hermann said.