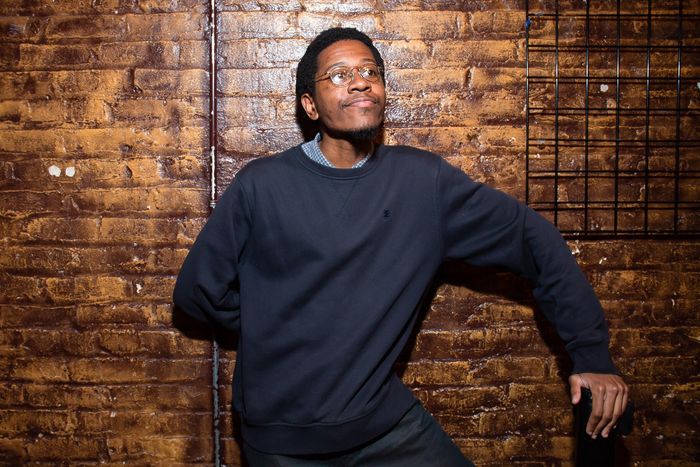 Otto Fernandez.
Photo: Jenni Walkowiak
Otto Fernandez (@OttoFernandez) is a stand-up comedian and writer born, raised, and based in New York City. He hosts a monthly show, Comics Booked at Carmine Street Comics, at — you guessed it — Carmine Street Comics in the West Village.
This week, Otto and I talked One Tree Hill, being a drama-club kid, and saving money for your future self.
I've been on Twitter for eight years. I'm coming up on five years as a stand-up comedian, so I've followed and continue to follow comedians I like and admire on Twitter. Some of them don't follow me back, and they're not obligated to. With that being said, if I can turn being not followed into a flex, I'm gonna do it. Let me own my slept-on-ness, my overlooked-ness, my deep-seated need for validation … ness.
What made you pursue stand-up?
There's a story behind this. I was attending the New York Conservatory for Dramatic Arts, pursuing film and television acting. My last semester there, all the students had to pick an elective. I chose stand-up because it seemed the most interesting and fun out of all the options. So, for eight weeks, me and eight other students are in this stand-up course taught by Rick Crom. At the end of the course, we did a stand-up showcase for other students, faculty, and family doing the material we'd been working on for eight weeks. I was shitting bricks onstage, but I was funny.
All right. Fast-forward. I graduate. I'm working as a cook in a fried-chicken restaurant. And that's all I'm doing.
I've always needed a creative outlet. I would draw as a kid. I was in drama club in high school. I need that creative outlet. So I got to a point where I was like, "I need to do something." And stand-up turned out to be that thing.
Has Twitter been a good platform for your comedy?
A bunch of people are retweeting my recent "Offset should be Blade" tweet, so a resounding yes.
Black people in America are doing new things with language all the time — introducing new slang and terms that become part of the lexicon. Remember "On fleek?" Is everyone we know not having a Hot Girl/Boy/Person Summer? We shape culture just by saying shit. That's crazy. Anyway, I'm sure this extends to British black people too. But they're British, so I like to imagine that they're mad proper, even when using slang.
Do you think that POC are having a moment in comedy right now? Or is it just that the industry is finally acknowledging talent that always existed?
I wouldn't call it a moment, because moments end. It's definitely the industry finally acknowledging POC. And that's kind of annoying. The industry is always "finally" giving black folks and people of color their due. We keep killing shit, and they keep needing to be convinced of our killing of shit. That being said, I'd say the industry is recognizing more and more that we kill shit on the regular. I want that to continue forever.
What advice would you give someone who is interested in doing comedy? What advice would you give your younger self?
Go to open mics! Record your sets and listen to them afterwards! Don't be a dick! To others or to yourself. If that last part sounds vague, I am not the best at giving advice. But I'm in a Vulture interview, soooooo, there are worse people to listen to.
As for my younger self … Yo, Past Otto. Save. Every. Dollar. You. Make. Future Otto is struggling out here. Also, the world is ending. So that sucks.
White people make TV shows. It is what is. But sometimes these shows are great. I feel this way about One Tree Hill, but whenever I talk about television with friends — my black friends in particular — I'll bring up One Tree Hill and they'll tell me it's "too white." To each their own, but I really feel like Chad Michael Murray can come to the cookout. And Antwon Tanner too! He was Skills, man.
Tell us about your other favorite white-people TV shows.
Okay, so you already know I fuck with One Tree Hill. I also fuck with Halt and Catch Fire. Supernatural. Stella was fire. That's all I'll share.