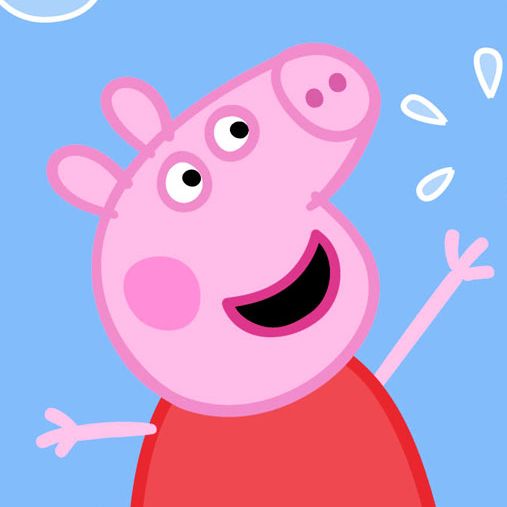 "All I have to say is, you are welcome!"
Photo: Vulture, Entertainment One and Getty Images
No matter how old you are, chances are you've heard of Peppa Pig. For a decade and a half, the titular character from the long-running British series Peppa Pig — which airs on Nick Jr. in the U.S. — has been beloved by children (and their parents). But in recent years, the character has found a new fan base among millennial social-media users, who have turned the animated porcine figure into one of the internet's most enduring memes. From a scene where Peppa hangs up on her best friend, Suzy Sheep, after finding out that Suzy can whistle, to another where Peppa and her friends talk about how much they love "very grown-up" music, Peppa Pig is now a cross-generational icon.
In July, Peppa Pig dropped her first album — fittingly titled Peppa Pig: My First Album — and judging from the early reactions by the internet, the character seems destined for pop superstardom. Comprised of 16 songs, the majority of which have already appeared on the show in one form or another, My First Album is children's music whose appeal knows no age-limit. And with song names like "Expert Daddy Pig," "Rainbow, Rainbow," and "Peppa Party Time," it's no surprise that the album has really found an audience among the LGBTQ+ community. (Even noted gay icon Lil Nas X wanted to get in on the hype.)
Just days after dropping the hotly anticipated album, Harley Bird, the 17-year-old BAFTA Award–winning voice actress behind the character, found some time to hop on the phone with Vulture to share her thoughts on the character's global popularity, the "Peppa Pig Effect," and whether she would consider future collaborations with Lil Nas X and Iggy Azalea. She also cleared up the rumors about the character's alleged height.
So, you just dropped Peppa Pig: My First Album. What has the response been so far?
You know, I haven't actually heard much. But I went to Coachella in April, at the time that "Old Town Road" was big, so Lil Nas X was a really big thing. And Lil Nas put on his Twitter something about a collab with Peppa, which I'm so down for. I think that would be so cool.
This show has been on forever. Why put out an album now?
I've got no idea. I've done Peppa since I was 5, and I'm 17 now, so I've done it for about 13 years, which is quite a while. But, I mean, this was the year. All the songs are songs from episodes, but they've just been extended. I'm not really sure why, but what better time than now?
Do you have a favorite song on the album?
I really like "Peppa Party Time." I think all my family likes that one. Whenever we go out or something, my mom's always got it on in the car. Sometimes it can be super-embarrassing pulling up on a red light and the car next to us is just watching this family of six all crammed in this car jamming to Peppa Pig. But it's still quite funny.
You started voicing this character at 5, when you were actually the age of Peppa. In the 12-to-13 years since then, how has your approach to playing a character that stays the same age changed?
When I started Peppa, I just had her voice. As a 5-year-old, I sounded like a 4-year-old pig. But I'm quite good at imitating people and copying them. Even speaking to you right now, I'm accidentally trying to slip into an American accent, which I'm just not going to do because that would probably be offensive since it would be so rubbish. But when I was 5, I couldn't read; I couldn't read at all, actually. So I used to copy what Phil, Mark, and Neville — who are the producers of Peppa Pig — would say. They would read the lines out, and I would just repeat them. I was a bit of a parrot, in that sense. I've always been quite good at copying. In a way, they taught me how to read. So doing that now, I just try to copy my 5-year-old self. In the same way that I'm trying to copy your American accent, I try to copy Peppa as 5-year-old me.
Speaking of accents, have you heard about the American kids who have tried to adopt British accents because of your show?
Yes. All I have to say is, you are welcome! Like I said, I was in America, in Palm Springs, in April. No one knew I was Peppa Pig, but me and the other girls I was with were being treated like we were famous just because we were British. It was really nice to hear that because Peppa is so popular everywhere. I'm flattered that people were trying to copy the Peppa voice, which is really just my voice.
Are you aware of how popular your character is on social media?
I'm not really on social media. I keep the Peppa life really separate from my own home life. I live in England in the countryside on a farm with all my siblings and my parents. I go from recording Peppa in the studio to coming home and cleaning up the chickens or something like that. I don't like to follow it up on social media because I don't want the Peppa side of my life to crash into my home one. As Peppa, I am a voice artist, so I like to keep it all quite separate. I've still got the farm, all my family and friends. I've got school, where I'm doing A-levels.
Well, Peppa Pig has a huge fandom on Twitter. Several clips from the show have gone viral — specifically, the one where you call Suzy Sheep.
Yes, the whistling video!
Exactly. With you being 17 making a show that's geared toward children, is it exciting knowing that your character is getting a second life with a more adult audience?
Yes! That's why I think Peppa is such a big thing. It's an easy watch for both parents and kids. It's quite refreshing to watch and a real cartoon in that way. If it's not Peppa, it's George or Mommy Pig or Daddy Pig or any of her friends, there's something in every character that everyone can relate to.
As you've grown up with the character, have you found yourself relating differently to the scripts?
Definitely. Peppa is quite a me character. I think that's the reason I've been doing it for so long. Playing Peppa as a 5-year-old, that was just me speaking and full of energy. Now that I'm 17, I have to put the energy and excitement back into my voice. I do relate to her because I kind of was her as a 5-year-old. Then, I didn't understand that Peppa Pig was a character I was voicing for; I was just speaking, and that was me. I was given lines, but I didn't see them as lines. They were just something that I was saying.
There's even a Peppa Pig episode that was just completely me improvising. I got into the studio, and the three producers were like, "All right, improv! Tell us a bedtime story." I must have been like 6, 7, 8, but I just made up a story about Princess Peppa, her brother, dinosaurs, and going on this adventure. I think that's what I like most about Peppa — my thoughts and opinions are really put into everything as well. Sometimes the producers aren't even there because I'm really trusted to do it. I know this character. I know Peppa so well. Even though I failed the Peppa Pig quiz on Snapchat, I definitely know Peppa Pig better than anyone else.
When the album came out, Iggy Azalea made a joke about you blocking her on the charts, but then she suggested a collaboration between the two of you. Is that a possibility?
Get ready for our collab! It's coming out soon. [Laughs] Oh God, I wish. Could you imagine? That's it — me and Iggy, and then me and Lil Nas X. We're all going to do a collab together. It's going to be great.
My favorite meme to emerge in the wake of your album release has been about Peppa's height, which someone discovered was seven-foot-one. As the Peppa, can you attest to this fact?
Isn't that funny? Seven-foot-one! It's crazy. I guess it's just the Peppa Pig costume. But I don't know if she is. I think Peppa comes in all different sizes and heights. It all depends. It's funny though. So many people have been sending me that. I truly have no idea what to say. I just usually laugh.
This interview has been edited and condensed for clarity.