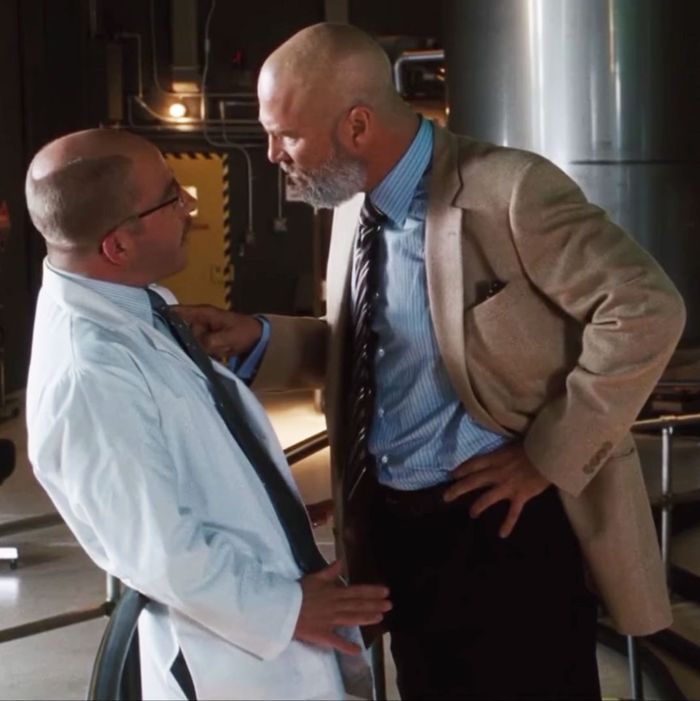 "Tony Stark was able to build this in a
cave
! With a box of
scraps
!"
Photo: Paramount Pictures
Spider-Man: Far From Home spoilers ahead.
When Peter Billingsley got the call, he ignored it. The actor, director, and producer, perhaps still best known for his work as the child-actor lead in 1983's A Christmas Story, was shooting a film in Atlanta last year and felt his phone ring. The caller ID said it was Louis D'Esposito, co-president of Marvel Studios. The two knew each other from Billingsley's days as a producer on Iron Man, but this shoot in Georgia involved grueling hours and, y'know what, he was tired. "I was like, I'll give him a call tomorrow," Billingsley recalls. "The next day, my phone rang again. I was like, Geez, Louis has really got to get ahold of me here. So I walked off the set, grabbed the call, and we caught up. And he said, 'We're bringing him back!'"
The "him" in that sentence, as it turned out, was William Ginter Riva. If that name means nothing to you, congratulations — you clearly haven't spent hundreds of hours on the Marvel Cinematic Universe fandom.com site like some of us have. However, if you've seen Iron Man, you likely remember his big scene, even if you have no recollection of him, in particular. There's a moment in the film where the sinister Obadiah Stane, played by Jeff Bridges, meets with a scientist at Stark Industries and tells him he's not working hard enough to replicate Tony Stark's Iron Man armor. That scientist is Riva, who snivels and squirms before Stane screams one of the movie's most iconic lines at him: "Tony Stark was able to build this in a cave! With a box of scraps!" To which poor Riva whimpers, "I'm sorry. I'm not Tony Stark."
And the "bringing him back" part of D'Esposito's exclamation? Well, if you've seen the latest MCU cash cow, Spider-Man: Far From Home, you may recall that Riva holds something of a key role in the plot. He helps fellow disgruntled former Stark Industries employee Quentin Beck (Jake Gyllenhaal) create the hoax superhero known as Mysterio in a bid to capture the imaginations of the global public. It seems that, in the interim between his first appearance and the MCU's present, Riva got pretty good at being Tony Stark, developing clever drone technology to assist in Beck's illusory derring-do. For Billingsley, it was an act of coming home, but also just one more notch in the belt for a remarkable and somewhat bizarre career.
Born in 1971 and initially raised in New York City, Billingsley found fame at a dangerously early age. Someone told his mother that he and his brother were cute enough to be stars and she opted to help them make it in the world of film and advertising. "I think one agency said, 'They're too fat,' and another agent said, 'They're too ugly; I'd have to retire from the business,'" Billingsley says. "And a third agent said, 'Oh yeah, they'll work.'" His first stop was in a TV ad for the senior-citizen elixir Geritol that starred Tony-winning actress Betty Buckley. "She was just saying, 'When you have kids like these, take Geritol twice a day,'" Billingsley remembers. "I was just a prop, but I booked it. And that accelerated, for whatever reason. I had an aptitude for it. I guess I could mimic people pretty well, which was the job description."
Roles started to pile up, and when one for a 1950s-nostalgia outing called A Christmas Story materialized, Billingsley initially thought nothing of it. Only after the 1983 film became a surprise sensation and embedded itself into the American consciousness ("You'll shoot your eye out," the secret decoder ring, tongue meets flagpole, etc.) did the young thespian get his first taste of true fame. He's modest, even a little awkward while discussing it today: His final verdict on it is merely, "I did that movie, which I guess in some ways changed things." The film's success gave way to another mass-market part as "Messy Marvin" in ads for Hershey's syrup. Less notable roles ensued, but Billingsley started to get restless. He went to junior college for a year but found it unsatisfying, and his mind returned to a fixation from his cinematic work. "I had always been interested, when I was an actor, in everything that was going on on the set," he says. "I was never the guy to always go back to my trailer. I would watch the crew, what they were doing."
That's when some life-changing advice from the late director of A Christmas Story, Bob Clark, altered the course of Billingsley's life. "He suggested that I get into the edit room as a basis for learning anything that I might want to do behind the scenes," he says. "So I started as an assistant editor on a lot of low-budget movies, and worked my way through post[-production], and learned that, and had different jobs on a lot of low-budget films. And it was my film school, I guess." He branched out into producing, writing, and even directing. What's more, while doing an acting gig on a CBS after-school special called The Fourth Man, he met a young performer named Vince Vaughn and the two became fast friends; through Vaughn, he met writer, actor, and director Jon Favreau and ended up working on films such as 2003's Elf and 2005's Zathura. The pieces were in place for a major change in Billingsley's fortunes — in multiple senses of that word.
When Favreau was tasked with helming the risky venture that was Iron Man in the mid-aughts, he asked Billingsley to help him out as a producer. He met with the heads of Marvel Studios, Kevin Feige and Avi Arad, and they "welcomed me into the family," as Billingsley puts it. "I would always read parts at the table reads, if we didn't have other actors designated for those yet," he says. Eventually, the powers that be raised the prospect of him playing the scientist that Stane yells at. He didn't need much convincing — indeed, he immediately had ideas for the role. "I remember Jeff Bridges had to shave his head for the role of Stane and that was a challenge, so the way I came up with my look was, I was like, 'I'll tell you what, I'll do this role, and I'll shave a trench in my head as a sign of solidarity,'" Billingsley says. "And then I just wanted to explore the look of the character, so I went with the solo mustache and glasses, which is definitely not the way I look in my normal life, and nobody recognized me at all."
The scientist wasn't based on anyone from the comics, so he needed a name. "Ginter" and "Riva" were homages to crew members, but his first name was most likely the brainchild of Bridges. "I seem to recall it was Jeff — he was like, 'You feel like a William, and I want to say William,'" Billingsley recalls with a chuckle. "Jon or Kevin might have thought of it, but I remember Jeff saying, 'William. That's good. William. That sounds good. That feels right.' It had just the right amount of syllables, just the right consonants and vowels in it. If Jeff likes this, it's William. William, it is."
The big Iron Man scene was shockingly easy to shoot, as it turned out, if a bit terrifying. "I just remember that it's very easy to work with Jeff because he's so real, and he definitely did scare the shit out of me in that moment when he leans in and screams at me," Billingsley says. "You would probably generally or traditionally, just in the coverage of that scene, turn around and shoot a close-up of me from his perspective looking down, and vice versa up. But I think we looked at video playback a lot, and the take that is in the movie was so obvious that it just played in that shot, that everybody was just like, 'I think we got it.' And we didn't even shoot anything past that."
Of course, Iron Man ended up being a massive hit, which no doubt remunerated producers like Billingsley to a great degree. He kept working in Hollywood: He made his feature directing debut with 2009's Couples Retreat, then returned to the helmer's chair for 2016's Term Life (both films starred his buddy Vaughn). But much of his professional existence has been on television: He EP'd, wrote for, and directed TBS's Sullivan & Son and has been an EP on the animated Netflix comedy F Is for Family.
And then there was that fateful call from Louis D'Esposito. Once he'd explained to Billingsley that Riva was now going to be part of a gang of angry former Stark employees, he jumped onboard. He flew to London for the shoot, which featured a surprising amount of ad-libbing with fellow villain Gyllenhaal. One would think that an operation as strictly managed as the MCU would hew close to the approved screenplay; not exactly, says Billingsley. "[Director] Jon [Watts] is really great like that, where he just completely allows you to play, and he'll put a bunch of cameras on you, and just let us come up with lines and shout things back and forth to each other, come up with commentary to each other," he says. "I just started this thing where I would repeat things back to [Gyllenhaal]. I think he said, 'All right, why don't you take the weapons and double them up?' And I was like, 'You want me to double them up?' 'Yes!' So it just became this thing of questioning him, but also just repeating something back to him that we did a bunch of times." He laughs. "Jon told me that the dynamic is similar to a director and an editor, where you've got a director, who is Jake, Mysterio, and you have this editor" — that is, Riva — "that you're relying upon to execute it and make it happen."
Make it happen he does, and the Beck-Riva relationship is one of the funniest parts of an already-quite-amusing picture. But Billingsley has bigger fish he's seeking to fry: F Is for Family is still ploughing along, he just finished producing a feature film about stand-up comedy called The Opening Act, and he alludes to more in the works that must remain top secret for the time being. However, it is here that we must note a key fact: You don't see Riva bite the dust in Far From Home. "Who knows, maybe William Ginter Riva will live again to fight another day," Billingsley muses. "These guys do a good job of keeping the cards close to the vest, but if I see Louis or Kevin in the caller ID, I'll definitely pick it up next time."