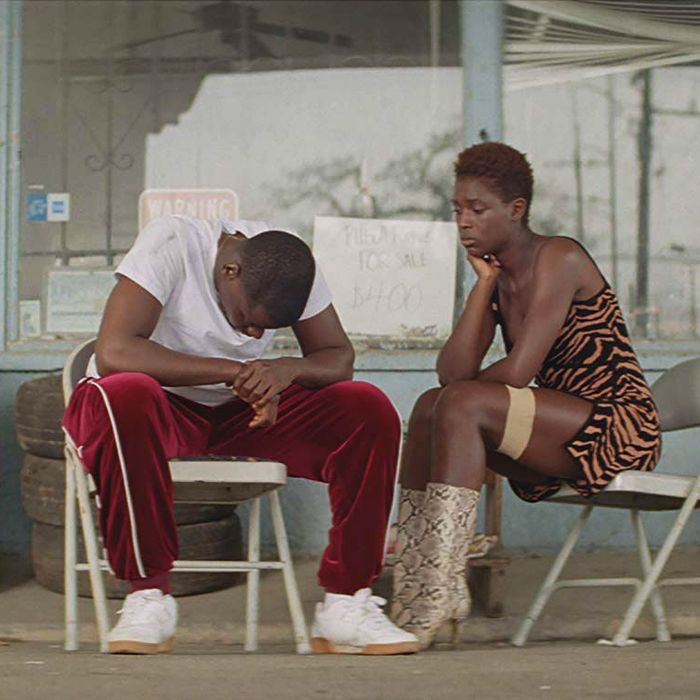 Daniel Kaluuya and Jodie Turner-Smith on a really bad Tinder date
Photo: Universal Pictures
Even before she directed a single frame of her movie debut Queen & Slim, Melina Matsoukas had established her bona fides as one of pop culturedom's fastest-rising filmmakers. Best known for directing transgressive, visually dazzling music videos for a Who's Who of pop superstars, she rose to national prominence for helming Beyoncé's "Formation." The video managed to archly comment on police brutality (featuring images of a cop car submerged in water, a phalanx of riot-control officers with their hands in the air, "Stop shooting us" spray painted on a wall) while delivering a sprawling treatise on modern black life and the deep South.
Queen & Slim doesn't reach theaters until November 27, but distributor Universal opted to screen an extended trailer for the Lena Waithe-written movie, alongside its jarring 15-minute opening sequence, for a select group of press in Los Angeles last week. For what is essentially an intimately observed road romance from a first-time filmmaker, featuring one Oscar nominee and one relative Hollywood newcomer, that kind of studio marketing sent a clear message: Come awards season, Universal wants you to know: Queen & Slim is an Important Movie.
Queen & Slim kicks off with a Tinder date gone horribly wrong. We meet an unnamed man (Get Out star Daniel Kaluuya) and woman (model and actress Jodie Turner-Smith) at a drab Cleveland diner and quickly ascertain certain character attributes. She works as a trial attorney defending death-row inmates from execution, but happens to be licking her wounds on this particular evening because one of her clients has been handed down the death sentence. The unnamed man is an everyday guy, extraordinary in his ordinariness: A blue collar churchgoer (his car's license plate reads "TRUSTGOD"), he makes a point to support black-owned businesses and is quietly but actively charitable toward those of lesser means. Given their weary rapport and absence of sexual chemistry, it comes as little surprise that before long he is driving her home.
Along the way he's stopped for a minor traffic violation by a white cop. From there, things escalate quickly. As the officer searches the car for drugs and weapons, he forces the unnamed man to stand in the freezing cold, then orders him to his knees. Although Kaluuya's character pleads for her to get back in the car, the woman steps out to ask the cop why he is rifling through the trunk without a warrant. Then, identifying herself as a lawyer, Turner-Smith's character announces she is going to reach into her pocket for her phone. Perceiving threat where there is none, the increasingly agitated officer pulls his service revolver and shoots her in the leg. The man, in turn, tackles the cop, grabs the gun, and busts off one shot "in self defense" that fatally injures the patrolman. Shook to the point of speechlessness, the man doesn't know what to do. "We gotta go," she says. And the sequence ends with the duo leaving the scene of the crime to embark on a cross-country odyssey. They go on the run, always one step ahead of the law, and ultimately the forced intimacy of traveling from the midwest to the Deep South by car results in the two falling in love. "It's the black Bonnie and Clyde" an uncle character played by Bokeem Woodbine says of them.
Matsoukas, 38, also directed "Thanksgiving," the 2017 episode of Netflix's Master of None written by Waithe that won the screenwriter-actress an Emmy. Matsoukas calls Waithe "my work soul sister." In a post-screening discussion, the director (who is of Afro-Cuban/Jamaican/Jewish/Greek descent) explained that she was hesitant at first, but that Waithe had personally persuaded her to make Queen & Slim her feature debut. "Not wanting our relationship to get in the way, I said, 'Send me the script. If I love the words, if I'm moved by passion, I'll do it,'" Matsoukas said. "I couldn't put the script down when I read it. And I knew this had to be my first foray into a narrative space."
In the trailer, we discover that dashboard cam video of the Kaluuya's and Turner-Smith's characters — who come to be known as Queen and Slim over the course of the film — goes viral. They become a potent symbol of trauma and terror for people across the country. With Queen & Slim's unmistakable political resonance in an era of roiling public discourse surrounding police shootings and Black Lives Matter, the director was asked what other political themes the movie tackles. "We created this film to honor those who have lost their lives because of police brutality. And we're trying to bring that conversation to the table," said Matsoukas. "But the main theme is love. The backdrop is our racial climate because that makes the story contemporary. The main theme is black love. And in our unity as black people, that's our best power to fight against injustice, to fight against oppression."
Adding that she recently read an article stating that "black love stories are based on white archetypes and that nothing can be our own," the director contextualized how plotting a dramatic portrayal of romance around black characters can be viewed as a deliberate political act: "The black love story, we always talk about Love Jones and some of the ones we've seen on screen. But it's actually too bad that we haven't seen too many black love stories — especially between two dark-skinned actors. That was really important to us: trying to change the idea of what beauty is by casting two very stunning actors that are both on the darker side of the spectrum."
Another primary concern for Matsoukas and Waithe: Despite the fact that their film's protagonists are on the run Thelma and Louise-style for most of Queen & Slim, the filmmakers wanted the characters to remain captains of their own fate. "That was our main concern: to show black people not as victims," she said. "To be empowered. Maybe it was accidental in this case. Both Lena and I made a very conscious decision to not create a film where black people are being victimized."