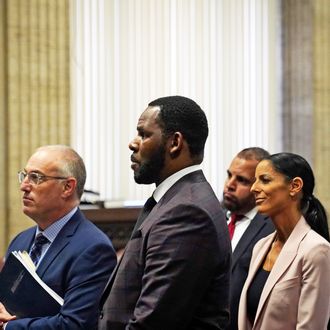 R. Kelly appears at a hearing on June 26, 2019, in Chicago.
Photo: E. Jason Wambsgans/Getty Images
R. Kelly now faces a federal racketeering charge for allegedly leading a criminal "enterprise" to promote his music and "recruit women and girls to engage in illegal sexual activity," according to a newly unsealed Brooklyn federal court filing.
This racketeering charge is just one of many counts Kelly will face in Brooklyn and Chicago federal courts following his arrest late Thursday. Federal prosecutors in Brooklyn hit Kelly with a five-count indictment which, in addition to racketeering, includes four Mann Act counts related to his alleged "interstate transportation of a victim to New York to engage in illegal sexual activity, and his exposure of her to an infectious venereal disease without her knowledge." (The Mann Act is basically a law that prohibits shuttling people across state lines for illegal sexual activity.)
Meanwhile, in Chicago, Kelly was charged with five counts of enticement of a minor to engage in criminal sexual activity, four counts of producing child pornography, two counts of receiving child pornography, one count of conspiracy to receive child pornography, and one count of conspiracy to obstruct justice — a total of 13 counts.
All of these federal charges are in addition to many state-level charges levied against Kelly in Chicago this year. He has maintained his innocence.
The new charges mean Kelly, 52, is looking at decades more prison time if convicted on the federal charges — the racketeering count alone has a maximum sentence of 20 years.
So what exactly did the Feds get him on in these indictments?
To make their racketeering case, Brooklyn federal prosecutors are using specific claims of misconduct, such as preying on minors and psychological manipulation — many of which echo claims that have previously emerged — to bolster allegations that Kelly's behavior was an orchestrated enterprise.
Kelly, his managers, bodyguards, drivers, personal assistants, runners, and various other hangers-on had a "common purpose of achieving the objectives of the Enterprise" to boost R. Kelly's music and brand while recruiting women and girls into illicit sexual activity.
Federal prosecutors in Brooklyn claim that as part of this, the women and girls Kelly victimized "were not permitted to leave their room without receiving permission … including to eat or go to the bathroom" and "were required to wear baggy clothing when they were not accompanying Kelly to an event or unless otherwise instructed by Kelly."
They weren't allowed to look at other men and "instead were told to keep their heads down"; even more disturbing, "the women and girls were required to call Kelly 'Daddy,'" the indictment alleges.
The Brooklyn U.S. Attorney's Office further claims that as part of this enterprise, Kelly committed "sexual exploitation of children, kidnapping, [and] forced labor."
The four Mann Act counts relate to allegations that Kelly brought a victim to New York in May 2017 and February 2018 for the purpose of illegal sexual activity, and cites "his exposure of her to an infectious venereal disease without her knowledge." While allegations involving Kelly and STI transmission have been out there, it is now a significant part of Brooklyn prosecutors' case. In their push to keep him locked up before trial, prosecutors also cite a threatening letter Kelly allegedly sent to the woman's lawyer, as proof of the potential danger he poses.
In the Chicago indictment unsealed Thursday, federal prosecutors allege that Kelly had sexual encounters with five minor victims in the late 1990s, and "recorded himself on video engaging in sexual contact and sexual acts" with four of them.
Kelly's former business manager, Derrel McDavid, and Milton Brown, another crony, face child-pornography-related charges. McDavid also stands accused of trying to cover up Kelly's alleged wrongdoing. In 2001, after Kelly and McDavid found out multiple videos showing Kelly with minors went missing, they went on the hunt for these incriminating tapes and wound up paying hundreds of thousands to victims and witnesses to keep them quiet.
Kelly lavished money and gifts on one girl, "Minor 1," and her parents, from 2000 to 2015, according to the Chicago indictment. (In 2008, Kelly was acquitted of 21 counts of child pornography involving this same girl, court documents state.) Kelly and McDavid also made several people take polygraphs to prove that they had returned videotapes after being paid off, court docs claimed.
Steve Greenberg, Kelly's lawyer, reportedly commented Friday that "Mr. Kelly was aware of the investigations and the charges were not a surprise," and that "he had already assembled a team of outstanding federal litigators." Vadim A. Glozman, who represents McDavid, said in a statement, "It is unfortunate that the vendetta against Robert Kelly has now extended to those with whom he maintained a professional relationship. Mr. McDavid denies all of the allegations against him and looks forward to having his day in court."