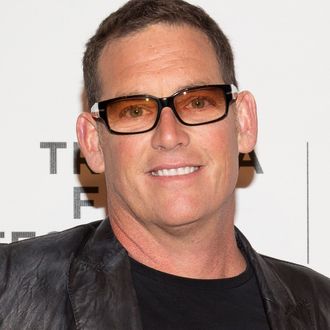 Mike Fleiss.
Photo: J Carter Rinaldi/FilmMagic
Deadline is reporting that a judge in Los Angeles has granted a domestic-violence temporary restraining order against Mike Fleiss, the creator of both The Bachelor and The Bachelorette. His wife, Laura Fleiss, has accused him of attacking her at their home in Hawaii on the Fourth of July. In the petition, she also claims he demanded she get an abortion. "While we were at our house in Kauai, Mike demanded that I get an abortion," Laura Fleiss said in the document. "Our son Ben was in the house, seated in another room nearby. Mike told me, 'If you have an abortion, then we can just go back to the way we were.'" Fleiss is required to stay at least 100 yards away from his wife, and can't engage in any direct or indirect contact. He has also been ordered to temporarily move out of their Hanalei, Hawaii, home.
Her filing went on to allege verbal abuse, which she alleges escalated with the news that she was pregnant with what would be their second child. "Mike told me many times that he did not want us to have a second child," she alleges in the filing. "He also repeatedly told me throughout our marriage, and prior to our marriage, that he knew he would 'have to have' one child with me because I was 26 years old when we got married, did not yet have any children, and he knew I wanted to have a family. Mike, however, being 55 years old, did not want to have more than one child together."
Laura Fleiss goes on to allege that threats of divorce from her husband were common but were now allegedly being used to pressure her into an abortion. A court hearing on whether a long-term restraining order will be granted is scheduled for August 6.