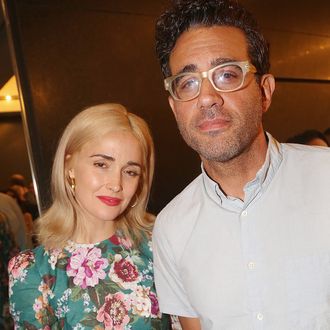 Rose Byrne and Bobby Cannavale.
Photo: Bruce Glikas/FilmMagic
Want to do something fun with your spouse? Consider starring in an ancient Greek drama that involves lots of child murder. Bobby Cannavale and Rose Byrne, who happen to be married, are going to appear together in a new, contemporary production of Euripedes's Medea at BAM this January. Byrne previously appeared on Broadway in You Can't Take It With You, while Cannavale has two Tony nominations, for Mauritius and The Motherfucker With the Hat. They also, of course, have movie careers and appeared together in Spy, which is pretty much the opposite of a Greek tragedy.
Simon Stone, whose update of Yerma with Billie Piper got a bunch of acclaim when it traveled to New York last year, wrote and will direct this production, which originated at the edgy Internationaal Theater Amsterdam in 2014 and won acclaim in London in 2019. As Euripedes wrote it, Medea depicts the title character getting her revenge on Jason (of the Argonauts fame) after he leaves her for a new Greek wife: Medea kills her and her father, as well as Medea and Jason's own children. Stone's production sets the tragedy with contemporary names and contexts. Anyway, it all really gives everyone involved a lot to talk about in their home lives.