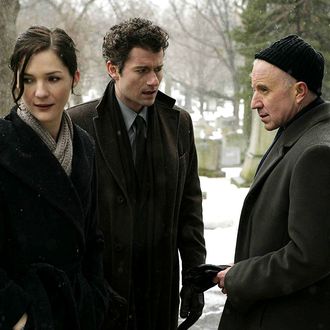 Remember Rubicon, AMC's 2010 spy thriller starring James Badge Dale as an intelligence analyst who becomes caught up in a possible global conspiracy? Maybe not, because the series — which debuted months before Showtime's similarly paranoid Homeland and years before Mr. Robot — lasted only a single season and has been almost impossible to find since it was canceled. It was never released on DVD in the U.S., and it's been largely AWOL from streaming (save for a brief period about five years ago when it was on Amazon Prime Video). Rubicon obviously wasn't a ratings giant, but it had a passionate following at the time it aired and was generally admired by critics, making its absence from the digital-TV landscape particularly frustrating for those who loved it. The good news for those fans: Rubicon is now available for streaming.
On July 1, AMC quietly added the series to its subscription-based AMC Premiere service, with all 13 episodes available to stream ad-free. If you have a cable subscription, you can also watch the first three episodes of the show (with ads) on AMC's website and app. And, Vulture has learned, if you're a hard-core cord-cutter without a login, AMC will let anyone with an internet connection watch the show's first episode for a month, starting Friday. The downside, of course: If you end up loving Rubicon, you might be frustrated. The show ends with a cliffhanger and there are no plans to revive it.
So why is AMC suddenly dusting off Rubicon after so many years of the show being stuck in streaming purgatory? Before answering that, it's important to note that the cable network hasn't completely controlled where and how the show has been distributed since it was canceled. The series was produced by WarnerMedia–owned Warner Horizon Television, which for various reasons likely decided there wasn't enough interest in the show to support the cost of a DVD release. But AMC does have an incentive to bring Rubicon back, at least digitally. It's making a big push to get consumers to subscribe to AMC Premiere, the add-on service available to almost anyone who gets the network via cable, satellite, or select digital-TV providers (such as YouTube TV or Playstation VUE). While ad-free versions of shows such as The Walking Dead and Killing Eve are the main draws of AMC Premiere, the network is also trying to bulk up the rest of the service with other content in order to make it more appealing to potential subscribers. Fingers crossed AMC decides to dig up Remember WENN next.