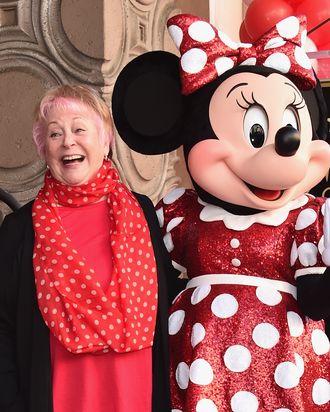 Photo: Alberto E. Rodriguez/Getty Images
Actor Russie Taylor, who is best known for voicing Minnie Mouse and for her work on The Simpsons, died at her home in Glendale, California, on Friday. She was 75. The Walt Disney Company confirmed Taylor's death with a statement.
Taylor's industrious career as a voice actor began in 1980 with The World of Strawberry Shortcake, in which she played the title character. She took over the role of Minnie Mouse in 1986, and went on to portray the beloved character in TV series, movies, video games, and more. Disney also hired her to play all three brothers in Ducktales (Huey, Dewey, and Louie) and used her talents in various other animated series.
"Minnie Mouse lost her voice with the passing of Russi Taylor," Disney CEO Bob Iger said in the company's statement. "For more than 30 years, Minnie and Russi worked together to entertain millions around the world — a partnership that made Minnie a global icon and Russi a Disney Legend beloved by fans everywhere."
In addition to her work with Disney, Taylor had a recurring part on The Simpsons as Martin Prince, the insufferable nerd thorn-in-Bart's-side and Lisa's rival. In the long-running series, she also played The Shining–esque twins Sherri and Terri. Taylor's other notable credits include Baby Gonzo in The Muppet Babies, Pebbles Flintstone in The Flintstone Comedy Show, and Queen Rosedust in My Little Pony.
Read Disney's statement in full below.