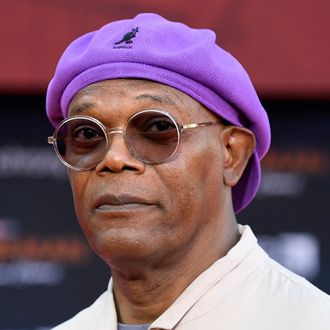 Photo: Frazer Harrison/Getty Images
Samuel L. Jackson isn't going to go out with his head caught in a reverse bear trap or hacking off a literal pound of flesh. At least we hope not, now that the actor has joined Chris Rock's upcoming addition to the Saw franchise, which was announced back in May. Even better, Jackson has reportedly been cast as the father to Chris Rock's character, "a police detective investigating a series of grizzly crimes." Max Minghella and Marisol Nichols have also joined the cast as Rock's partner and boss, respectively.
While details about the film's plot have been scarce as of yet, we're hoping it's a different kind of torture porn than we've seen before. For example, how about the torture of counting down the seconds until Samuel L. Jackson kicks a serial killer's ass? Even just booting Billy the Puppet off his heinous little tricycle before dying, that would be enough for us.