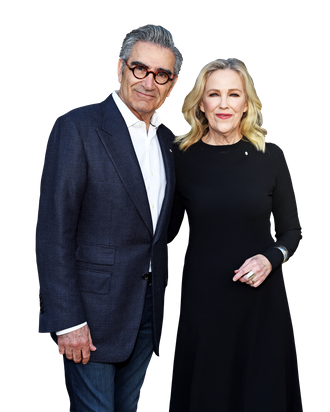 It's been — checks watch — 43 years since Second City Television first aired, and Catherine O'Hara and Eugene Levy are still flexing their comedic skills in made-up towns in 2019. With Schitt's Creek, the show created by Levy and his son, Dan, they've revived that familiar slow burn: The show premiered on the CBC in 2015, but it wasn't until the fourth season that the fever spread. This year, Schitt's Creek received four Emmy nominations, including acting nominations for Levy (as patriarch Johnny Rose) and O'Hara (his wife, Moira), costumes, and Outstanding Comedy Series. In a three-way phone call, we discussed their respective nominations, their teary final days shooting on set, and whether we can expect to see Moira during her favorite season.
Congratulations to you both. Did you talk yesterday? 
Eugene Levy: Yes, we did. We were actually on the phone. [The publicist] Gab was watching the live feed and I guess my category came up first, and she phoned me to say that I'd been nominated, and right after that Catherine's category came up, so I just heard, "You and Catherine have been nominated." And then she tagged Catherine in on the phone call and we were actually on the phone while they were watching the livestream.
Catherine O'Hara: And that's when they announced Best Show!
EL: And then we heard, "Well, the show got nominated." And that was the best of all worlds. That was like really exciting news, because that really gives a nod of recognition to every single person that works on the show. It was actually a very exciting call.
COH: [laughs] It was. We were kind of stunned. We were just stunned and laughing.
Did you do anything to celebrate?
EL: I went out with my brother, who's one of our producers, Andrew Barnsley; Deb, my wife; and Sally Catto, who runs CBC up here, and we went down to Soho and had a little celebratory dinner.
COH: That's lovely. My husband, Bo [Welch, a production designer], is nominated for production design for A Series of Unfortunate Events, but here we are in cottage country, where it's the last concern of anyone, what's going on with the Emmys. But we're excited at our cottage, and we toasted each other and the shows. But today we kind of said, "Okay, we've got to stop talking."
Both of you have been at this for a couple of years, and I was wondering, is it still exciting?
EL: Well, it was exciting yesterday on the phone. It was a pretty exciting day, don't you think, Catherine?
COH: Absolutely. Anytime anyone pats you on the head and says, "Good job," it's always nice, and I'm especially happy for Daniel. This was his baby to begin with. It's a lovely thing to have anything to celebrate in life. I'm happy.
EL: It's actually more exciting that it's happening now in our fifth season on the show. I keep thinking, had this happened after our first season, it could have been a lot tougher to maintain this caliber over the next four or five seasons. But the show has built so nicely in terms of following and viewership, and how it's been embraced by the critics. I mean, it was an exciting year after our fourth season when we end the year making a lot of top-ten lists; that itself was incredibly exciting, where you get the feeling that your show is being recognized for the first time. Now in our fifth season, we get the Emmy nominations, and we still have one more season to go, so I just love the arc here and how the show has caught on. I'd rather have it this way than starting off like a bat out of hell and then trying to hang on.
COH: Yeah, it's almost like we got to do the show in an old TV–world way before the internet, where you just build the show according to your own instincts and develop the characters and try to make the best show you can make. It was so nice to not feel like you were too affected by outside sources or outside opinions. We were on our own to build the show, in a way that TV shows used to get to do.
It feels increasingly rare to make TV outside of the rapid-fire response of social media. Schitt's Creek feels like the little show that could, and because of that, was preserved on its own island that people discovered slowly.
EL: Yeah, I don't know if that has to do with shooting the show in Toronto. It reminds me of when we were doing SCTV and how removed you are from the mainstream of show business, so you're relatively unaffected by it. You just get the feeling you're going into the studio, you're going to work and then you're going home and having dinner. And SCTV as well had a nice build to it over the years, where it caught on with fans and critics. You really just get to focus on the work and eventually the work kind of speaks for itself.
COH: I think it works for shows or movies that get to go to remote locations, too. They get away from the head office and focus only on the work, and you have a better chance of succeeding at what you're attempting.
Do you think that might be a benefit to being a Canadian production? 
EL: I think so. With our show, I guess you can prove that you can work and produce a show here in Canada that can get the same kind of recognition that any other show can get — mainly, I guess, getting Emmy nods. I got an email from Rick Moranis. It said, "Congratulations. 37 years between Emmy nominations, not bad."
COH: [laughs] That's great.
EL: Yeah, I think it helps to be able to focus on the work just shooting away from the mainstream of the business and avoiding getting caught up in the hype.
You also just wrapped shooting the final season. What was the last day on set like? 
COH: I think back to the table read. I think we got a lot of the good weeping out of our systems at the table read for the last two episodes. At lunch hour while you're shooting, you do a table read for the upcoming episodes, and the upcoming episodes that day were the last two episodes of the sixth season, and when you shoot your scenes, you're not in every scene with everybody, so you don't get to see everything get shot, but we got to see everybody read their last scenes and it was really emotional. I mean, there were lots of laughs, because the scripts were great and funny, but oh my god, they were also so heart-wrenching for us. I had to go back to shoot that afternoon, and Moira wears a lot of makeup, so I looked like Alice Cooper.
The last day was just, "Oh." Every moment is like, "This is the last time we're going to do this. This is the last time we're going to stand here," but it was sweet. It really felt like I was part of a really lovely, talented family. It was hard to say goodbye, but the last episodes are really a lovely goodbye.
EL: Catherine's right, it really started with the table read, where you got to lose a few pounds in tears. And then as we wound down, we would be wrapping certain sets: wrapping the town hall set, and then wrapping Café Tropical, and then we were wrapping the motel set, so every last scene in all these sets, there also was a nice emotional moment between characters. A lot of tears. And then we get to the last day, and once again it was quite emotional. Although there was a lot to do. On the one hand, you know that if you're breaking down for 20 minutes having a nice sob-fest, then you're adding 20 minutes on to the day. It was a very sweet, rewarding way to end the series.
Moira Rose, of course, is an actress. What would she say in this scenario, if she got a surprise nomination?
COH: [laughs] I went to the Tonys a month ago. I got to present a musical number for Beetlejuice, and my husband said that Moira would have called them 'the Anthonys.' [does Moira's voice] "So lovely to be here at the Anthonys." So now I'm trying to think of what it would be for [the Emmys]. I was thinking 'Emily,' then I was like no, it should be 'Emmanuel.' [does Moira's voice again] "It's so exciting to be nominated for an Emmanuel. Finally, they got it right," Moira would say, to be clear. I would not say such a thing.
EL: Didn't Dan tweet something about, "Finally, Moira —"
COH: [laughs] "— gets her Emmy," or something, yeah. Oh, who would care more for this? I try to keep a level head here, and thank goodness I'm a Canadian, so I'm raised to not take show business all that seriously. But Moira, oh my lord. This is it. The Crows Have Eyes, she was already seeing Oscars for that. So this is a win. This is a win for Moira.
EL: Well, it would be great to see Moira at the podium.
COH: [laughs] I already did that in Canada, though. I did that for the Canadian awards.
Would you ever consider doing it in character again?
COH: Well, I'm not gonna talk about getting up on the podium. Don't get me sucked in. But it'd be fun to present an award, let's put that out.
EL: How about doing the carpet as Moira?
COH: The carpet as Moira! Yeah, I usually can't help myself. If I'm answering questions about Moira, I can't help myself. I go in the Moira zone, yeah. She'll probably leak out. She'll be dying to be there.
And both of you have already satirized this whole awards campaign with For Your Consideration.
COH: Yeah, that's why I say, please don't suck me in.
EL: That's just how it starts, it's the what if, "What if? What will you do if?" And the more that gets planted, the more it becomes just like, "Ahhh!" Yeah, that's what For Your Consideration was all about. You know every single twitch that signals falling into that trap, so you're extremely defensive about it for all those reasons.
COH: I remember for my character, it was also, "Why not? They have to nominate someone, why not me? Someone has to win, why not me?" Let's remember that movie. Let's keep it in mind.
EL: I have to watch that again, actually.
COH: Yeah, this is good timing for it.
EL: I haven't seen it since it came out.
COH: Yeah, it's a good reminder. It's a cautionary tale.
But also, these things happen, and are happening!
COH: Yeah, it's fun. All good fun.
EL: Well, you know, to be honest, the most fun aspects of this thing are moments like yesterday, being on that phone call when it first happens and experiencing that excitement and surprise. And then just getting to go to the party. Whether you walk out with a statue or not is really not the thing. The fact that you're there with everybody else pouring their heart and soul into whatever shows they're working on, and you're there at the party with some lovely, talented people who you respect and admire. You're on the same team, so to speak, with the other nominees, and that's really the joyous part of it all.
COH: You're right. I was reading the nominees yesterday and saying, "Oh, I get to see them, I'll get to meet them, I'll get to tell them how much I love their show."
Like who? 
COH: Patricia Arquette, love her. Love Escape at Dannemora. And Ben Stiller, who directed it. Yeah, I'm happy for them. Benicio del Toro and Paul Dano, I love that series, amazing. Love Succession.
It's so good.
COH: Oh my lord, yes. It's just so much good material. So much talent. Laura Linney, Ozark, everyone. John Oliver. Everyone! I'm excited to see everyone. And Eugene! I'm very excited to see Eugene again. In a tux, no less.
EL: Yes, in a tux.
You've known each other for over 40 years. What do you think makes a working friendship like that last?
EL: I don't know how that works. I think we're probably two of the un-show-busiest, un-show-business-iest kinds of people. I think we've always taken our work seriously, but you know, Catherine's just a regular person. Like, you don't get caught up in the trappings of the business that you're actually in. And nothing has really changed in all of these years. Catherine hasn't changed at all.
COH: No, and you haven't.
EL: At all. And you get to enjoy what you're doing in a very real way, the way other people get to enjoy what they're doing. And it's just fun to be around, it's been that way since the very beginning.
COH: Yeah, same for me. I respect Eugene, I trust Eugene, and I know that when we talk about the work, it's about the work. But I say, "Eugene's a gentleman," and what comes with that is a certain lovely amount of diplomacy, or gentlemanly behavior, good manners. It counts for a lot when you're working day-to-day. Since SCTV, this is the most amount of time we've spent together. We see each other periodically through our mutual friends — Martin Short, especially. It feels like family who live in different cities. You know, you don't see each other all the time, but when we do, we pick up where we left off. It helps that Eugene keeps giving me jobs, so thank you, Eugene. [laughs] I think that's probably the main thing that keeps us together.
EL: Excellent work, Catherine's done.
COH: Thank you, Eugene.