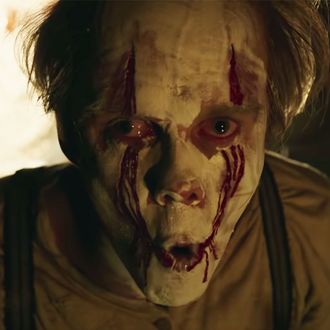 San Diego Comic-Con is here and with it all the new trailers for upcoming movies and TV shows you've been waiting for. Unlike the producers of Game of Thrones, a good trailer won't leave you hanging. This year, fans are getting a glimpse at It Chapter Two, featuring Jessica Chastain and James McAvoy. And there's also a new trailer for the Jay and Silent Bob reboot that features Rosario Dawson, Matt Damon, and Chris Hemsworth's hologram, among many other stars. Vulture is not Hall H and, no, we don't have any spoilers for Westworld season three, but here is an updating list of all the trailers that premiered at San Diego Comic-Con this year.
It Chapter Two
The chilling second part to 2017's It does not have as many adorable child faces to ease the horror. Instead, there's Jessica Chastain, Bill Hader, James McAvoy, and more playing the grown-up versions of our heroes.
Jay and Silent Bob Reboot
The iconic duo is back and not putting up with the "new comic-book movie being made of the old comic-book movie" they are the basis for. So, they gotta get to Hollywood to stop the reboot come hell or … Jay's estranged daughter, Millennium Falcon, and her own silent BFF.
Top Gun: Maverick
Expanses, beautiful expanses. Tom Cruise is back as Maverick, the fighter-jet pilot with an unquenchable thirst for speed and no career aspirations beyond "fly planes." Lots of jaw-dropping plane tricks that would make a perfect Universal Studios ride (you'll be hearing from us), but no mustached Miles Teller! Bring him out!
His Dark Materials
HBO and BBC teamed up to create a new series based on the acclaimed series His Dark Materials. Also, this is what Tom Hooper is working on when he's not directing Taylor Swift to give it her Jellicle best in Cats. James McAvoy (two for two with Comic-Con trailers!), Lin-Manuel Miranda, and 14-year-old Dafne Keen (Logan) star.
My Hero Academia
The season-four English dub revealed! The dramatic new story arc has those who read the manga getting their tissues out, mentally prepping, and trying to calm their goose bumps. Deku is going to save that girl — "Whatever it takes!"
Marvel's Agents of S.H.I.E.L.D.
It's the end of Agents of S.H.I.E.L.D. as we know it. We've already said bye to Agent Coulson … a few times, but after its seventh season, we gotta say bye to everyone. The dramatic season-six finale starts with this new trailer for the next four episodes. By the looks of Fitz and Simmons at the end of the trailer, they're ready for the show's conclusion.
Mayans M.C.
Los hijos de anarchy are ready to settle scores from season one. And in between all the gun fights and staredowns, they'll ride their bikes down deserted highways, looking cool as hell. That's really what the people watch for.
21 Bridges
Chadwick Boseman, playing an NYPD detective, finds himself in pursuit of two mass murderers who killed policemen after their conspiracy was uncovered. In order to do it, he has to shut down the island. What island? "Manhattan." Cue dramatic music!
Creepshow
The trailer for Shudder's upcoming TV version of the classic 1982 Stephen King horror anthology film teases the various spooks and scares you can look forward to when the 12-episode season premieres on September 26: David Arquette, evil dollhouses, dapper crypt gents, distressed Nazis, a man folded neatly into a suitcase and, of course, Big Boi from Outkast.
The Witcher
Henry Cavill and his incredible wig star as Geralt, a Witcher trained to harness chaos, hunt monsters and, most importantly, fill that Game of Thrones-shaped hole in your soul.
The Dark Crystal: Age of Resistance
In a new sneak peek, Netflix takes you behind the puppets (and people!) of The Dark Crystal: Age of Resistance, which premieres on August 30.
Steven Universe the Movie
In the trailer for Steven Universe The Movie, out on Cartoon Network September 2, Steven thinks he's gotten back into the swing of things with the Crystal Gems, only to have a mysterious someone come along and threaten all organic life on Earth. Ain't it always the way.
The Walking Dead
The AMC thriller is set to return for its tenth season this fall, and it looks like we're in for a war. There are plenty of wary alliances, cool weapons, and charismatic (or crazy) leaders to take in. Oh, and yes, there are also still zombies.
The Watchmen
Here's another reason to keep your HBO subscription in a post-Game of Thrones America: to watch Watchmen. It premieres this October, and it has Jeremy Irons, and Regina King.
Preacher
Returning for its fourth and final season on August 4, AMC's Preacher released a trailer complete with Hitler getting hit in the face with a racquetball racquet. What more could you want?
neXt
Are you ready for an Alexa-meets-Skynet tale of an evil AI run amok? Fox's neXt will bring you just that in 2020, as John Slattery plays a Silicon Valley pioneer who has to try and stop his own creation from causing a global catastrophe.
Star Trek: Short Treks
Ethan Peck, Rebecca Romijn, and Anson Mount will all be returning to the U.S.S. Enterprise in six new shorts streaming only on CBS All Access. Star Trek: Short Treks also comes with plenty of tribbles and H. Jon Benjamin.
Star Trek: Picard
The long-awaited trailer for Star Trek: Picard is here and it has everything you've been waiting for and more. Engage!
Infinity Train
Three years after the short by Regular Show alum Owen Dennis went viral on YouTube, the Infinity Train series is here. Making better use of "Crazy Train" than Trump ever did, the trailer features the voices of Ashley Johnson and Ernie Hudson.
Harley Quinn
Please keep in mind that this trailer for DC Universe's Harley Quinn is "for mature audiences only." And there's a reason for that: people swear! In front of Batman! Literally gasp!
Supergirl
Supergirl's nemesis Lena Luthor may have discovered her identity, but hey, she has a brand new suit! It has pants now! That means it's technically a jumpsuit.
The Flash
The CW has also come bearing the gift of a preview for season 6 of The Flash, which introduces us to a new, scary-eyed villain for the series: Ramsey Rosso.
Westworld
HBO wants you to know it's still more than capable of delivering expensive high-brow drama with complex plots in a post-Game of Thrones America. So here's your season 3 trailer for Westworld.
The Expanse
After three seasons on Syfy, until Prime Originals picked it up, The Expanse's budget is looking a little thicker in this new teaser. The intergalactic drama is ramping up and, really, the U.N. undersecretary Chrisjen Avasarala (Shohreh Aghdashloo) puts it best with, "What the fuck is going on down there?"
Impulse
Henry Coles's teleportation powers have always been out of her control, but now pretty much everything else is, too. In season two of the YouTube Original, she'll have to navigate all of the chaos created at home and a new threat: mysterious and powerful people who want what she has.
Snowpiercer
Daveed Diggs (Hamilton) is igniting revolution in the trailer for Snowpiercer, but, for once, he's not the one rhyming. "I see a balance of need and speed and greed," Jennifer Connelly tells him. Okay, bars. But not even the sickest rhymes will stop Diggs from fighting for justice on their perpetually moving luxury train carrying the Earth's last survivors.
The Untitled Walking Dead Movie
This 15-second shot of a helicopter flying into the distance is hardly a teaser, but it's more than we got from a certain other AMC drama. [Cough, Breaking Bad, cough.] Rick Grimes is alive! And he's made it to financial safety: a spinoff movie.
Arrow
Oliver Queen has "just one more thing" he's gotta do before Arrow ends with season eight. After retiring to a life in suburbia, he's just gotta do something about an organization called H.I.V.E. taking over Star City. New villain J.J. Diggle (John Diggle's son), played by Charlie Barnett, is the leader of the Deathstroke gang and has to face off against newbie vigilantes Mia Smoak and his adopted brother, Connor Hawke.
Black Lightning
Jefferson Pierce, his very full beard, and his equally superpowered daughters are back to zap. Unfortunately, nemesis Tobias Whale has also returned. Jennifer and Anissa are ready to kill that fool, but Jefferson might just need him to fight in the impending "Markovian war."