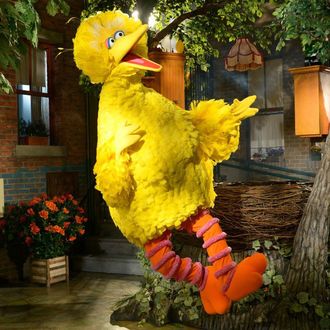 Big Bird can tell you how to get, how to get to
Sesame Street
.
Photo: PBS
Sesame Street turns 50 this November and unless you live in a trash can, it'll be hard to miss all the promotional activities tied to the milestone. Last month, the show kicked off a ten-week, multi-city birthday stage show and festival (it's headed to Kansas City, Missouri, this weekend) while production has already started on a celeb-filled primetime anniversary special that's likely to air in some form on both HBO and PBS, though nothing's been announced. And this fall, Vulture has learned, producer Sesame Workshop and Shout! Factory's kids unit will release Sesame Street: 50 Years and Counting, a DVD and digital collection of the show's greatest hits.
The two-disc set will include a bevy of classic celebrity appearances, such as R.E.M. singing "Furry Happy Monsters," Amy Poehler helping kids learn new vocabulary words, and Patti LaBelle offering her take on the alphabet song. 50 Years and Counting will also feature some of the show's legendary animated segments (including the "Pinball Number Count" collection) as well as a disc filled with the so-called "Street Story" segments during which the show has helped kids and families deal with big issues (like the farewell to Mr. Hooper and the first appearances of Big Bird's BFF Snuffleupagus). In total, the set will about five and a half hours of content and will include highlights from all five decades of the show's run.
Sesame Street: 50 Years and Counting will be released on DVD and via digital download on October 1, about six weeks before the anniversary of the show's November 10, 1969 premiere on PBS.