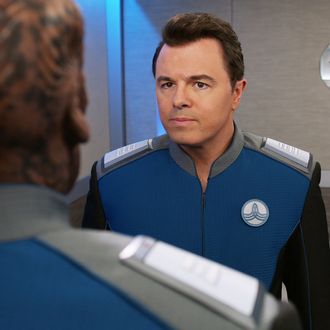 Photo: Michael Becker/Fox Broadcasting Co
Seth MacFarlane's The Orville has explored the Fox universe for two seasons so far. Soon, however, the space parody will be sucked into a television black hole and emerge, fully formed, in a strange and thrilling new dimension: Hulu. According to news from the show's San Diego Comic-Con panel, creator MacFarlane announced the switch to streaming for the show's upcoming third season.
According to The Hollywood Reporter, the Family Guy creator said The Orville's "production demands" apparently "made delivering the show to the network for its planned midseason debut impossible." Of course, time slows down infinitely as you approach a black hole (or move to streaming), so MacFarlane can take his sweet time with the next season, set to debut on Hulu in late 2020.