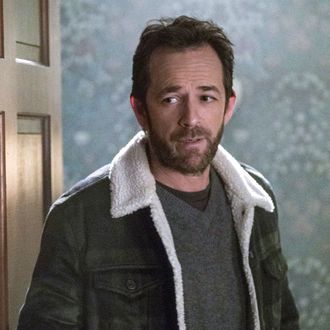 The tone of the Riverdale panel at San Diego Comic-Con was both celebratory and somber. Still coping with the loss of friend and cast mate Luke Perry, who died unexpectedly of a stroke earlier this year, showrunner Roberto Aguirre-Sacasa took the stage before his stars to talk about the actor who garnered a whole new generation of fans playing Fred Andrews on the hit CW drama. The series creator told the Hall H crowd, "This year our Riverdale family — and we are family — suffered a huge, huge loss," before cueing up a video tribute to Perry that was assembled by members of the production team and originally played at the season-three wrap party. It was a highlight reel of the actor's time as Fred Andrews, and it ended with the words "We love you Luke."
Riverdale notably did not directly address Perry's death at the end of season three, and the showrunner said at the time that it was because they wanted to honor him properly instead of rushing in something at the last minute. Aguirre-Sacasa said instead that it would factor into the start of season four, and that's exactly what was discussed today in Hall H. The new season will open with a tribute episode to the actor and include a guest-starring appearance from Perry's long-time friend and fellow 90210 cast member, Shannen Doherty.
"They were such good friends, and when we were putting together this tribute episode, we wanted to make it as special as possible, and so we asked Shannen to do a pivotal, super-emotional role," said Aguirre-Sacasa, who added that Perry had been trying to get Doherty on the show since the very first season. "She read the script and immediately said yes. It's very impactful." In talking about what it was like to work with the actress in such a delicate circumstance, Cole Sprouse said, "It was cathartic for all of us," adding that, "It put the cherry on top of that episode and made a nice tribute. She was overjoyed to have the ability to share some of the burden of Luke's passing that she had gone through in a cathartic setting with the rest of us."
To get everyone on hand in lighter spirits following the Perry dedication, the cast shared a blooper reel from season three and gave some hints at where next season will take the trouble-magnet teens of Riverdale. Molly Ringwald will have a much more heavily featured role as Archie's mom going forward, and Aguirre-Sacasa said, "We're digging deep into the high-school franchise this year," meaning this show about high schoolers might actually be about high school again, instead of things like cults and weird maple syrup–making rituals. That all sounds very reasonable, but hopefully the weirdest teen soap on TV doesn't pull back too far. We would hate for things in Riverdale to get aggressively normal on us.