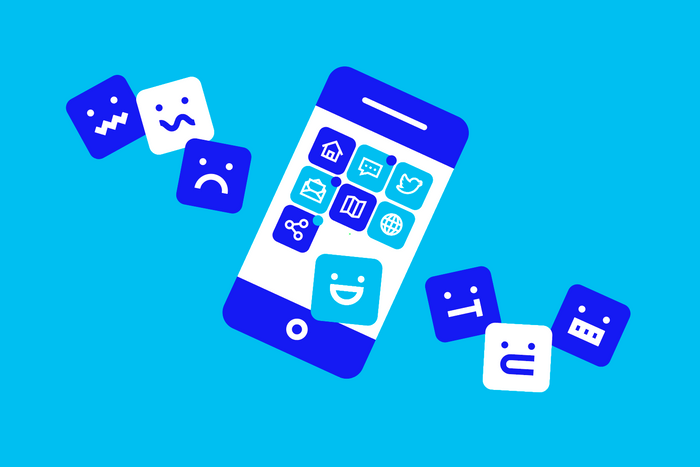 Illustration: Giulio Bonasera / salzmanart
If there's one thing the smartphone has done, it's give us more. More ways to communicate, more ways to ignore each other, and more ways to be rude — or if you're a battery-half-full kind of person, more ways to do the right thing. In that spirit, we've partnered with Visible, the $40 unlimited text, talk, data, and hotspot phone service provider, to round up a few guidelines to tech etiquette: They're smartphone rules to live by. You probably already know a few, but why not master all eight all through daily practice? Consider the city your training course.
Always
take
your
own
photos
in
group
settings.
There
might
not
be
enough.
What's that over there? Five-hundred people doing a headstand in Central Park? A bodega cat reading tarot cards on a corner in Greenpoint? You should take a pic! Better yet, a video. If you don't, then how will you remember this once-in-a-lifetime moment? Certainly not by the 50 people around you with their phones out. It's not like any of it will make it to social media.
Text
while
walking.
What
could
go
wrong?
You're all about that hustle, that multitask, that way of always being on! What better way to do that than by putting one foot in front of the other and marching into your future while keeping your eyes fixed on something else entirely? People, puddles, and miniature poodles await their inevitable meet-cute with you.
Use
your
phone
as
a
crutch
during
situations.
It's
why
you're
there.
Humans are social creatures. We crave connection and shared experiences. That's why when you find yourself in a room full of strangers and acquaintances, you might feel the need to pull out your phone and connect with totally different people — ones you already know. It is such joy, such comfort, such a completely different activity than the one you came to do.
Texts
have
a
918-character
limit.
Write
your
memoir.
A long text is the best text — in fact, multiple long texts, one after the other, is really going above and beyond. Large blue bubbles signal drama and intrigue to the soon-to-be reader, raising expectations with each word. But don't wait for something exciting to happen to write your next character-laden text, and type your heart out as often as possible.
Send
all
your
contacts
a
pic
of
every
cute
dog
you
see.
Maybe
they've
never
seen
one?
Dogs are evolving. They're dressing better than ever, embracing footwear, and beginning to carry their own umbrellas like the civilized canines they are. The next time you see one, tongue out and shirt tucked in, you might be seized by an overwhelming urge to take its photo and send it to someone, anyone, so they can co-appreciate it. Don't deny yourself. Take that photo, then take another. Your mission is only complete when you share that pup with a friend.
Choose
one
word
to
begin
all
your
stories
with.
You
gotta
establish
your
brand.
A good brand is authentic, personal, and consistent, and what is life if not an opportunity to brand-build? Once you have a sizeable social following, you'll want to talk to your followers often: the more the better. In the spirit of consistency, try picking one word to start every story. "Um" and "guys" are popular choices, but let your own nervous tick guide you to your signature opening.
Surprise
people
with
video
calls.
What's more fun than a totally unexpected phone call when you're home and totally immersed in a focused task? Why an unexpected video call, of course. It's just a little bit more jolting, and it gives you a chance to show off what you're wearing and exactly how you look like when you had no intention of seeing anyone.
If
someone
shows
you
a
photo,
start
swiping
through
their
whole
gallery.
The
less
you
know
them,
the
better.
A lot of photos can fit on a phone, and the result is we're basically walking, talking albums. When someone shows you one of their photos, don't forget that there are so many more where that came from. Swipe forward, swipe back, or close out to view those hundreds of miniature images. You'll get to know that person on a whole new level.
This is paid content produced for an advertiser by New York Stories. The editorial staff of Vulture did not play a role in its creation.