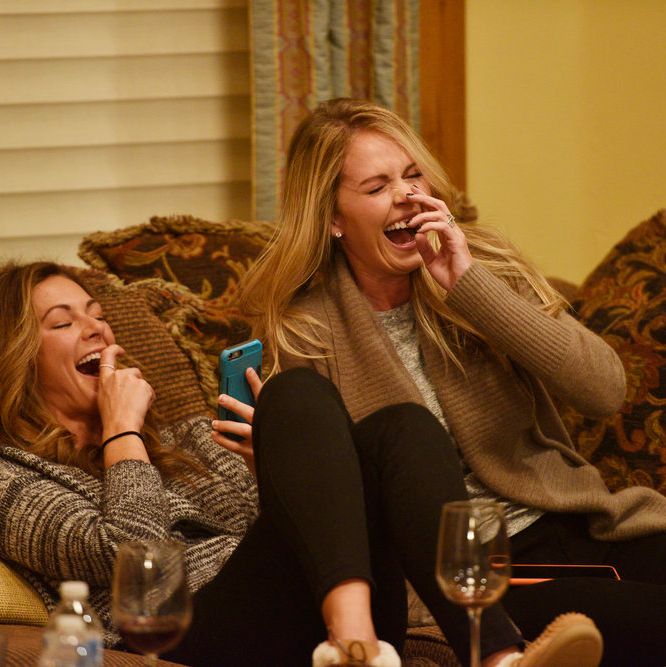 Photo: Bravo/Thomas Cooper/Bravo
This is not a recap. This is a Kathryn Dennis's skiing-fashion stan account. When she comes downstairs after breakfast wearing a complete ski-bunny look — red jumpsuit with a white stripe down the side and giant red faux-fur earmuffs — I died, resurrected myself, got on the floor of my flat in the sweltering London heat, and mumbled "We're not worthy" repeatedly at the television like I was Wayne and Garth in Madonna's bed.
When the clan finally gets to the ski slopes, Kathryn, who does not know how to ski, has to rent boots and asks first for white ones. "We don't have white," an unappreciative mountain staffer tells her. "Well, there's a look I'm going for," Kathryn replies flatly before requesting both black and red boots and being denied. Well, something happened and Kathryn got her white boots for the ski slope. I bet they were a junior's size and she just squeezed her adult woman foot into it so that she could complete her look. However, it's a pretty weird outfit to wear for the bunny slope. She's dressed like an Alpine regular but has the skills of, well, a 25-year-old single mother from Charleston.
If that wasn't enough, she then shows up at the "weed dinner" wearing what I would guess is a Raf Simmons for Calvin Klein sweater with a section of yellow fringe that makes her left arm look like Janice from The Muppet Show. How come everyone on this show looks like Anne Taylor Loft or Restoration Hardware Body or Old Navy Athleisure and Kathryn is giving us full on Love-magazine editorial? I love her so much.
I don't know whose idea it was to go on this ski trip considering almost no one on the cast actually skis; that is sort of like taking the Trump administration to Showtime at the Apollo. Craig, Austen, and Madison shred on the slopes while Cameran, who knows how to ski but is afraid now that she's a mother, supervises Kathryn, Danni, Eliza, Don, and Chelsea as they take lessons. Shep and Whitney just get high and huff cans of oxygen unironically like they've never seen Spaceballs. They're all really bad at skiing, especially Don, who goes flying down the hill but can't make himself stop so lands with a larded thump at the bottom of the hill. That is the only interesting thing Don has ever done on my television set.
After skiing, they all return to the house for Austen and Shep's weed dinner. Just like skiing, why are they doing all of this weed stuff when no one really wants to get high? Well, Shep, Austen, Chelsea, and Madison do, but that's not even half. And Kathryn, as she points out, went to rehab for weed and almost lost her kids over it. At dinner, she makes it a point to say to Austen, "Yeah, good thing I'm cool with all this and thanks for asking me," which kind of goes out of its way to be bitchy, but that is exactly how she should have handled it.
The whole dinner is sort of like Friday but full of unfunny white people. There's just something so juvenile about glorifying weed in this way. Hey, if you want to light one up or eat some gummies or whatever, have at it, but to center your whole culinary experience around ganja is something that a teenager who just found his first Penthouse in the woods would do. And of course Shep is going overboard, doing gummies before dinner and slathering everything on his plate with THC-infused butter. He even eats it right out of the bowl. If only he gave as much attention to eating all of the women that he takes home after drunken nights in a brewpub.
Dinner gets off to a rocky start when Eliza says that they should do a blessing over the food and everyone is like, "Over this weed meal? Girl, you stupid." That is exactly the way to treat Eliza, with disdain and disregard, because she is as worthless as another bottom at a Hell's Kitchen sex party.
Know who should be a permanent member of the cast? Madison. We haven't seen much of her this season except for Austen yelling after her in an Instagram Story where he got caught having a three-way, but I'm horrendously impressed with what I've seen so far. She comes down to dinner, and Craig is the only one there to talk. He asks what is going on with her and Austen, and she basically tells him to butt out of her life and to stop giving Austen bad advice. Three snaps in a circle formation.
She has a similar moment with Shep. She asks him for one of his gummies, and they go into his room to get it. She immediately starts making fun of how gross his room looks, since it bears a resemblance to Boris Johnson's haircut. She takes a whole gummy and pops it right into her mouth, and Shep gives her a bro fist bump. "I'm just starting to think that you're cool, but I want you to admit you were toying with his emotions and you knew all along," he tells her.
What the hell even is that? He's trying to be nice but also calling her a manipulative bitch and preceding it with a compliment. She settles the score right away by basically just saying, "You called me white trash, and I'm not going to tolerate that behavior and for you to make that comment without knowing me." Three snaps in a Z-formation. Then she tells him he's a bad influence, that he's ugly, his mother dresses him funny, and that his CBD wine is gross and no one wants to drink it. So there!
Madison is really an outsider on this trip, but she stood up for herself, told these boys when they were behaving badly, and defended herself with truth and honesty. That takes serious guts, and I applaud her for her effort, even if she was putting weed glaze on everything she ate at the table.
(This is a long aside to say that, yes, I know that Ashley was on this episode, looking like she was auditioning to be the replacement in the Leprechaun franchise of horror movies. This time, she has drinks alone with Naomie because the rest of the cast was on vacation and she was the only one in town and there were still two more days on the Airbnb that the producers were paying for in Charleston so they wanted to get their money's worth. This was a stunt and it was staged and awful so we will not be covering it at any length, especially because there is nothing new to say about Ashley. However, the moment when Naomie answered her phone call, when her face read like she was doing all the Kegels to gird herself for a punch in the vag, is a moment I will never forget.)
The episode really comes back to MVP Kathryn. At the weed dinner, she reminds herself of the things Whitney said about her in the past, calling her a drug addict and a psychopath, charges for which she has seemingly exonerated herself. He has never apologized and now he's going around denying that he had sex with her when he clearly did. She shares his texts with Danni, and he says, "Come over, but don't tell anyone where you're going." God, that is grosser than a three-week-old turd at the bottom of a lake. The only thing more juvenile than a weed dinner is having sex with a girl who he deems less than worthy of him but does it anyway so that he can bang.
Kathryn leaves the table because the weed is bringing back some bad memories for her, and she goes into the other house. Craig, a dingleberry with good hair, is the only one who notices that she's gone and might be upset. As he comforts her, she tells him about what Whitney did to upset her.
Craig is a mess, but he's a sweet mess, so he tells Whitney to go comfort Kathryn, and he denies that he has done anything wrong, that he slept with her, and that it is his problem. Whitney totally went to the Cobra Kai dojo, didn't he? He just has that air about him, like every preppy asshole in every teen movie who is mean to Molly Ringwald. He's the anti-Noah Centineo. You know how in She's All That, the girl takes her glasses off and suddenly she's beautiful? When Whitney takes his glasses off, it reveals that he's a catfish creature that no one will give a home.
Anyway, Craig finally guilts Whitney into checking on Kathryn and he finds her out on a darkened porch alone, her face lit up with the goblin glow of her phone screen. He asks if everything's okay, and she sends him away, telling him she's not ready to talk. Kathryn seems to be in a deep and unending hole. Maybe she's rewatching that footage of Whitney calling her a loser on Watch What Happens Live. Maybe she's rereading old RadarOnline stories about herself. Maybe she's editing her Wikipedia page to add that she's been sober for several years now.
We don't know what she's doing, but she casts quite a figure, a glowing face on that dark porch with the trees and the snow just beyond her twinkling in the porch lights. She stops looking at her phone long enough to check out her surroundings and focuses on a patch of snow that has thawed all the way to a soggy puddle. She imagines it's a hole, no, a tunnel. It's a tunnel and she'll throw herself down it, falling and falling, until she lands on the other side, bruised but whole. That's all she wants, for the falling to stop and for life, no matter how painful, to start again in earnest.