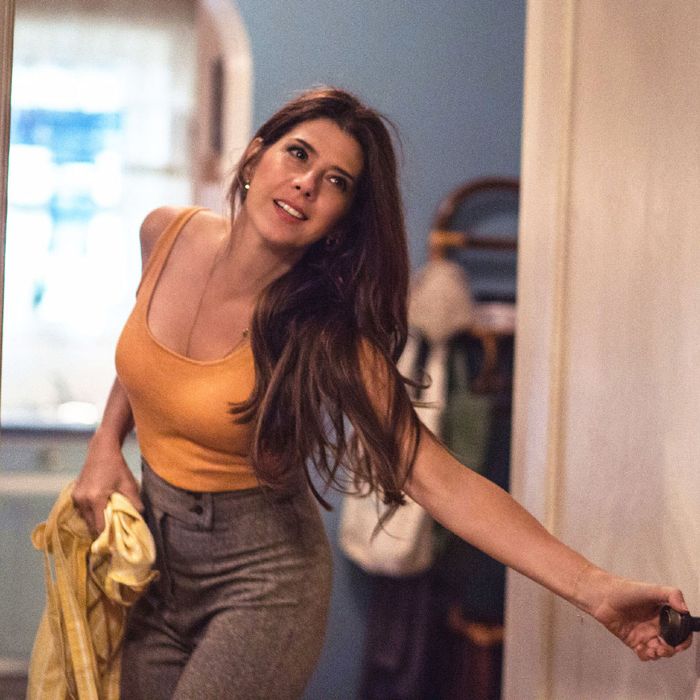 Spider-Man: Far From Home
, also known as
Aunt May's Hot Girl Summer™
Photo: Columbia Pictures/Marvel Studios
This article has been updated with crucial information from the Spider-Man: Far From Home costume designer, Anna B. Sheppard. Read on:
The most important question in Spider-Man: Far From Home isn't "Will Gwyneth Paltrow show up in this movie?" or "And will she (again) out-bill Zendaya?" It's also not "Is there any way Peter Parker's summer Euro trip outdoes Lizzie McGuire's?" And, stunningly, it's not "How many times can I call Jake Gyllenhaal Bradley Cooper's Tethered, bound together by olive skin, facial hair, and a pathological desire to make a biopic of Leonard Bernstein?" The most important question in Spider-Man: Far From Home concerns baddie Aunt May (Marisa Tomei): How do I get this bitch's life?!
Aunt May, like half of the world, was turned into confetti by Thanos's Infinity War snap. But unlike the rest of those temporarily condemned to the Blip, she returned post-snap harder, better, faster, stronger — and in her apartment, wondering why in the world someone else had moved in. Aunt May was hot in Homecoming, but she's living her best life in Far From Home.
The clearest example of this is a truly, divinely perfect pair of jeans she wears in the Spider-Man sequel. "The jeans! The jeans! The jeans!" I scribbled in my notebook during my first viewing of the film. I have been known to think about skin care a lot. I think about denim almost as much. I didn't wear jeans between the years of 2009 and 2013 because, frankly, nothing I tried on was worthy. Good denim is stiff enough to not lose its shape during the day, but the best denim has that holy-grail stretch quality — just enough to accommodate a food baby, human knees, or a bend and snap, all without drooping. It doesn't just squeeze your butt, it hugs both cheeks. I grew up reading The Sisterhood of the Traveling Pants, dammit! A good pair of jeans is elusive and mystical, with untold powers; a good pair of jeans can connect you with your best friends, it can conjure you a new nose, it can heal your daddy issues.
Marisa Tomei's Spider-Man: Far From Home jeans have this power. They are light-wash, high-waisted, snug through the thigh, and then casually flare at the knee. They are elegant and informal — and also, it's worth noting, not the (also very good) pants pictured above. (Is it our fault the powers that be are intent on keeping the origins of these jeans under wraps?!) A Star Is Born was very good dark-denim propaganda, but the light-denim consortium — basically Aunt May and Call Me by Your Name — has won out. And so I repeat: "The jeans! The jeans! The jeans!"
Because the powers that be at Spider-Man's distributor, Sony — including Far From Home costume designer Anna B. Sheppard — did not respond to my multiple requests of: WHERE CAN I BUY AUNT MAY'S JEANS?? I have rounded up a list of similarly sky blue, similarly high-rise, similarly bell-bottomed jeans myself.
Wear these jeans responsibly, and ideally try them on before you buy. Slip them on before your date with Happy Hogan, or a similarly suited Stark Industries head of security. Wear them to a rooftop bar, to a BBQ, to a concert. Wear them while you offer loving, wise advice to the nephew that maybe lives with you, maybe in Queens. Wear them while you find your own Uncle Ben! Or just wear them to the movies, whatever.
Update, 7/22: Because I am a "serious" "journalist," and because I really am obsessed with Aunt May's bell-bottoms, I did continue to contact Spider-Man: Far From Home's costume designer, Anna B. Sheppard, to discuss the jeans. We finally connected this week. "You are really obsessed about these jeans, I have to say!" Sheppard said, laughing, via phone from Europe. She told me the jeans came from the Swedish brand Rodebjer: "They're perfect! I didn't have to touch them," she said. "I have to admit I bought about 16 other pairs, for choices, but I hit the gold with this pair."
Sheppard said Aunt May's style is inspired by Marisa Tomei's, albeit on a stricter budget. Aunt May's jeans didn't require any alterations, and helped add inches to Tomei's five-foot-five frame. "I am an age that I wore the original bell-bottoms, and because I'm a height of about five-two, I used to adore a bell-bottom jean. I wore high platform shoes under the jeans, so suddenly I could add four inches to my height, which was precious," Sheppard said. "We did the same with Marisa. We put very, very high heels under those bell-bottoms. That's the secret: They rarely, unless you are six feet tall, they don't look very good. They need a bit of long legs, because of the shape." After I explained what exactly a "hot girl summer" is, according to the prophet Megan Thee Stallion, Sheppard agreed that it is a fitting description: "Aunt May, I think, has grown in Far From Home. She's very happy. Life is looking bright." And those jeans are looking great!