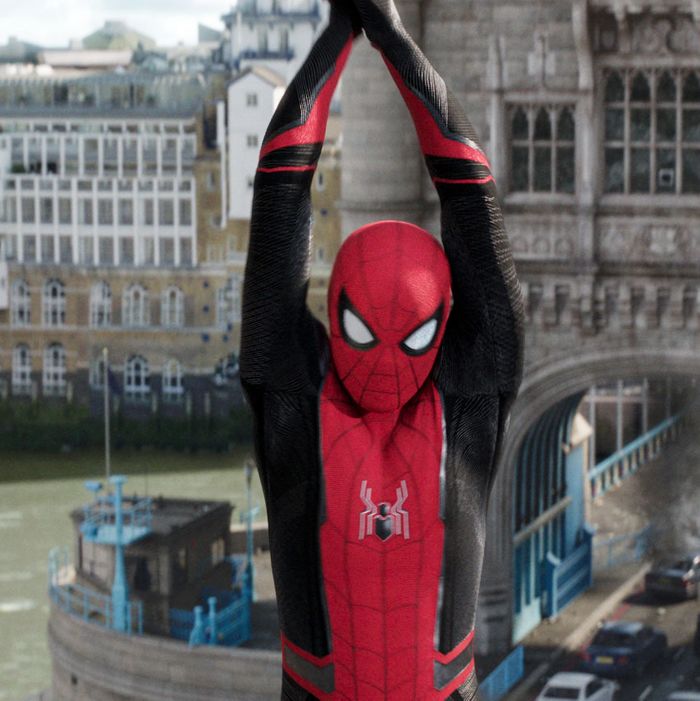 In Spider-Man: Far From Home, Peter Parker (Tom Holland) and his Midtown School of Science and Technology buddies make a whistle-stop tour of Europe's most explodable cultural capitals — Venice, Prague, Berlin, and London. Unsurprisingly, the 16-year-old Spidey finds himself off the school bus more than on it, battling the rampaging creatures known as Elementals alongside dimension-hopping, fishbowl-wearing caped crusader Mysterio (Jake Gyllenhaal).
Swinging into North American theaters ahead of an extended holiday weekend in the U.S., the movie eclipsed financial expectations to become one of this summer's biggest blockbusters. Far From Home logged the second biggest Independence Day take of all time — $25.2 million on July 4 alone. Although still in the shadow of Transformers' record-setting $29 million gross in 2007, it was strong enough to provide a much needed jolt to sagging ticket tallies, which had been down about 9 percent from this time last year.
Moreover, released domestically on July 2, the Jon Watts–directed sequel to 2017's Spider-Man: Homecoming racked up an estimated $185 million over its six-day opening to obliterate the $125 million haul projected by its studio distributor Sony. And over Far From Home's first ten days in release overseas, the returns were even more impressive: $395 million in international ticket sales for a cumulative $580 million worldwide gross. That success is all the more notable in an era of perceived sequel fatigue, when such high-profile spinoffs and reboots like Dark Phoenix, Men in Black: International, and Shaft have bombed at the multiplex, and Godzilla: King of Monsters underperformed compared to its MonsterVerse precursors.
So what did Far From Home manage to get right that those other recent sequels got wrong?
Arriving as the 23rd entry in the Marvel Cinematic Universe and the closing installment of its so-called Phase Three (which wraps up the original Avengers saga), Far From Home was marketed as a kind of epilogue to April's Avengers: Endgame. Plotted in the denouement of "the Blip" (formerly known as the Snap™), Far From Home picks up with humanity after half of it has been wiped out of existence only to be brought back five years later.
According to Jeff Bock, senior box-office analyst for Exhibitor Relations, the halo effect of Endgame — the second most successful film of all time with $2.77 billion in global ticket sales — proved potent. "Once Sony put Spider-Man back in the Marvel fold, it really turned things around for this franchise," Bock says. "And this is the bookend for a Phase. Not only do fans feel obligated to see it, it's not just super fans anymore. These are regular, run-of-the-mill moviegoers. They know that Marvel is synonymous with quality filmmaking and seeing a Marvel movie means you're part of the pop cultural moment."
Far From Home's success, however, should also be credited to its filmmakers' storytelling decisions. The Tobey Maguire–starring, Sam Raimi–directed, non-MCU Spidey film trilogy (that arrived on screens between 2002 and 2007) — and to a lesser extent, its reboot, the Andrew Garfield–starring, Marc Webb–directed Amazing Spider-Man (2012) and The Amazing Spider-Man 2 (2014) — chose to begin with a wide-eyed high-school-aged character but matured him into a despairing veteran hero quickly. Such was the tendency for early superhero films, considerably rarer at the time. The Homecoming Spider-Man series, on the other hand, relishes the notion that our hero is just a teenager in way over his head, and seemingly feels no rush to age him into adulthood.
"The new movies play into Spider-Man's strength of being a kid — being this relatable, quirky, witty kid," says Shawn Robbins, chief analyst at Box Office Media. "It doesn't matter if you're 14 or 40 years old, especially if you grew up on the comics, he's relatable in the way of, even if he's a superhero, he still deals with everyday human things. Even though a few Marvel characters have done that, Spider-Man has always been the poster boy of that dichotomy. That's why audiences keep gravitating toward him after eight movies in 18 years." (Not including the character's presence in Captain America: Civil War and two Avengers movies.)
Considering 2019's other box-office bonanzas — John Wick 3: Chapter 3 — Parabellum, Toy Story 4, Disney's live-action reboot of Aladdin — the discourse around supposed sequelitis and franchise fatigue might be missing the point: Sequels and reboots aren't the problem, but unwanted sequels and reboots (or step-sequels, as my colleague Nate Jones writes) are. "I think audiences will pay to go to see sequels — as long as they're good," Robbins says. "June was a very rough month to get through at the box office because of several straight weeks of sequels that audiences really didn't ask for. Even if they hadn't asked for them, if they had been good, maybe they would have done better. But it was just, 'Two negatives don't equal a positive.'"