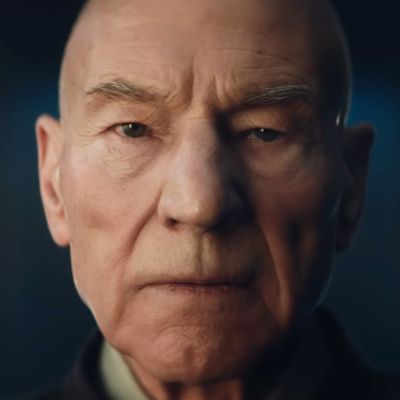 San Diego Comic-Con's Hall H held a surprise cross-generational Star Trek reunion Saturday, when series regulars Brent Spiner (who portrayed Lt. Commander Data on Star Trek: The Next Generation) and Jeri Ryan (the borg Seven of Nine on Star Trek: Voyager) appeared onstage alongside Patrick Stewart just minutes after the surprise reveal that they will appear in his highly anticipated new CBS series, Star Trek: Picard.
The first ta-da moment arrived when the panel screened an exclusive trailer for Picard (which begins airing in 2020). Among the sci-fi action featured in it, Stewart, in character as his iconic TV and movie character Capt. Jean-Luc Picard, is shown in his Italianate villa pouring himself a generous glass of scotch. A woman's voice is heard behind him asking, "What do you think you're doing out here? Saving the galaxy?" Smash cut to Seven of Nine, who has apparently let herself into his house.
Earlier in the trailer, Picard mentions how Commander Data sacrificed his life for the captain. At the end of the trailer, Picard is shown peering over a hand of cards. He says, "I don't want the game to end." Data is revealed as his opponent. "I know," the cyborg says.
Emerging onto the stage — along with Jonathan Del Arco, who played Third of Five on Next Generation and who will also appear on Picard though he wasn't in the trailer — Spiner joked, "I didn't know I was in this!" Asked how he wound up on the show, the joking continued. "I first heard there was going to be this show Picard," he said. " I called the producers and said, 'Do you have anybody for the role of Picard yet?' They hung up on me. I spoke to Patrick and he said there's a possibility, would you think about coming on the show? I said, 'I don't think I could do that.' He started crying. I just couldn't take it."
"No, actually I spoke to the powers that be," Spiner said, finally shifting gears. "The show has an incredible bunch of writers and producers. Standing next to Patrick again on a set, I couldn't stay no to that. Then the fans, to think this was going to happen and I was going to be there — of course I was going to do that."
Ryan, for her part, was at a concert at the Hollywood Bowl with one of Picard's supervising producers, whom she described as a friend. She said they downed four glasses of champagne before he made the professional overture. "I never thought anything would come of it," she said. "But I kept hearing about it. And it happened. Which was cool."
The show's producers also revealed that Marina Sirtis (Counselor Deanna Troi on Next Generation) will also appear on Picard and that Jonathan Frakes (Commander William Riker on Next Generation) will direct several episodes of the new show.
Asked how it felt to reunite with so many old friends on set, Stewart could barely contain his glee. "You've got to get your laughing gear in place," the British actor said. "We have more fun than should really be allowed in a very expensive series."