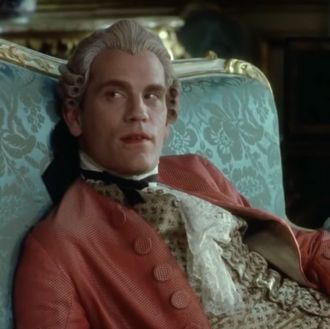 John Malkovich in 1988's Dangerous Liaisons
Photo: Lorimar Film Entertainment/Warner Bros.
Pierre Choderlos de Laclos's Les Liaisons dangereuses has inspired an opera, a stage play, a ballet, a 1988 film starring John Malkovich and Glenn Close, and Cruel Intentions, among other adaptions. In a new prequel, Starz plans to figure out what made those liaisons so gosh-darn dangerous to begin with. According to TVLine, the network has ordered to series a prequel show set before the events of the 1782 novel, in which ex-lovers and rivals Marquise de Merteuil and Vicomte de Valmont use sex to taunt each other and manipulate their peers amongst the 18th century French aristocracy.
The series, which Starz touts as "thrilling, sexy, and provocative," catches up with the pair back "when they meet as passionate young lovers in the slums of 18th century Paris." Call the Midwife's Harriet Warner will write and serve as showrunner on the eight-episode first season. After finding success with programs like Outlander and The Spanish Princess, Starz clearly knows what side of the bread their butter is on: the sexy side. And yeah, you've got to put that butter on real seductive-like.