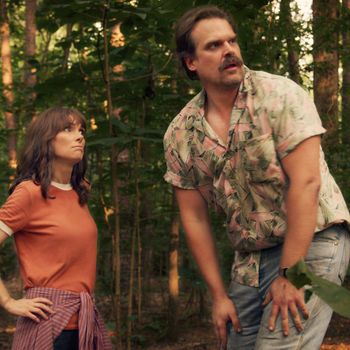 1985 is a year of firsts for Jim Hopper (David Harbour), thanks in no part to adopting a psychokinetic daughter and dealing with a pesky Russian invasion down by the mall. But Stranger Things 3 finds Hawkins' resident salty police chief expanding his horizons sartorially, too: Throughout much of the season's main action, Hopper doesn't don his standard-issue beige police uniform, but rather a groovy button-up purchased at JCPenney in the hopes of impressing Joyce (Winona Ryder) on a date. "It's cutting-edge stuff," he yells at his teasing police cohorts. "Cutting-edge stuff!" We concur.
Seeing a gruff (and at times jerk-ass) Hopper embrace his inner Tom Selleck fashion sense was an amusing choice for the show's costume department, with the pink-and-green shirt specifically chosen for its Magnum, P.I. parallels. (If you recall, Hopper watches the show from his recliner in an early episode.) "The original look we had in mind was actually more Indiana Jones inspired," Stranger Things' costume designer, Amy Parris, told Vulture. "We did a fitting and I showed the Duffers, and they said, 'You know what? We should pivot because we've sort of already done the Indiana Jones thing. We're thinking maybe more Magnum, P.I.' That's when our floral-shirt moment was born."
To create the perfect shirt, Parris and her team descended upon the famed International Silks & Woolens in Los Angeles to obtain vintage fabric in a "crazy, nearly Hawaiian print." They walked away with a few fabric options, and it was during the initial fitting with Harbour when the group tried to collectively pick the best design, with some modern (but vintage-looking) shirts thrown into the mix as well.
"In our fitting, David was between two shirts," Parris said. "It was the vintage fabric shirt that he ended up wearing, and another shirt that was a vintage recreation. We had shown the Duffers all the options up until then, and they were like, 'We just want some vibrant color in the show, so whatever you guys think.'" While Harbour and the costume team wavered for a while between those two shirt options, a visit from Harbour's girlfriend helped solidify the final pick. "She came in as he was still trying on the shirts, and she was like, 'That's the one, he looks so handsome,'" Parris explained. "We felt like we'd been staring at these fabrics so long that it was nice to have somebody come in and have an opinion, and see her react in a really good way. So we settled on staying true to the period and used the real fabric."
As the shirt was "built from scratch" with the fabric, Stranger Things' costume department created multiples for Harbour to wear throughout the nine-month shoot — with the most difficult challenge being to "match the shirts' level of distress" within each episode. (Blood, dirt, and all.)
Harbour also made his own tweaks to the final look. "I liked how David rolled his sleeves up. He wanted it to feel a little bit more '80s, so he cuffed the sleeves of the shirt," Parris added. "We ended up putting a little bit of wire in the collar to help it feel a little bit more rumpled, so that the shirt wouldn't lay so flat. As simple as it looks, there's more to it than just a shirt." Indeed there is — and with Hopper's full, fluffy mustache topping it all off, dare we say, it's a lifestyle.