Starring this vintage "
so
'80s" jumpsuit.
Photo: Netflix
Even if Eleven (Millie Bobby Brown) has yet to have a regular school experience alongside the rest of her Stranger Things 3 pals, the summer of 1985 ended up being one of great change for her, anyway: She's pissing off her dad with her choice in boys, discovering the joys of righteous breakups with her new BFF, and, perhaps most noticeably, eschewing her never-ending supply of flannels to give herself a very chic makeover. The sartorial result? A vibrant El who's just as comfortable whooping Mind Flayer ass in crisscross suspenders and scrunchies as she was before.
"The Duffers wanted her to look different, but not too cool," the show's costume designer, Amy Parris, told Vulture about the makeover. "We mixed using editorial fashion images from magazines and just trying stuff out on Millie. We found that in a fitting, when we put her in clothes that were a bit too tight or formfitting, she still looked like Millie Bobby Brown. So we felt the exaggerated silhouettes and voluminous-sleeved shirts covered her up more, made her feel less Millie and more Eleven." Parris and Brown also kept in mind how far El had progressed, narratively, since her arrival in Hawkins. "How do you dress the girl who's been secluded in a cabin for a year? She'd likely want to wear colorful patterns and prints," Parris added. "We landed on the stuff that felt the brightest and boldest. Millie was extremely helpful and I relied on her opinion a lot."
Below, Parris dissects Eleven's three most defining looks from the season. Cue the Stranger Things versus Fleabag jumpsuit showdown!
The geometric romper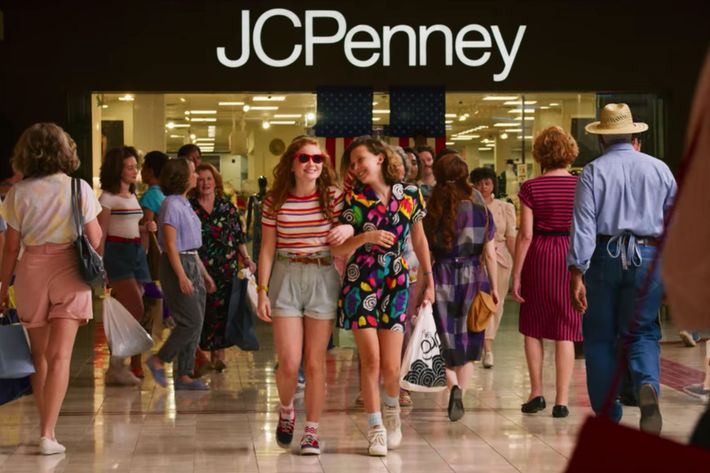 It's a vintage piece we found from a costume house in Los Angeles called Western Costume. When I was first prepping in L.A., my team and I were pulling racks of clothes to send to Atlanta, where the season filmed. The romper immediately jumped out at me and I knew it was going to be a memorable item — it's so '80s. It fit Millie like a glove. She threw it on and felt so great in it. We had pulled some other heightened fashion pieces for the mall montage scene, but when we showed this one to the Duffer Brothers, there was no question. It was Millie's favorite, too. I don't think it had ever been worn; it was totally brand-new. The fabric was in perfect condition, so it must not have been in Western Costume for long. Because I would imagine anybody pulling for an '80s show would have snatched it up, too. I was there at the right time!
The splatter button-down, paired with high-waisted jeans and suspenders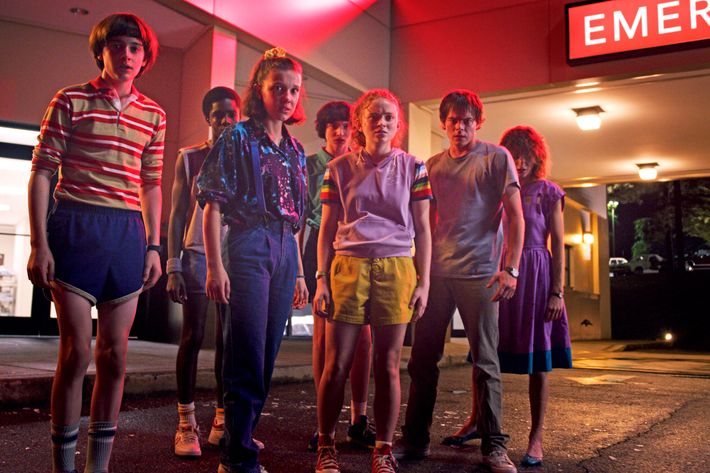 This outfit came about from a bit of necessity and the amount of time needed to execute it. Since Millie is a child actor who could only have limited work hours, we often needed multiples of her outfits to accommodate the longer filming time. I was lucky that the pants came in triples — we had three vintage DoorDash jeans that we found at Eastern Costume in Los Angeles. So we knew we could base the outfit off the jeans, which had the suspenders already built in. The shirt was made from fabric we printed and remade, and it's based on an '80s design. It actually has a fishtail tie, but we ended up tucking it in and not showing it — in the moment, the outfit was best without it. The fabric is inspired by a vintage splatter-print shirt. We digitized the print, and then printed the fabric. We had to make multiples so the pattern pieces matched perfectly for each one, which took a pretty long time.
The yellow and black button-up, paired with crisscross suspenders and jeans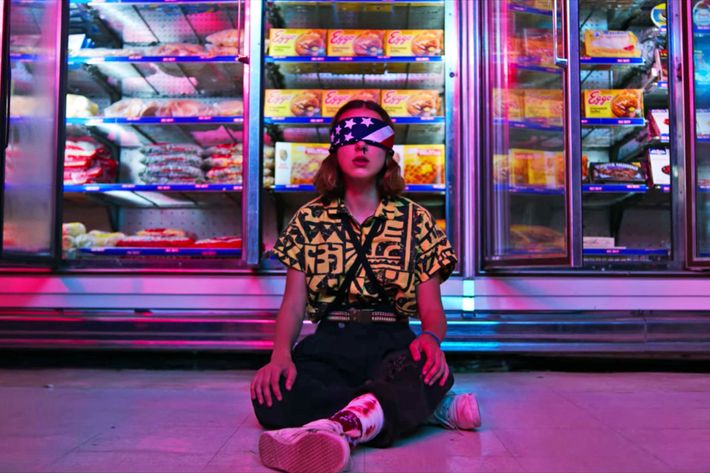 This look goes back to some images we found in Seventeen from 1984 and 1985. A lot of the fashion spreads had girls playing around with strong accessories, belts and suspenders — it was a big few years for accessories. A few girls in the magazine had the crisscross-suspender look, and I felt it was such a strong look that I knew I had to have Millie wear it for her ending scenes. With each fitting for this final look, we'd always try the crisscross suspenders. At first we did it with a tank top, but it felt a little too revealing. It needed to be with something that blended in, so we found that it balanced well with a patterned shirt. We wanted to go bolder in our patterns, which we did, from splatter to yellow and black. We made those pants from scratch, and the shirt is also from fabric we printed and made. Those jeans were a wonder. It had this incredible double waistband, and at the bottom it tapers to an intricate, patterned stitching detail. You never see those details on TV, so when we were creating the pants I was like, Nobody is going to notice the bottom of these pants, but they're so cool, damn it! And luckily, as I'm reading the script one day, Eleven's leg is injured, and we had to cut her pants open for the scene. So you can see it! The amount of work put into those pants was insane. It was a 19-piece pattern, which is kind of unheard of for pants. I was driving our tailors nuts, but I was like, "You know what? We have to go big for this last outfit."
You get to see her vintage Reebok sneakers too. They were bought in Atlanta at a vintage market. Those are very hard to find, and we knew we would need multiples, so we approached Levi's and asked if they'd help us with creating a few more pairs. They were able to re-create half of it — putting green leather on the outside, but not on the inside, so we painted the inside green to match the original shoes. So we had one vintage pair, and then a few molds that we mixed around for Millie and her stunt doubles.