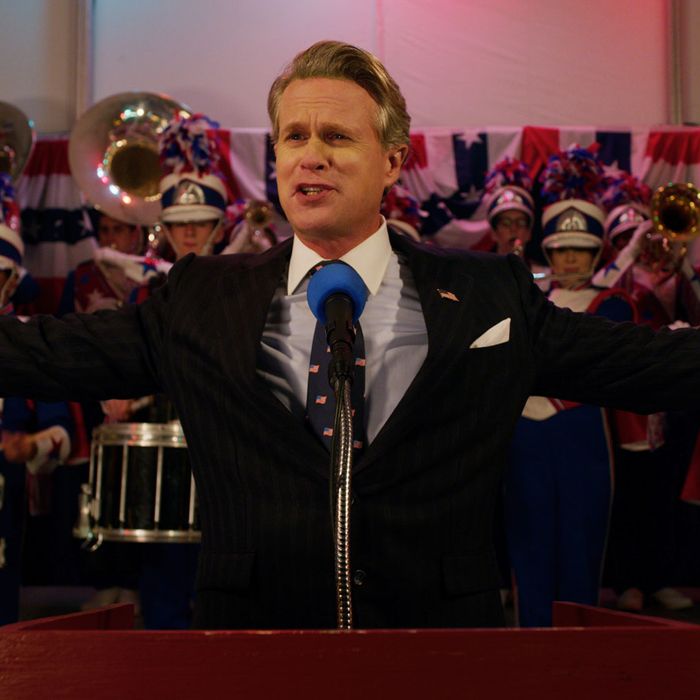 Photo: Courtesy of Netflix
Oh, so that's the subtext of Steve and Robin's clumsy conversation in the previous episode. Robin's previous obsession with him stemmed not from her desire for Steve but from her desire for a girl who only had eyes for Steve. The truth comes out, along with a lot of vomit, in the Starcourt bathroom, where a heavily (and up to that moment, pleasantly) drugged Steve and Robin take refuge while hiding out from the Russians. Despite having just confessed that he has feelings for her, Steve takes Robin's revelation in stride. They leave the bathroom as friends.
It's a pretty great scene, too. Stranger Things skeptics always point to the series' habit of borrowing (and borrowing and borrowing) from '80s pop culture, but Robin's a character who wouldn't have a place in mainstream '80s movies, which rarely had room for LGBTQ characters, positively depicted or otherwise. Stranger Things isn't the '80s pop-cinema equivalent of Todd Haynes's Far From Heaven, which used the form of a '50s melodrama to tell stories that couldn't be told at the time. But Robin's coming out introduces a new element into an old style that should similarly prompt viewers to reconsider what could and couldn't be said in a familiar form of entertainment from the past. What was missing then? And why?
Backing up a bit, it takes some work to get them in the bathroom in the first place. The Starcourt gang escapes from the bunker and, fortunately, neither Dustin nor Erica has accidentally gotten extremely high, so they duck into a showing of Back to the Future to wait out the Russian threat. It's fun watching Dustin and Erica take on the parental roles as their older friends recover from whatever drug they've been given, even if neither of them are all that great at keeping an eye on the "kids."
Of course, Dustin has other tasks to get through, including making radio contact with the rest of the gang, which has problems of its own. Really big problems, as it turns out. The Mind Flayer knows where they are and, despite their best efforts to board up Hopper's cabin, Night of the Living Dead–style, its tentacles find their way in as it tries to take out El. It doesn't succeed, but it does wound her. For the Mind Flayer's plan to work, it needs El off the board. She's just too powerful.
Retreating to a supermarket, they tend to El's wounds, with some help from Max's skateboarding experience, and stock up on supplies, including a massive firecracker called "Satan's Baby" that, it's safe to predict, will play a role in the season finale. Given a brief respite, El and Mike spend a little time talking haltingly about their feelings while Lucas makes a case for New Coke, which the others find disgusting. Per Lucas, it's "Sweeter. Bolder. Better." And while that's certainly how it was sold at the time, tradition eventually won out.
Meanwhile, back at the Fun Fair, a lot of people aren't having any fun at all. Sandwiched between her parents (and their flagging marriage), the littlest Wheeler kid spots something moving in the trees from the top of the Ferris wheel, but the real threat comes not from the Mind Flayer but from the Russians, who arrive determined to take out Alexei before he can help the Americans shut down their underground lab. Tragically, they prove successful just as Alexei was learning to love America. Though Murray warns him that the carnival games are rigged and only look like they can be won (it's, like, a metaphor for America, maaaan), Alexei discovers otherwise. He's strutting around with a giant Woody Woodpecker when a Russian agent takes him out, leading to a big fight between Hopper and the Soviets, some of which takes place in a Hall of Mirrors inspired by Orson Welles's The Lady From Shanghai. (Remember, you can read all about Stranger Things' references right over here.) He gets away with Joyce, but not before Joyce administers yet another beating to Mayor Kline, who deserves every smackdown he gets.
Hopper already has a lot on his mind even before the fight. Squabbling with Joyce again on the way to the fair, he's shaken when Murray calls out the dynamic beneath their fight, saying, "This interminable bickering was amusing at first but it's getting very stale and we've still got a long drive ahead of us. Why don't you two cut the horseshit and get to the part where you admit your sexual feelings for one another?" It's the series hanging a lantern on their sexual tension, an even brighter lantern than the Sam and Diane references earlier in the season. And Murray's not wrong: If he hadn't interrupted their bickering, it might have played like one dust-up too many. Will-they-or-won't-they tension can only be sustained for so long. Question is: Where do they go from here? They hold hands when trapped in the carnival ride but, assuming they survive, do they have a future as a couple? (And, if they do, will they be one of those annoying couples who thinks fighting in front of their friends is fun?)
By the time the two younger factions reunite at Starcourt Mall, El's on her feet again and able to use her powers to take out the Russians threatening their friends by casually throwing a car around. They exchange introductions and catch each other up on all the weirdness spinning around them but, as the episode ends, they realize they have a problem: El's leg has been infected by the Mind Flayer. This showdown may be over before it even starts.
Dangling Tentacles
• Okay, never mind the previous recap that suggested the Mind Flayer in the hospital was the scariest monster ever seen on Stranger Things. The jumbo-size Mind Flayer in this week's episode has it beat.
• Dustin is a conspiracy theorist? Does that square with the kid who loves science and reason?
• Robin gets this episode's best lines, but which is better?:
"We all die my strange little child friend. It's just a matter of how and when."
or
"I wasn't totally focused in there but I'm pretty sure that mom was trying to bang her son."
• Millie Bobby Brown continues to be spectacular at looking like a superpowered badass whenever she's called upon to use her telekinetic abilities, whether throwing a car around or severing Flayer tentacles.
• Have we really gotten almost three full seasons into a series set in 1980s Indiana without hearing a John Mellencamp song? That ends in the opening moments of this episode with "R-O-C-K in the U.S.A."
• Whither Suzie?