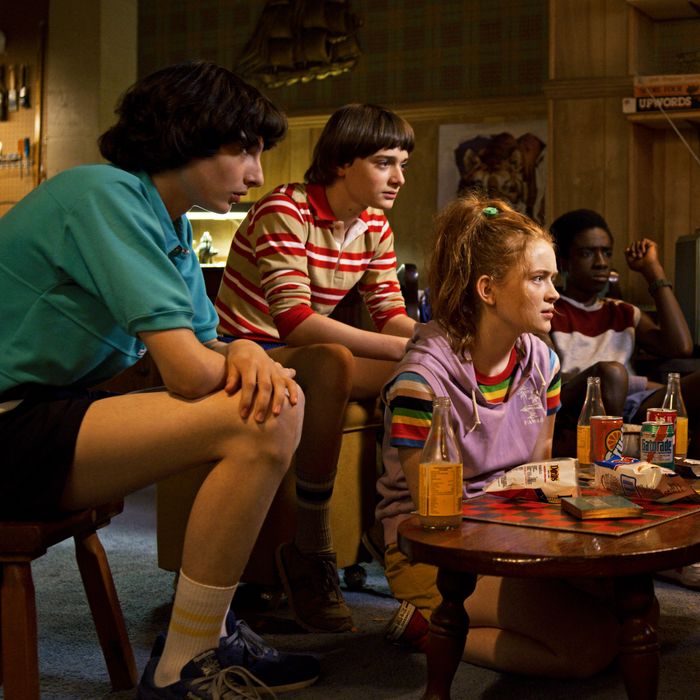 Returning after a nearly two-year break, Stranger Things 3 is as Stranger Things-y as ever, which is both good and bad. It's nice to see all these characters again. It's also fun to once again be immersed in the supremely retro setting — this season takes place during the summer of 1985 and, for large portions, in Hawkins, Indiana's brand new Starcourt Mall, home to a Waldenbooks and a Sam Goody and a Time Out arcade.
But the familiarity of the series, created by the Duffer brothers, is also what makes it seem a bit boilerplate at times. If you plan to play a drinking game every time a classic Stranger Things plot development or detail arises, your blood-alcohol level is going to rise quickly.
Use of walkie-talkies whose signals carry for remarkably long distances? Drink.
Eleven (Millie Bobby Brown) moving people and objects with her mind while her nose bleeds? Drink again.
Someone draws and/or consults maps as part of a plan to defeat something evil? Drink, then again, and again, and oh great, now you are totally wasted.
All that said, Stranger Things 3 does move into some new territory. This season is the equivalent of Harry Potter and the Goblet of Fire, in that the adolescent protagonists are now transitioning into their teens and dealing with all the issues that accompany that. Dustin (Gaten Matarazzo) returns from a sleepaway camp and reports that he now has a girlfriend. Will (Noah Schnapp) still wants to play Dungeons & Dragons even though all his friends are obsessing over the opposite sex. (It's implied, as it has been in previous seasons, that Will is gay, though it isn't explicitly stated.) Max (Sadie Sink) and Lucas (Caleb McLaughlin) are still a frequently bickering item, and Mike (Finn Wolfhard) and Eleven (Millie Bobby Brown) are actively dating, too. They often spend time kissing in El's room while listening to Corey Hart cassettes, a habit that doesn't sit well with Hopper (David Harbour), who's now officially El's father and becomes irrationally obsessed with breaking up the two of them.
That fixation is just one example of the Duffers and their fellow writers inserting something into the show that feels like a device orchestrated to cause conflict, or a bridge that leads from Preconceived Story Point A to Preconceived Story Point B, more than something rooted in a character's natural behavior. Here's another: Joyce (Winona Ryder), whose role in previous seasons has been to, understandably, freak out about her son Will's well-being, drops everything in her life to try to figure out why the magnets at the general store and in her house have lost their magnetism. I guess Joyce Byers is gonna Joyce Byers, whether she has a valid reason to or not.
Actually, it turns out there may be a valid reason to be concerned about the magnets, among other things. I can't go into much detail about the nature of the various threats that arise in Stranger Things 3; Netflix sent a list of embargoed information so long that even the famously spoiler-averse Matthew Weiner might suggest it's excessive. But I can say that in the first episode, there's a wide-scale power outage, after which Will once again senses an unwanted presence in the vicinity. Soon, other things begin to seem amiss in Hawkins in ways that give every character his or her own story line, including Nancy (Natalia Dyer) and Jonathan (Charlie Heaton), who turn their internships at the local newspaper into an opportunity to do some rogue reporting.
The season doesn't really start to hit its stride until episode four, when the suspense ratchets up on multiple fronts and director Shawn Levy, also one of the show's executive producers, toggles elegantly between parallel high-stakes moments. The horrors in Stranger Things 3 are messier, in that it's a little harder to make sense of everything that's happening; also because they are literally messier. It's a bit of a stretch to say this season is truly gory, but it's definitely ookier than the previous two.
It's also much more blatantly aware of itself and its place in the Zeitgeist. While Stranger Things 2 was roughly plotted out before the first season became an unexpected phenomenon, Stranger Things 3 was scripted with full and complete knowledge of the show's place in the culture. Consequently, there appears to be an even stronger interest in giving the viewers what they want. Lucas's younger sister, Erica, who had a small, fan-favorite supporting role in season two, is an even bigger part of season three. As played by Priah Ferguson, she's also even more of a sassy-remark machine than she was before. The funny but minor flirtation between Karen Wheeler (Cara Buono), the mother of Mike and Nancy, and the much younger Billy (Dacre Montgomery), stepbrother of Max, gets amplified into its own subplot early in the season. Because Steve (Joe Keery) shared some entertaining scenes with Dustin last season, Dustin spends the vast majority of his time this season with Steve, as well as Erica and new addition Robin (Maya Hawke), Steve's co-worker at Scoops Ahoy, the mall ice-cream shop.
There's nothing wrong with any of this per se, but it adds to the impression that the Duffers & Co. are writing what they know rather than trying to break new ground. Then again, part of Stranger Things' DNA is that it isn't inventing so much as reinventing, particularly when it comes to the popular '80s cinema from which it generously borrows. As expected, there are tons of references, both explicit and more subtle, to films of the era, including Fast Times at Ridgemont High; George A. Romero's Day of the Dead, which was released in the summer of 1985; The Breakfast Club; Alien; Ferris Bueller's Day Off; The Karate Kid; and, above all else, Back to the Future, which hit theaters on July 3, 1985, precisely the time when Stranger Things 3 is taking place. There's a scene where Robin attempts to explain the Robert Zemeckis blockbuster to a confused Steve that is absolutely delightful. The relationship between Steve and Robin turns out to be one of the high points of the season, partly because Keery and Hawke have a nice, evolving chemistry and also because their relationship takes turns that upend the clichés that tended to run rampant in the teen movies they would have absorbed back then.
As preposterous as things can get in terms of plot, the actors do a consistently strong job of keeping things anchored. Brown, always called upon to suffer as a girl saddled with superpowers, puts every ounce of heart, soul, anguished screaming, and energetic hand acting she has into her portrayal of Eleven. In some scenes, I honestly was concerned she might burst a blood vessel. As Will, Schnapp quietly shows flashes of genuine emotion, particularly in the intense, concluding moments of the finale. Three seasons in, all of the kids still effectively convey the sense that they know and care about each other in a way that only kids who have grown up within blocks of each other — or, perhaps, become famous on the same TV show — can.
There are some sad moments toward the end of the season that are bound to instigate social-media conversation. There are also some major story lines that don't feel entirely resolved, and while the music is generally on point, there are some song choices that don't make any sense, time-wise. (Looking at you, "I Just Died in Your Arms Tonight," which wasn't released in the U.S. until 1987.) That makes Stranger Things 3 a summer blockbuster that's partly, but not entirely, satisfying. Which, as '80s as it may be, actually makes this season perfect for 2019.