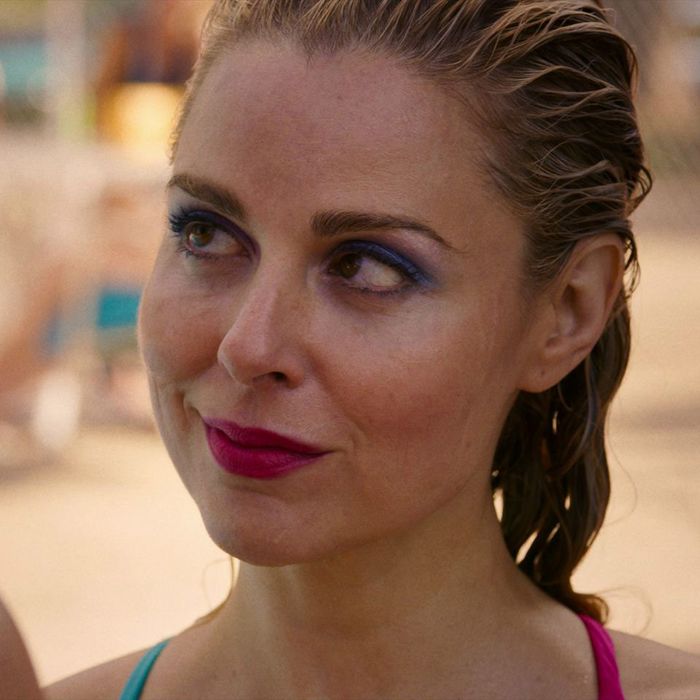 Sure, the antagonist of Stranger Things' third season might be the Mind Flayer and its devoted legion of gooey rats, but you best not forget the mean, lean rays of the Hawkins sun. Because at any given moment, it can and might ruin your perfect smoky eye. Such esoteric fun kicks off this season's premiere episode, when Karen Wheeler (Cara Buono) and her gaggle of gal pals hit the local pool in their flashiest outfits and eye lewks in the hopes of capturing the attention of Billy (Dacre Montgomery), the mean town hottie. Who's young enough to be their son, lest we forget!
Karen, in particular, dons a foxy swim ensemble, which looks even foxier when you stare into the abyss of the bright puff of blue and pink eye shadow cocooning her lids — a look that, somehow, remains intact when she does laps and submerges herself in the pool. What is this pure makeup sorcery?
"I wanted Cara to have the most color and didn't want the women to impede on it," makeup department head Amy L. Forsythe told Vulture in a recent interview. "We have a ton of research that we pull before the show starts. We had TV Guides and cosmetic ads and movie posters and magazine clippings. The great thing with Cara's character is we got to do something cool with her because it was a temporary moment, not something we have to carry through the whole show."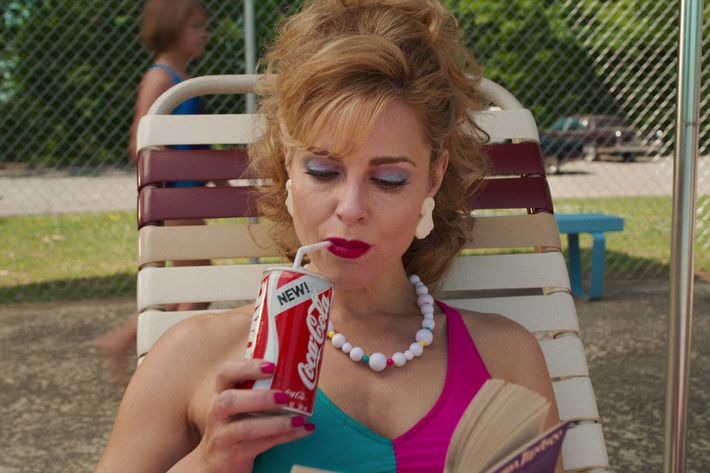 Forsythe and her makeup team primarily used M.A.C eye-shadow palettes on all of the women. Since finding waterproof eye shadow is a rarity, several rounds of primers and setting sprays had to be used to combat the always-fickle heat and water elements. "It's good that she barely goes under, so we wanted to see what would organically happen as far as how the makeup stays," Forsythe explained. "We definitely had waterproof mascara, because I didn't want her looking messy. If the eye shadow went down a notch from going under, I was okay with that, since we could always put more on between takes. But the rest of the face had to be intact."
Much to everyone's delight, when Buono had her brief underwater moment, the makeup didn't budge enough to require unnatural touch-ups when she and Montgomery shared their subsequent flirty scene. "It's not as fake as it looks! The colors that we used are very vibrant, but to make it look that high-pigmented, we had to pack it on a little bit thicker than what we're used to," Forsythe added. "You do see a little bit of water going through her cheeks. I love that! You see a layer there that she puts on."
Karen and Billy's dalliance (thankfully) never came to fruition, but at least we have her eyes to remember instead.