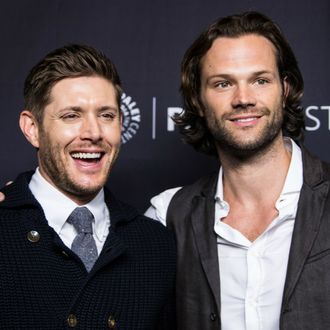 Photo: Emma McIntyre/Getty Images
The stars and creative quorum behind CW's long-running sci-fi series Supernatural bid farewell to San Diego Comic-Con fans on Sunday in an emotional Hall H panel. In the lead-up to the show's 15th and final season, which kicks off October 10, co-leads Jensen Ackles and Jared Padalecki initially tried to keep things light, goofing on every question lobbed in their direction. But toward the end of their presentation, the two fought back tears while repeatedly thanking their "fandom" for so many years of support.
"I'm trying not to cry," Padalecki said. "Can we all just start crying so I don't feel so weird?"
Added Ackles: "It really is hard to express the takeaway from this experience. Fourteen years and change is a long time. This guy was in his early twenties. We hooked it up to Vancouver, thinking we'd press pause, put our lives on hold for a season, maybe two, if we were lucky. And then we would come back and press play and life would go on. It never got un-paused, I'm very thankful it didn't. It's been quite a ride."
The show features the duo as demon-hunting brothers Sam and Dean Winchester who go on a cross-country search for their father, and stands as the longest-running science-fiction series in primetime TV history. The walking undead, violent decapitation, creepy clowns, spontaneous combustion, and rivers of arterial splatter have all been par for Supernatural's course. Season 14 concluded with the brother's incurring God's actual wrath, surrounded by encroaching zombies.
Asked during the panel how the final season will tie up the loose ends, showrunner Andrew Dabb provided a sober assessment of how likely the finale is to provide a satisfactory conclusion for fans. "I've been on the show for 12 years," he said. "The things we have in mind, about 30 percent of people will be really happy."
"So seven out of 10 people are going to be pissed off!" Padalecki exclaimed.
"If you thought Game of Thrones was bad, just wait," Dabb replied.
As things wound down, the show's writers and producers were asked what part of the show's legacy they were most proud of. "Looking back, I'm really proud of the work this team has done for this long," Ackles said. "To do a show is not easy. To make television is not as easy as people think. To get those 42 minutes is eight days of intensive work. And that's just the filming — there's the writing, conceptualizing, preproduction. It takes a lot of people to make the best product we can make. And after this long on the show, to truly love what we do, that's one of the legacies I'm proud of."
Padalecki began wiping away tears and pulling his skully over his face; Ackles stared toward the ceiling, his eyes glassy. "I consider these guys lifelong friends," said Misha Collins, who plays fan favorite Castiel, an Angel of the Lord, on Supernatural. "I could never have dreamed that along with that would come this incredible fandom and this iconic legacy of a show."