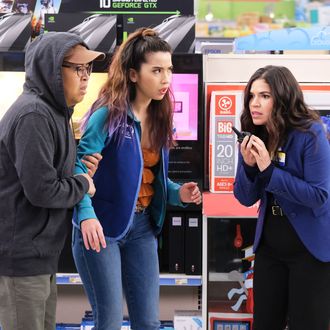 Photo: NBC/Tyler Golden/NBC
In the finale of Superstore's fourth season, in an episode called "Employee Appreciation Day," Nico Santos's character, Mateo, was apprehended in front of his friends and coworkers by ICE for being an undocumented immigrant. His Cloud 9 cohort tries to smuggle him out of the store, and the whole affair is staged to trick viewers into thinking they'll get Mateo out thanks to some sitcom hijinks — but then he doesn't make it. Mateo is hauled off in a Homeland Security van with his wrists zip-tied, and everyone is left looking helpless and dejected.
It was yet another poignant turn from one of TV's top comedies that also happens to be great at working pressing societal issues into its narratives. And the ramifications of Mateo's apprehension are going to make for a long arc on Superstore, according remarks from its creator and new showrunners at Comic-Con on Thursday. As for whether or not Mateo will come back, Santos — who described filming the ICE episode as "triggering" and very difficult to get through — said at the panel, "Well, I'm here. So that's a good sign!" Meanwhile, co-showrunner and executive producer Gabe Miller added, "For the last few seasons we've been exploring life as an undocumented person, and now we'll be exploring what it's like going through the deportation process."
In wanting to present a true-to-life depiction of the deportation process, Miller's fellow showrunner, Jonathan Green, pointed out that it can be a long and arduous experience, with producer and star America Ferrera saying it's a storyline that could "possibly drag on for three to four seasons." Meaning you can still expect to see plenty of Mateo in upcoming episodes, but don't expect his situation to be untangled quickly for the sake of moving on.
And in talking about the necessity of having a diverse cast to tell truly diverse stories, Ferrara had this to say: "The fact that our cast is so diverse is what allows us to do the stories that we do. You can't tell stories about deportation if you have a cast of ten people who are exactly the same. You need diversity, and that diversity of our cast is the opportunity to throw any kind of issue at this gang and know that everyone is going to be reacting to it from a different point of view and a different life experience. So the fact that this show began with this type of diversity embedded in it the DNA of multiple perspectives and an America that was multidimensional. So, it isn't in spite of the diversity, it's because of the diversity that we are allowed to do what the show does really well."