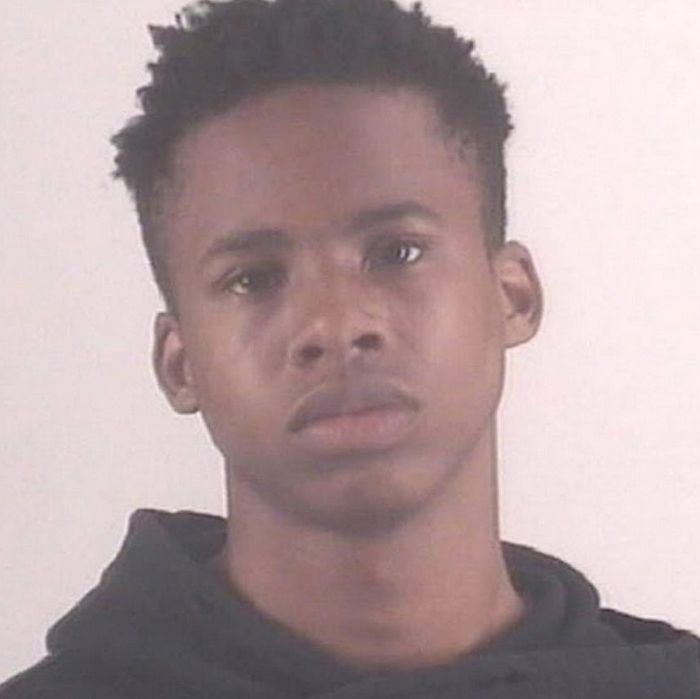 He was sentenced this week to 55 years in prison for the murder of a man during a home invasion, which he bragged about on his most famous song.
Photo: Courtesy
Every week, Vulture runs through the best, most interesting, and sometimes most confusing rap releases and other news. In this installment: the dramatic end of the Tay-K murder case, the questionable returns of Iggy Azalea and Nas, new Beyoncé, a comedian who pisses off XXXTentacion fans with her stand-up set, and more.
Nas, The Lost Tapes 2
Nas's third record was supposed to be his most ambitious. That meant it had a high bar to clear: His debut, Illmatic, was an instant classic by design and acclamation, and his second album — the glossy, knotty, eternally divisive It Was Written — was billed as his superstar turn. He wanted to follow those with a double album called I Am… The Autobiography. The history of that lost (or half-lost) record has been maniacally re-created across message-board threads and in YouTube comments: It would trace his life from the time he was a fetus until his hypothetical death. But rampant bootlegging complicated the process, so some songs from those sessions were split between I Am… and Nastradamus, both released in 1999 and collectively taken to represent something of an early nadir for the onetime wunderkind. Fortunately for Nas, two years later he fought and won a war against Jay-Z, saw Stillmatic hailed as a comeback classic, and was allowed to return to those Autobiography sessions, using bootlegged songs as the backbone of a compilation record called The Lost Tapes. The first volume, released in 2002, represents some of Nas's best, most thoughtful work and created a permanent demand for a sequel among critics and fans.
Today, Nas finds himself mired in another sort of valley. While he has become something of a noted venture capitalist, he's coming off the worst album of his career, last year's Kanye West–produced Nasir. More troublingly, his ex-wife, the singer Kelis, has alleged that their marriage was marred by his consistent patterns of abuse — not the kind of stain that can be removed with a well-curated compilation album. In any event, The Lost Tapes 2 has arrived, a collection of songs recorded during the sessions for other albums, beginning with 2006's Hip Hop Is Dead on through Nasir. It lacks the original volume's warmth, venom, and conceptual brilliance, and when it succeeds, it does so by diving into a new sort of mythmaking: It's impossible to have grown up on rap and not get goosebumps to hear Nas say, on "Vernon Family," that the "Bridge rappers influenced me, son, / But if I was in the Juice Crew, we woulda won." A song like "Queensbridge Politics" could be slotted comfortably beside Nas's best, yet the album is bogged down with material that, unlike that on the first Tapes, is self-evidently cutting-room-floor stuff. "Jarreau of Rap (Skatt Attack)," an off-kilter-rhythm exercise, lacks the gravity in writing that his music hinges on. It's understandable given that Lost Tapes 2 is built around true scraps, rather than material that was nixed for nonmusical reasons.
Beyoncé, The Lion King: The Gift
It feels like light treason to say so, but the real winner is Burna Boy. The Nigerian star's "Ja Ara E," from the A-side of the Beyoncé-curated soundtrack for the live-action Lion King remake, is the sort of irresistible summer song that can make even the most nakedly commercial enterprise seem palatable. The album isn't the unqualified success that the Kendrick Lamar–helmed Black Panther soundtrack was, but Bey acquits herself well — save perhaps for the overwrought, Oscar-bait-y "Spirit." The interstitial bits of the album, which have the uncanny-valley feel of being ripped from a movie that is ripped from another movie, are jarring rather than immersive, but the talent assembled here is unmistakable enough for The Gift to barrel its way into summer rotation.
Iggy Azalea, In My Defense
The critical discussion around Iggy Azalea's work has centered, quite understandably, on questions of cultural appropriation: What does it mean when a white Australian rapper tops rap charts by impersonating black American accents and slang? In another way, her career so far is a strange parable about the nature of the major-label system, which can be bizarre and labyrinthine in so many ways. But Iggy's comeback album, In My Defense, fails to effectively argue for her on a cultural or musical level. It skews too close to the steely, conspicuously minimal trap that dominated radio a half-decade ago, and its highlights are driven largely by its guests (Kash Doll and Juicy J chief among them). As for the cultural baggage — well, there are more compelling defenses than "'Cause I talk like this and my ass fat / They be saying Iggy trying to act black / Hating broke hoes get laughed at / All they do is cap like snapbacks."
Tay-K Found Guilty of Murder, Sentenced to 55 Years
Last Friday, a jury in Tarrant County, Texas, found Taymor McIntyre guilty of murder. McIntyre is better known as the teen SoundCloud rapper Tay-K, and the case stems from a July 2016 home invasion in Mansfield, a city near Dallas–Fort Worth, that left one 21-year-old man dead and another injured. In addition to the murder count, Tay-K was convicted on three counts of aggravated robbery. On Tuesday, he was sentenced to 55 years in prison for the murder, 30 years for one of the robberies, and 13 for each of the two others. The sentences will run concurrently.
On the murder charge, Tay-K was convicted as an accessory; his lawyers argued that their client "only participated in the robbery, was not armed, and had no idea that people would be shot." He was found not guilty of capital murder, which in Texas is defined by a number of different conditions, the relevant one here being whether the defendant "intentionally commits the murder in the course of committing or attempting to commit aggravated kidnapping, burglary, robbery, aggravated sexual assault, arson, obstruction or retaliation, or terroristic threat." A capital-murder conviction would have carried with it a mandatory minimum sentence of 40 years.
In 2017, while on house arrest awaiting trial for the Mansfield murder, Tay-K — then just 16 years old — cut off his ankle monitor and fled. His song about that process, "The Race," became a major hit; its video included shots of him smoking beside his own wanted poster. He was arrested by U.S. Marshals in New Jersey the same day the video premiered.
Tay-K's career as a rapper is far from incidental to the case. As The Fader reported, the prosecution's final witness was an IT employee at the state attorney's office, who presented the "Race" video and a printout of its lyrics as evidence along with photos from social media and album covers that show Tay-K with guns. The question of whether a rapper's lyrics should be used against him or her in court — whether it's speech that should be understood and protected as artistic expression or whether it can be taken as self-incrimination in the same way wiretap recordings would — has been debated for some time. But in recent years, prosecutors have increasingly turned to rap records as evidence. At the time of this writing, Drakeo the Ruler is awaiting a verdict in his murder trial at a Compton courthouse; the case against him and his two co-defendants also hinges in part on his lyrics and music videos.
Tay-K is alleged to have shot and killed a 23-year-old man in San Antonio while he was on the run. Unlike in the Mansfield incident, prosecutors argue that Tay-K was the shooter in this instance. That case is still ongoing. He also faces prosecution in an unrelated Arlington robbery.
In addition to the success of "The Race," Tay-K's loosies and mixtapes — especially his Santana World, issued by an imprint of RCA — were celebrated by rap fans and critics. Since his incarceration, a number of notable rappers have shouted him out on social media and called for his freedom. However, after Friday's verdict, the father of the Mansfield murder victim said of the three young men involved in the killing, "One is the planner, one is the person who pulled the trigger, and one is the person who profited off of this and saw this as a career move." He went on to speak more pointedly about Tay-K, saying, "Every lyric to 'The Race' is stained with my son's blood. Every 'Free Tay-K' T-shirt that was ever sold has my son's blood on it."
Comedian Faces Backlash Over XXXTentacion Joke
Over the weekend, Dina Hashem, a New York–based comedian, was sharply criticized by fans of the late rapper XXXTentacion over a joke about his 2018 murder. "Is anyone still mourning XXXTentacion," she asks in the video that circulated. "He's a rapper who was murdered; he's dead now. He was shot. He was on his way to buy a car with $50,000 in cash, and somebody shot him and took the money. Which is very tragic, but I also think it would be a very good Venmo commercial. That's the first thing I thought when I heard that. Like, I don't have Venmo. I should get Venmo." The bit was posted by a Comedy Central social-media account. Ski Mask the Slump God, a friend of X's, drew further attention (and, quickly, tremendous ire) to the comedian by tapping into his famously cultish fan base. Comedy Central has since taken down the tweet and pulled the clip from the final cut of Hashem's set, reportedly at her request. She later issued a statement on Instagram, saying, "I wasn't trying to hurt anyone's feelings; that's never what I want." At press time, Hashem's Twitter account remained protected.
Nipsey Hussle's Businesses Were Targeted by the LAPD
In the immediate wake of Nipsey Hussle's murder this March — and in the midst of seemingly sincere messages of condolence from elected officials, city business leaders, and even law enforcement — a troubling headline popped up: One of the other victims of the shooting, a middle-aged man whom doctors initially feared might be paralyzed, had been arrested at the hospital on the basis that his association with Nipsey, a "known gang member," violated his parole. That hypocrisy is at the center of a new report by the New York Times, which reveals that the LAPD has been investigating the strip mall Nipsey had long operated at the corner of Crenshaw and Slauson as a possible hub of gang activity. In fact, Hussle's purchase of the property earlier this year was the result of the city's pressuring his former landlords to evict his businesses from the buildings.
This type of investigation is called an abatement probe (or sometimes a nuisance probe) and has in the past led to outright property seizure by the police. It is unclear, according to the Times, what prompted the probe; the paper also notes that while there is now political pressure to back off the investigation, some in law enforcement believe the murder gives them greater cause to hammer Nipsey's surviving business partners.
Police Raid YG's Home
Last week, Los Angeles County Sheriff's Department officials raided a home being leased to YG in connection with a shooting that occurred in Compton on July 3, which left one bystander dead, possibly at the hands of law enforcement. (A vehicle involved in the incident belongs to YG, who was not inside the car and says he had no knowledge that it was being used.) YG was not present during the raid of his home, and he has not been detained or arrested. One person is believed to have been arrested pending a weapons charge that stems from the case, though it's not yet clear if that person is thought to have been in the vehicle from the July 3 shooting.