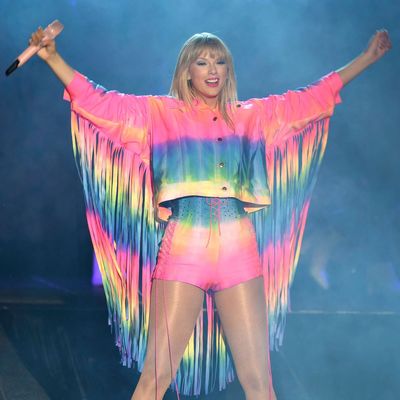 Photo: Chris Pizzello/Invision/AP/Shutterstock
Last night, Taylor Swift dropped "The Archer," the fifth track off her upcoming album, Lover, and she's up to her old tricks in more ways than one. Yes, there are (small) Easter eggs, but you're kidding if you think the fun (are you having fun yet???) stops there.
The song was written by Swift and Jack Antonoff, a co-writer on her past two albums, Reputation and 1989, and the song certainly has a more Reputation/1989 feel, given the emotionally intelligent and raw lyrics — something that's customary to every "Track 5" on Swift's past albums (like "Delicate" and "All Too Well").
Speaking of "Delicate," many fans think "The Archer" is actually a sequel to the Reputation song. Sure, sonically they're a match, and lyrically, both leave Taylor very exposed and vulnerable. But there are inexplicable parallels between the two songs: One Twitter user discovered that The Archer is the name of a dive bar in East London. Remember that "Delicate" lyric? "Dive bar on the East side, where you at?" (It's easy to forget literally anything about the man, but recall that her boyfriend, Joe Alwyn, is British; sneaky-ish references to him were littered throughout the "Delicate video.")
Another pointed out that in the "Delicate" music video, a graffiti "TRACK 5" is painted behind her while she's dancing. Yes, "Delicate" is also a track five, like "The Archer," but at the time of the "Delicate" music-video release, we already knew that since it came out four months after the Reputation album, so that "TRACK 5" graffiti wasn't signaling that "Delicate" would be the fifth album track. But could Taylor really have planted a two-part song nearly two years apart? We already know she hinted at "The Archer" in the "ME!" music video. But even for her, two years seems psychotic. But I still wouldn't put it past her. She's been known to link songs together, like referencing old tracks in the "ME!" lyrics and revisiting her old narratives, the Old Taylors, in her "Look What You Made Me Do" video, but there has never been a two-part song, littered with Easter eggs, released two years apart. So, it seems unlikely.
But just to make your bones rattle in their flesh cage, check this out: There's a cupid sculpture, an Archer, planted in the "Delicate" music video. Is this all coincidence? Is anything coincidence with Taylor Swift? I want to say that hopefully we'll finally find out what's written on that mysterious note in the "Delicate" music video, but Taylor announced during an Instagram Live yesterday that there would be no music video for "The Archer."
The old me would've found any excuse imaginable to speculate about Swift's sexuality, but after her aggressive message of allyship in "You Need to Calm Down," the old me can't come to the phone right now — she's dead. There are some implicitly queer phrases laced throughout the song: "pace like a ghost," "die all alone," "help me hold onto you." Pacing, spirits, smoke that isn't there, dying alone, and holding onto someone that isn't right for you are all important tenets of the lesbian canon. But I digress. Another interesting lyric: "Cause all of my enemies started out friends." Who are her current enemies? We know she quashed her beef with Katy Perry (at least pre–Scooter Braun feud). But is there resentment between her and any of her exes or ex-besties? Maybe, er, just off the top of my head … Karlie Kloss?
But that's not what this song is about. I'll tell you what this song is about.
Taylor is a Sagittarius, and the Sagittarian symbol is the Archer (Sags, it's worth pointing out, are known for competitiveness). Now, Sagittarius and Leo are two of the most similar zodiac signs, both fire signs, both known for charismatic, big personalities. As you may know, Tuesday marked the beginning of Leo season, and Taylor decided to drop "The Archer" seemingly out of nowhere on that same day? No, nothing Taylor Swift does is unintentional. Swifties, I hate to say it, but this was a formal declaration of constellational war. It was a message to all Leos, from Taylor Swift's pen to our ears: Sagittarians are the Apex Fire Sign, and you Leos are trash. Only Sagittarians are allowed to be charismatic, so to hell with you, Leos!
Oh, and you know who's a Leo? I'll give you one hint: rhymes with Gnarlie Gnoss.
Another Lover song, another spiral down a Taylor Swift theory K-hole that leads … seemingly nowhere. At this point, I'm not even sure I'm waiting on a new album. I'm ready for her to drop a map.