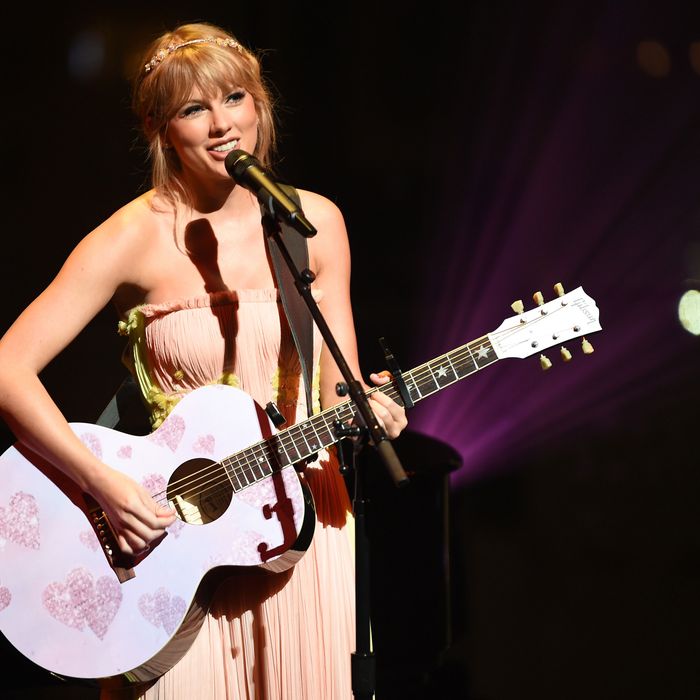 You know the one.
Photo: DIMITRIOS KAMBOURIS/Getty Images for TIME
Taylor Swift is having a strange summer. Her back catalogue got bought out by a guy she doesn't appear to like very much, and her last two singles dropped in the shadow of "Old Town Road," a song perched so comfortably in the No. 1 spot this summer that the most hotly contested spot on the Billboard Hot 100 right now is No. 2. The endless positivity of "ME!"and "You Need to Calm Down" fits in oddly now. Songs about chilling out hit differently when you have good reasons not to. I like "The Archer" because it's honest and tired and wounded. She's saying, "I hate fighting, but it's the job." It's natural, when you start to find yourself on more and more people's radars, to draw fire. It's impossible to be liked by everyone. It is possible to get so bogged down by bad news and bad experiences with people that you start to feel as though it is in the very nature of humans to fail you, to be hardened to people who haven't given you reasons to be hard, to take things personally, and to pick fights where fighting wasn't the smartest option.
"The Archer" is the "Fuck, what am I doing?" after the bad battle on social media. It's the moment when you hang back and reassess the reasons you treat people the way you do. It's the voice in your head in the middle of the night telling you things could go differently if you applied yourself. It's a return to the exhausted energy of Reputation cuts like "Delicate." It's the most relatable of the new singles, a sidewinder in a time when people have solid reasons to be distrustful of each other and are quick to judgment because they are acting in the interest of self-preservation. It's also a gamble.
I played it for a friend last night, and he was bored by the mix. The song, co-produced by Taylor and Jack Antonoff, is a slow build; the most you get is a voice, a synth, and a methodical drum evocative of a heartbeat. It doesn't take off. It avoids the busy highs of the other Lover singles. It sounds more like a Bruce Springsteen ballad or a sentimental Cyndi Lauper song. It's hooky without being fussy, a quality I wish this singer would lean into more often. She's a devastating writer when she wants to be, when she sets aside the cloying rhymes and catchphrases people seem to expect from artists at the forefront of pop music. I hope there's more on the album where this came from.