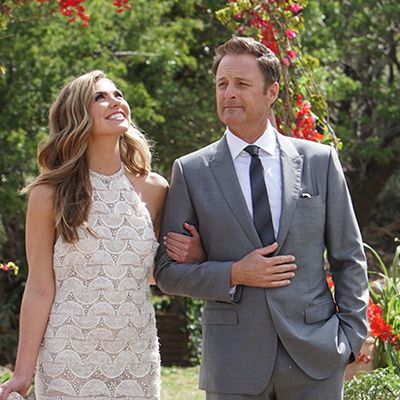 The calm before the storm.
Photo: Mark Bourdillon/ABC
For all of you ethical viewers who don't worship at the cult of Reality Steve, Tuesday evening's Bachelorette finale provided one hell of an emotional roller coaster for Hannah Brown and her final two suitors. And not a fun windmill sex-coaster! With an absurd amount of amphorae surrounding her on a Crete knoll, Brown chose to reject fan-favorite suitor, Tyler Cameron, in favor of a proposal from Jed Wyatt, a man whose long-teased duplicitous nature was finally revealed to Brown and the nation. In short, Brown chose to dump his ass with everyone as her witness, and it looks like she'll even be dating Cameron when the dust settles on all this drama, too.
In between bites of popcorn and gulps of Riesling, Vulture was happy to recap the finale's five biggest WTF moments for your reading pleasure.
1. Jed proposed with his BFF, a guitar, by his side.
In a move that would make all dog-food-jingle writers proud, Jed decided to transform his proposal to Hannah into a three-person affair by bringing his trusty guitar along for the ride. "Talking is sometimes hard for me," he told his smitten lady before breaking into this not "Mr. Right Girl" li'l ditty:
After all that you've been through, and those times you wished you knew, who was on the other side of all those restless nights? We always knew it's me and you. Time stands still for us. It's happened more than once and every time we're holding hands and dancing in the sun. Baby, time stands still for us.
Hannah proceeded to tearfully accept Jed's proposal. Sigh.
2. Hannah officially broke up with Jed weeks after their engagement, due to cheating allegations from his now ex-girlfriend.
As previously reported, a bombshell People article from June claimed (with photo evidence) that Jed was a sleazy opportunist who solely wanted to use The Bachelorette as exposure for his floundering Nashville music career. In the article, his ex-girlfriend — musician Haley Stevens — said that she and Jed were exclusively dating for months up until he left to film the show, and that he promised her he would return to resume their lives together with newfound fame in tow. (She also said they exchanged "I love yous" and traveled extensively as a couple.) When Hannah and Jed met up in Los Angeles about a month after the proposal, Jed refuted Haley's side of the story, saying he was simply "dating around" and "going out with friends" all the time — despite the duo meeting each others' parents in Tennessee.
"Three days before we leave [for a vacation], I was asked if I'd be interested in the show," Jed explained. "She was obviously sad but also excited and I was thrown off because I think it's not logical to hang out with somebody who is considering doing a dating show. In my mind, yeah I was going there for a music thing. I told her it was like, this is going to be a really good thing for music. Like, this is it. I highly, highly doubt this could be a relationship thing." He continued to double down on how he and Haley were never a "real" couple and how he should've told Hannah about their history sooner:
I didn't have a girlfriend, though. To me, that didn't feel like a relationship. But now when I look back, yeah, it was a shitty thing to do, and I should have walked up and said something right then and there, and I didn't. I should have said something at the fantasy suite, but once that started happening and I started seeing how I was feeling about you, I couldn't think of anything else. You were it. The reason I held back details is because I was scared that if I told you, you would walk away from me. That's the most cowardly thing to hear, but that's just the truth. And I'm so not proud of it.
Hannah, unmoved by his pleas of forgiveness, proceeded to take off her (Neil Lane, obvi) ring and end the engagement. "That's not what I said yes to," she put it succinctly. She also said what Jed put her through was "humiliating" and "selfish."
3. Hannah and Jed have not reconciled, and never will. However, she did accept his apology.
Switching to the live portion of the finale, Hannah confirmed there have been no relationship changes for her and Jed since she ended the engagement earlier this month. "I am not with Jed anymore," she told an ecstatic crowd. "The engagement is over. We are not together. When I said those things, the things I said on my engagement day, I thought that was my day. I feel like that was taken from me. It's been really hard to grapple with that, but I know what I got is not what I ever wanted for a life partner. That's not love built on a foundation of truth and honesty."
Jed, who admitted he's still in love with Hannah, respected her decision and apologized for "ruining" her "reality-TV show" experience. She gracefully accepted his apology, but not before firing off one last sermon. "I'm not trying to punish you, but my feelings have changed and I think when that trust was broken my feelings really were broken with that," she said. "I don't love you like that anymore. And it's not something to clap about. It's sad."
4. Hannah and Tyler are going to give it another shot.
Surprise! Runner-up Tyler, who was brutally dumped by Hannah before his intended proposal in Crete, was asked out by his ex during the episode's final few moments. "He's been so supportive and so respectful of me, not just on our journey together but even afterwards," Hannah explained. "I've always said I want somebody to be bold and I'm bold, and I make bold moves, and you're an incredible guy and I'm a single girl, so … I just thought maybe we could go for a drink and just hang out." His response? A big yes, obviously. "I would love to," he said with a smile, "just tell me when, I'm there."
5. The audiences' deafening Jed silence.
Okay, this wasn't totally a WTF moment, but how could we possibly not provide you with a quality meme? We're professionals!