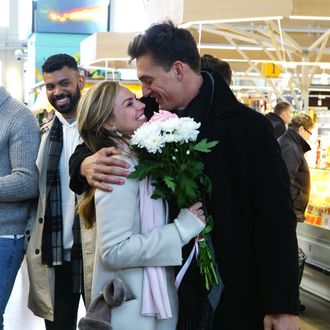 Photo: Mark Bourdillon/ABC
It's been teased for weeks how Luke P., the most reviled Bachelorette contestant in recent history, will be sent home by Hannah Brown during the "fantasy suites" episode of the show in Greece, which will occur on Monday. However, thanks to an exclusive clip that premiered over at People, a non-Bible-bashing, emotionally mature cutie will maybe meet his demise, too. And, readers, we're not taking this well! Because in the clip, Brown decides not to invite the fan-favorite Tyler C. to a fantasy suite date with her, believing they have to work on a deeper emotional connection as opposed to, uh, eye-fucking each other.
"I feel like our relationship has been so fun, so easy getting to know each other," she tells a stoic Tyler. "But there's a concern for me about our physical relationship. It is a huge part of our relationship. I just am so captivated about being around you, and you holding me and kissing me. I just want that. Like, I do. And so I have to kind of reset myself sometimes and think, Okay, that's great. You know that that's there. But it has to be more." The clip ends before Tyler responds to Brown's not-so-kinky revelation.
Brown, in a surprising move for the franchise, invited all of her suitors from the show's "hometown" episode to fantasy suites, meaning she'll have four dates to grapple with in sunny Crete: Tyler C., Luke P., Peter, and Jed. Given that Jed seems to be a bit of an opportunistic bitch, who will Brown pick?