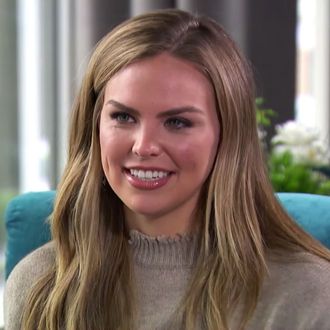 Seemingly taking a cue from the Mamma Mia! playbook, Hannah Brown's Grecian adventure has just upped the randy ante by 25 percent. My, my, how could we resist this reality-TV twist! Marking the first time this has occurred in both the Bachelorette and Bachelor franchises, Brown refused to eliminate her four suitors during her "hometown" week of dates in Monday's episode, advancing the full quartet to her subsequent "fantasy suite" week in Crete. (That episode will air next week.) The reason for Brown's unprecedented decision isn't exactly one of horniness: As she explained to the men (and a flummoxed Chris Harrison) during the rose ceremony, she believed she hadn't been given enough time during hometowns to adequately make a decision.
"I'm so sorry. I thought I could just come in and look at you and know what I was going to do, but I don't know what to do. I'm so confused," Brown tearfully said. "Every decision that I made to this point I knew my heart was completely ready and I can't do that. I can't. And so, I can't give out a final rose. I want to continue on with all of you." While all the men put on a brave face given the unusual circumstances, Jed (who's currently being plagued with "wrong reasons" press) became far less cordial during his talking-head interview, especially when he realized he was on equal footing with Luke P.
"What the fuck is going on? I got a rose, but to be honest it doesn't feel like I got a rose at all. It feels like it was really hard for her make a decision between me and someone who was a complete scumbag through this whole process," he said about Luke, the season's most contentious contestant. "To be in the same category, or even close to the same category as him, is an insult. He's been a constant toxin through every bit of this." Well, given that Luke is likely eliminated next week anyway, hopefully Jed will calm down.