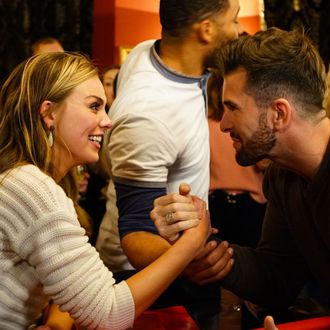 Without getting too much into spoiler territory for unsullied fans of this season's Bachelorette hot mess express, one of Hannah Brown's current front-runners, Jed Wyatt, is facing substantial backlash for a classic "wrong" reason: He apparently went on the show with the sole purpose of getting exposure for his failing music career, according to his Nashville-based girlfriend whom he promised he would return to once filming concluded. Wyatt, as well as the three other men remaining on the show, are advancing to next week's "fantasy suites" episode in an unprecedented franchise move by Brown. But before we see the duo potentially bone in a windmill, Wyatt has issued a plea for people to stop harassing him and his family, even if the cheating rumors are true.
"Several of you have reached out with messages and questions. Please know I'm not able to answer right now, but as soon as I'm able to, I will," he wrote on Instagram. "Until then, I ask that you please understand how much the actions being taken towards myself, my family, the men on the show, and above all, Hannah, are affecting all of our mental and physical health. It goes beyond what is said online. Threatening letters and phone calls have been sent to our homes. My parents and sister are being verbally attacked in public. I beg you to remember what seems like a harmless action is damaging to real people." Wyatt added that everyone's "patience and kindness" will soon be rewarded with his full side of the story, which will likely occur at the show's "After the Final Rose" episode later this month.
In last night's "hometowns" episode, Wyatt's family was noticeably unmoved (and at times, even confused) by Brown's arrival, with his mother and sister advising Brown that he wasn't ready for marriage due to building his country-music-star dreams. "Here's to everyone trusting their intuition and their gut every day," his mom said in a thinly veiled toast. "When you stick to your truth it's beneficial to everybody." The truth, sadly, might not be nice.