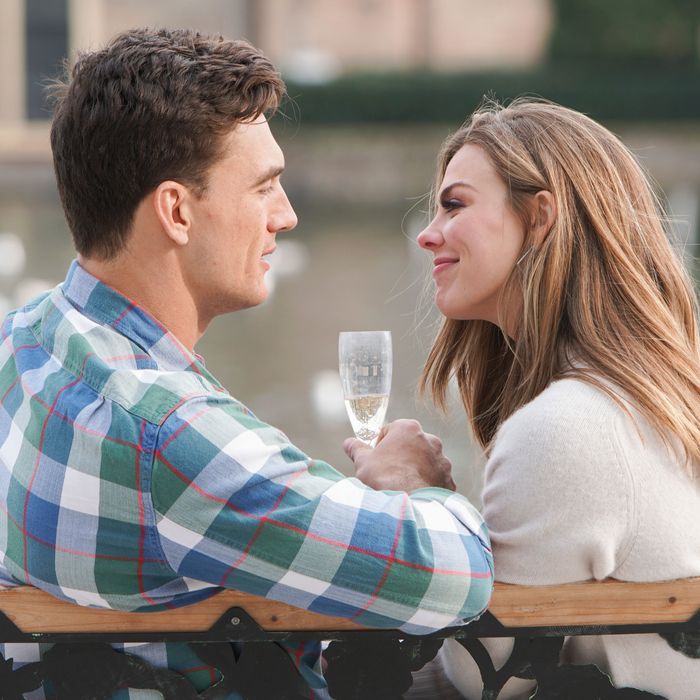 Photo: Mark Bourdillon/ABC
"Jacobus. Diederik. I had such super goed time with both of you. Jacobus, thank you for opening up about your family's Nacht de Oranje celebrations and how hard it was for your father when he lost his job at Ahold Delhaize. I appreciated how honest you were with me and how you told me 'Ik hou van jou.' Diederik, the way that you spent your entire time with me bad-mouthing Espen, Hiddie, Andries, Joost, Van, and Markus meant a lot to me. When you told me that Sinterklaas visited you while you were in the shower and he told you that you should construct a rigid sexual double standard that will ultimately doom any chance for a happy and successful relationship between us — Diederik, literally every person on this amazing journey simply hates your guts. Espen, Hiddie, Andries, Joost, Van, and Markus all hate you. But there's just something about you. My heart is telling me yes but my mind is telling me 'Nee.' I just want to reiterature that Jacobus, you are exactly what I'm looking for in a man. So what I'm trying to say is Diederik, will you accept this roos?"
I mean — that's all we're supposed to talk about right now, right?
Literally nothing else important happened on this episode or quite frankly, the entire season. We're supposed to sit around and act like we're not watching the same exact drama unfold every episode. And I'm going to be real honest — my patience is as thin as a stroopwafel, the Netherlands's favorite cookie.
For all Hannah's insistence that she wants everyone to get to know her better, we don't yet have a clear conception of her faith, and apparently her feelings about a Christian God and the demands of her vagina are the two things motivating her. And I'll be good and goddamned if the tension between a woman's faith and her limited-edition Cinderella clamshell VHS case isn't a very rich subject area for a season of The Bachelorette. Instead, Hannah wants us to believe that there's "something" very "special" about Luke.
The second Luke started talking about his faith, I knew that Garrett was toast. "Hang on, I can satisfy the urges of my body while at the same time singing that 'Our God Is an Awesome God' song? Bend me over and call me Hester Prynne!" And while it does seem great on paper to be able to bang and praise Him, it seems that religion is just another tool for Luke to gain control and maintain superiority. Control over his fleshful urges, control over women, and superiority over … well, just about everybody. Let he who is without sin cast the first bologna.
So, what are we supposed to do now? There are only four episodes max left in the season, and ABC is going to want to wring every single drop of Luke's self-righteousness out of him, so expect to see him every single episode until the finale. He'll probably get his own Freeform spinoff show. The problem is, this season is probably going to be unsatisfying because we're not going to have any time to fall in love with whomever Hannah is actually in love with. This is Rachel's season all over again. We were so caught up in the literal racism and the Peter of it all, that we never got to know Bryan (who, going by Rachel's Instagram, is a charming and supportive fiancé with just the right amount of hair products). Name two things about Jed. Name two things about Peter. Name two things about Tyler C. other than how tight he wears his chinos. Well, we can name two things about Jed, but he's not going to like them.
I'd say let's get to it, but what is there to even get to. So, let's just run through the contesticles, power-rankings style.
Up first is Mike, dear, sweet, beautiful Mike. Mike gets the third one-on-one date this week, and the second I saw Hannah in that blazer dress from the promos all season, I knew she was sending him home. Well, that and the Lars von Trier shots of Hannah staring at "The Girl With the Pearl Earring" as a single tear rolled down her cheek. Hannah decides that she just can't see a future with Mike and knows that she has to let him down easy. Poor, gentle Mike doesn't even get to take a sip of his Dutch wine or take home an abstract painting of him and Hannah draped in cheap silks. Mike thanks Hannah for being honest and goes off gently into the sweet night where #MikeForBachelor is trending.
Next in the power rankings is Tyler C. Tyler C. eats pickled herring while riding a scared horse and still manages to be very bangable. Some speculative casting for Baz Luhrmann's Elvis movie came out and I looked at the options and just whispered "Tyler C." under my breath. Tyler C. has a real sweet, dumb energy and a thicc booty. Someone get him some black hair dye and a striped shirt and I'll be in my bunk. #TylerCForElvis
Solidly in the middle is Peter. Peter takes one look at the drama unfolding on the three-on-one date and says, "I'm not going to take this lying down," and storms off like he's going to battle. Instead, he puts Hannah in his lap and tells her that she's strong and raw like an unaged Gouda. They make out on a bench and Hannah gives him the rose, and he paints a tunnel on the wall and runs into it. #PeterForRoadRunner
Tied in fourth place are Jed and Garrett. These two dudes are largely interchangeable, especially when Jed doesn't bring his guitar on his one-on-one date. Jed would be in the third-place spot simply for how smitten Hannah is with him, but no guitar, no power ranking. Garrett loses points for invoking Luke's deep fear of same-sex attraction as a way to rile him up, but he gets a few points back for just smiling and winking while Luke throws bologna at him. #JedForGarrettAndGarrettForJed
Up next is Connor. Who? This dude fizzled out HARD. #?????
A quick sidebar question for production: Why are these dudes being let into Hannah's hotel room so freely? Any mediocre dude with a thought in his head and a song in his heart can parade into whatever European hotel suite and pester Hannah with whatever views on life and love he's got. Can this bitch get a moment of privacy to finish writing in her journal?
In last place is Luke. Luke really thought he did something when he picked up that pile of fancy meats. Also, the way he got in Garrett's face to scream was legitimately terrifying and that should get him kicked off the show. My biggest moment of satisfaction was when Tyler C. called Luke "a five-foot-eight villain." Ah, the simple wit of a sturdy, hunky boy. The biggest problem is that Luke has absolutely no incentive to change his behavior. Every time he behaves badly and talks about the other guys behind their backs, Hannah has rewarded him with more time and a rose. Now he's going to hometowns. The episode ends with Luke carrying a giggling Hannah into the velvet curtains in the manor where they're having the evening portion of the date. That part isn't a metaphor.
So … who is excited for hometowns?