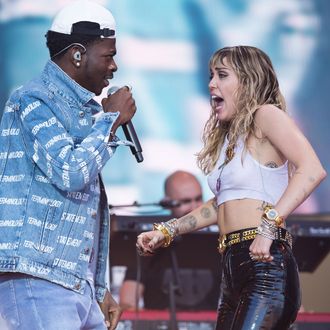 Photo: Ian Gavan/Getty Images
It's officially "get your wellies drenched in mud while taking some MDMA" season, or rather, festival season, with England's famed Glastonbury Festival occurring over the long weekend in the middle of nowhere. (Jury's still out if Worthy Farm is a real place.) While Vulture didn't make the transatlantic trip for the occasion, we know a good highlight when we see one, so let's all pretend we were there and fake it until we make it, shall we? Here are the three sets to casually roll into any conversation: For starters, headliner Miley Cyrus corralled her father, Billy Ray Cyrus, and Lil Nas X into performing song of the summer "Old Town Road" during her set, which also segued into the rapper's non-yeehaw bop "Panini."
America's resident zaddy, Jeff Goldblum (look at his outfit), performed with his jazz band. Sharon Van Etten was a very welcome chanteuse addition.
The rapper Stormzy, clad in a Banksy-designed "stab proof" outfit, also made history by becoming the first black solo British-artist headliner.
And Britain's resident grandzaddy, David Attenborough, dropped the proverbial mic to lecture about plastics and environmental waste.
All Attenborough's missing is a fanny pack and rolled-up bandanna, and he could very well be our festival patron saint for years to come.