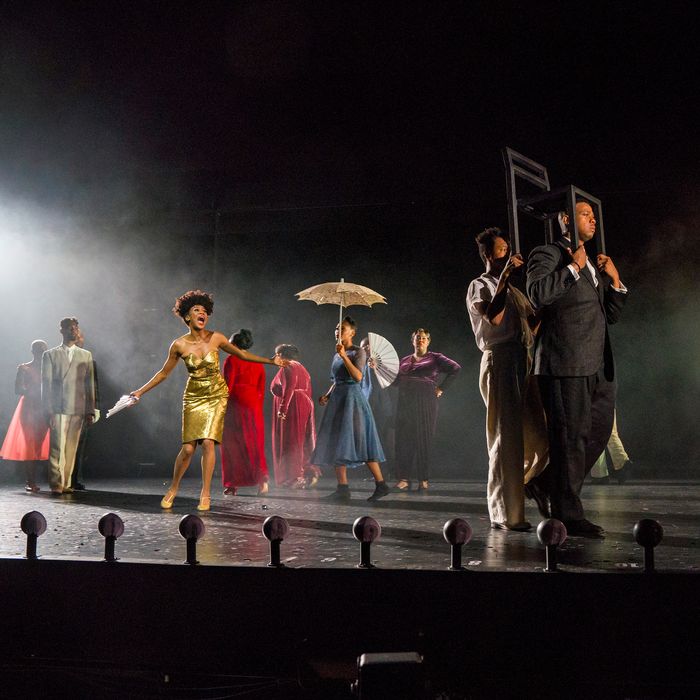 From
Black Clown,
at Mostly Mozart.
Photo: Richard Termine
The cultural marketplace sorts audiences by mood and predilection: political art this way, poetry and opera upstairs, vaudeville nostalgia out back, song-and-dance showstoppers in the premium zone. Everybody joins the same line, though, for The Black Clown, a controlled explosion of joy and rage that meets desires audiences didn't even know they had. At its center is Davóne Tines, a baritone trained in opera but free of the genre's more stilted conventions. Tines sings in almost every one of the piece's 70 minutes, which career without pause from vaudeville to Harlem Renaissance–era jazz to sermon-like declamation and floridly baroque passages. He is a phenomenon of energy and polish and precision-guided emotion, a performer who has found — or built — the ideal vehicle for his outsize collection of talents. It's a one-man show for a crowd, an extravaganza with a purpose, and the wisdom to know that if you're going to harangue a paying audience, you'd better keep it entertained. Enter singing dancers, lots of them, and all of them very good.
The Black Clown, the musical-theater tour de force, stands on Langston Hughes's 1931 poem with the same title, a work whose language is clear and clipped enough to be sung and instantly understood. "You laugh / Because I'm poor and black and funny / Not the same as you," it begins. Well, that's sort of how it begins. Hughes actually preceded the poem proper with stage directions in the form of verse:
A gay and low-down blues.
Comic entrance like the clowns in the circus.
Humorous defiance.
Melancholy jazz. 
Inspired by that prompt, Tines and his Harvard classmate, composer Michael Schachter, draped an entire revue on Hughes's text. It's a dizzying assemblage of throwbacks: to the secular oratorio of the 17th century and the minstrel show of the 19th, to the Harlem Renaissance and the biting, jangling music theater of Kurt Weill and Bertolt Brecht, to the giddy 1970s eclecticism of Bernstein's Mass. The mood pivots from stanza to stanza. The first number is full of biting sarcasm but also so entertaining that it swirls together enthusiasm and guilt: "You Laugh!" is the title, both exhortation and reproach. A later couplet, "Then sadness again / No land, no house, no job," triggers a deep-funk lament that sounds like Handel filtered through the blues.
There's not a flagging moment from overture to final cadence, and it's all delivered with copious amounts of physical talent and a minimum of bells and whistles. Director Zack Winokur is stingy with staginess. Abe Lincoln makes an appearance on stilts, waving an Emancipation Proclamation big enough to wear as a cape. In other scenes, the dancers slip behind a screen for a shadow play that brings to mind Kara Walker's antic silhouettes. But otherwise the stage is bare and props absent — not that you would notice. Choreographer Chanel DaSilva casts a dancer for every style, so that even the curtain calls become an anthology of shimmies from across the decades.
But I keep coming back to Tines, whose magnificent stage presence binds the show together. Everything about him is deliberate, from the timbre of his growl to the twirl of his fingertips and the flex of sculpted biceps. Like many inquisitive performers — and many classically trained black singers — he has charted an unorthodox career, heavy on new music and baroque opera. Which is no reason why more traditional opera companies should let him slip away.
Hughes wrote for "the Negro masses," an audience he felt was poetry-deprived. The Black Clown, a presentation of Lincoln Center's Mostly Mozart Festival, preaches to a choir of celebratory ticket-buyers. Its effectiveness is measured in the decibels of applause — which at one point Tines even conducts from the stage. But by the time the audience files out, all that expertly delivered music has turned us all into clowns: Beneath the grins runs an undercurrent of anger, timely and raw. There is some unintentional irony in the fact that a show that contains the lines "Day after day / White spit in my face" and ends with the simple declaration "I am a man" is being performed at the John Jay College of Criminal Justice. We can only hope that the sentiments boiling up from the stage percolate into the classrooms upstairs.