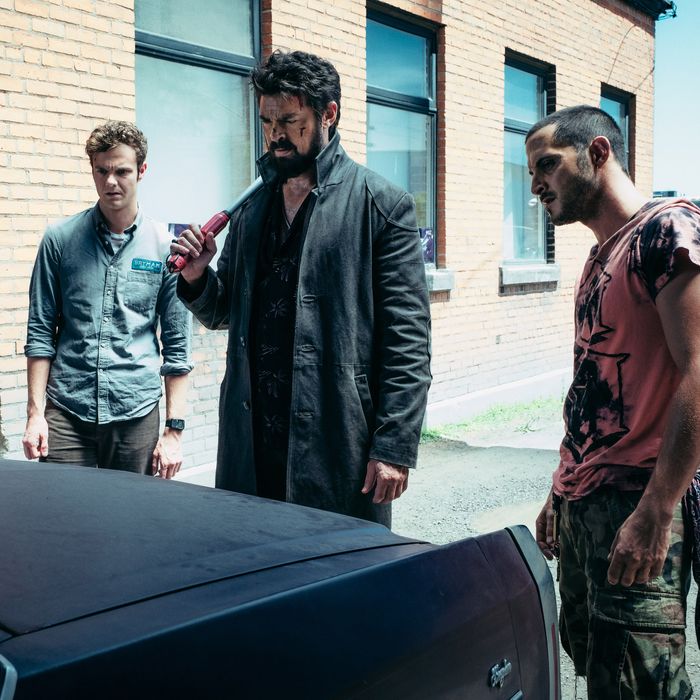 Photo: Jan Thijs/Amazon Studios/Amazon Studios, Prime Video
The second episode of The Boys gets further away from the source material — the multi-issue arc also called "Cherry" had virtually nothing to do with the plot of this episode — while trying to develop its own voice. The jury is still out on how much this show is doing that second part. Its best elements still seem to owe a great deal to Garth Ennis and Darick Robertson's comic book, whereas the talky, superhero-philosophy dialogue of this episode sometimes feels overwritten and repetitive. Still, there are elements here that work, particularly in the design and performances — enough to keep hoping for The Boys.
To start, "Cherry" is about, to borrow the title of another comic that isn't exactly a household name, damage control. Hughie and Butcher have to deal with the incapacitated body of Translucent, the member of the Seven who attacked them last episode after following Hughie back to his store. Meanwhile, it's revealed that Madelyn Stillwell wasn't behind the murder of the mayor of Baltimore, and that Homelander did that entirely on his own, after spying on the conversation between Stillwell and the mayor. A patriotic hero who kills people to protect his secret and a ragtag group of guys who may have to kill an internationally beloved crime stopper — this isn't exactly the MCU.
Before Hughie can deal with the revelation that Butcher doesn't exactly work for the U.S. government, he's helping him carry Translucent's body to the trunk. When they realize that the invisible hero is still alive, Hughie is happy, but Butcher knows the truth: This just means they're going to have to find a way to kill him. And it's not that easy to kill a man with impenetrable, invisible skin.
Butcher knows that if anyone can figure out how to kill Translucent, it's Frenchie (Tomer Capon), the second member of the Boys introduced by the show of the same name. Frenchie is a charismatic mercenary, the kind of guy who just happens to be going through his massive gun collection when Hughie and Butcher arrive with the unconscious body of an invisible superhero. After some understandable trepidation, Frenchie helps build a holding cell for Translucent. Electric fencing will keep him in place while they figure out how to kill him. Hughie is a lot less comfortable with murder, especially that of a superhero, but he's stuck between his conscience and the two tough guys telling him this is the only way to solve their problem.
While Frenchie Googles "how to kill an immortal," the writers offer a bizarre scene between Homelander and Stillwell. Its main purpose is to reveal that Homelander is becoming a rogue agent, and that he killed the Baltimore mayor on his own, but it's got a strange undercurrent that culminates with Stillwell's breasts leaking milk as she orders him to stay in his lane. The subtext is that she's Homelander's mother more than she's that of her own child, and she's going to make sure her Godlike baby boy doesn't get out of line. At the same time, it's clear that Homelander is ready to leave the nest. He doesn't just want to be an icon. He wants to be involved in decision-making and policy control. He's tired of just looking pretty for the cameras, even if Stillwell insists that's all he really needs to do. It's a poorly written scene, even if it has some interesting ideas about how unchecked power wants to grow. Even someone like Homelander, who has it all, wants more.
Annie learns a thing or two about how the image of the superhero is controlled in this universe, too. After being sent on a mission with the Deep, whom she can't enact vengeance on for his awful sexual assault, she takes out her anger on a couple of guys in an alley who are about to commit rape. She doesn't wear her costume when she thrashes them, which means her secret identity has already been blown as video of the assault goes viral. The marketing team behind the Seven aren't too happy about this, especially when the would-be rapists deny they were doing anything wrong. Image control is a major part of this show, and one hopes that the writers dig deeper into how easily a narrative can be crafted from video footage. Kids are going to bed with Homelander stuffed dolls while real heroes like Starlight are being turned into abusive monsters in the press.
Actually, image control has an entirely different meaning in this superpowered world for a senator whose sexual fling turns into something entirely unexpected. In a riff on the Mystique character from the X-Universe only much kinkier, a senator's sexual partner turns into a man who then records what happens next to blackmail the politician. The portly hero named Doppelganger is working for Stillwell, who needs the senator on her side to push forward a bill that unites the supes and the government.
Finally, Frenchie figures out how to kill the unkillable Translucent — from the inside! They shove C4 up his bum and threaten to blow him to bits. Translucent panics, revealing that A-Train wasn't heroically saving the day when he killed Robin but going to see someone named Popclaw. They don't let him go, but everything threatens to fall apart when Homelander arrives on the scene, eager to save the day in a way he's not usually allowed. As he speeds around the area, Frenchie, his partner, and Butcher plan an escape, leaving Hughie and Translucent together. The hero gets out of his cell, but Hughie still has the detonator. At first, our hero seems to let him go, but Hughie thinks twice and pushes the button. He does not, as the poster says, keep his hands clean. Or the rest of his body, really.
Extra Frames
• What's Doppelganger's story? Is he just waiting in another room in Stillwell's compound to blackmail people? Wandering around pretending to be other people?
• Does anyone else think Homelander kind of looks and sounds like the only major Chris not in the MCU? He's got that Chris Pine square jaw and vocal pattern, even on his best line of the episode: "I'm the Homelander and I can do whatever the fuck I want."
• I gave the producers a hard time for obvious needle drops last episode — and ending an episode called "Cherry" with "Cherry Bomb" after an explosion is downright brave — so I should give some credit for deeper cuts, most of them related to Frenchie, including "Dans Ma Ruche" by Guizmo, "Neat Neat Neat" by the Damned, and "La Foule" by Youssoupha.
• Directorial duties this episode were handed off to the veteran Matt Shakman, who has helmed Billions, Game of Thrones, Fargo, and literally dozens of episodes of It's Always Sunny in Philadelphia. He keeps an episode that felt thin and talky at times from coming apart.