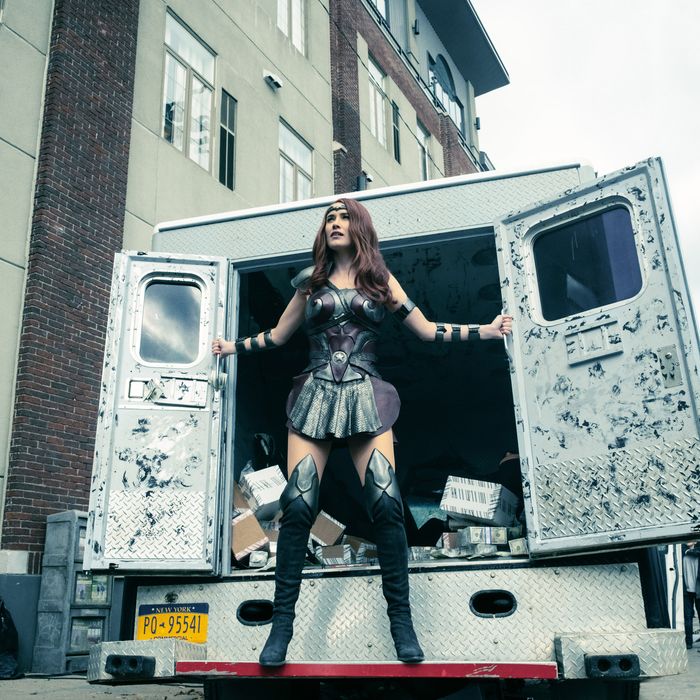 Photo: Jan Thijs/Amazon Studios
The time is right for The Boys. The plan to drop the eight-episode first season, based on the 2006–12 comic book series by Garth Ennis and Darick Robertson, mere days after the end of San Diego Comic-Con was surely intentional. The Amazon series, already renewed for a second season, imagines a world in which superheroes dominate the culture, their stories told in films and their faces plastered all over merchandise — in other words, a world kind of like ours. Watching the series premiere mere days after Marvel announced the myriad of films and TV shows that comprise the next stage of their world domination has a wonderful tinge of irony, although Marvel's Powers That Be would probably hate the correlation between their family-friendly Über-franchises and this adults-only show.
Directed by Dan Trachtenberg (10 Cloverfield Lane) and written by Eric Kripke (Supernatural), the series premiere of The Boys sticks pretty closely to the two key origin stories from the source material, paralleling even more directly the disillusioning arcs of Hughie and Annie, two people about to learn that a world full of superheroes isn't necessarily a good thing. Hughie and Annie couldn't be more different when it comes to personality types — he's a ball of fear and she's been a fearless hero since birth — but they are both violently exposed to the dark side of a world in which absolute superpower corrupts absolutely.
It starts with the most traumatizing day in the life of milquetoast A/V store employee Hughie Campbell (Jack Quaid). Walking and chatting with his girlfriend Robin (Jess Salgueiro), Hughie is showered in blood and guts when a superhero named A-Train (Jessie T. Usher) literally speeds through the love of his life, leaving Hughie holding Robin's hand, the only parts of her body not reduced to splatter. A-Train claims he was speeding Flash-style to stop a bank robbery, but he does (sort of) apologize on national television, and the suits behind the scenes offer Hughie $45K to make the whole thing go away with a signature on an NDA.
While Hughie is fighting with his father (a clever cameo from Simon Pegg, who has a connection to the source material detailed below) about whether to take the money, The Boys introduces us to Annie, a.k.a. Starlight (Erin Moriarty). She's auditioning to be the newest member of the Seven, this universe's version of the Justice League or the Avengers, which includes righteous leader Homelander (Antony Starr), underwater master the Deep (Chace Crawford), invisible-when-he's-naked Translucent (Alex Hassell), and the very Wonder Woman–esque Queen Maeve (Dominique McElligott). A hero named the Lamplighter has just retired, meaning they need a new member, which brings Annie into their version of Stark Tower. After a fawning presentation to introduce her to a public that already adores her, Annie finds herself alone with the Deep, who pulls down his pants and forces her to fellate him or she'll be kicked out of the group. (Believe it or not, it's even darker in the source material, in which two more members of the Seven join in on the assault after Annie runs to them for help. Here, so far at least, it's just the Deep.)
Meanwhile, Hughie learns more about the depths of depravity within the world of superheroes when a tough-talking character named Billy Butcher (Karl Urban) enters his life. Butcher has a job for Hughie, knowing about the death of Robin and offer of financial compensation for staying hush-hush. He wants Hughie to get into the headquarters of the Seven and plant a bug, not only to reveal the truth about the world's most famous heroes but get to the bottom of what A-Train was doing that fateful day — there's no record of a bank robbery he claimed to have been racing to stop. Hughie is further convinced to join the cause when Butcher takes him to a crazy superhero sex club where anything goes and the unimaginable is possible, revealing through surveillance footage that A-Train is laughing about turning Robin into bloody mush so quickly that he swallowed one of her molars like a bug on a windshield.
The heroes of The Boys aren't just depraved, immoral monsters — they're also part of a multibillion-dollar machine called Vought, run by Madelyn Stillwell (Elisabeth Shue). In the premiere, she meets with the mayor of Baltimore, offering his city the protection of a hero named Nubian Prince for the low fee of $300 million. He counters not only with a much lower price tag but a veiled threat to reveal the truth about something called "Compound-V." At the end of the episode, it first appears that Stillwell is going to make a deal to protect David Simon's favorite city, but then the Homelander kills not only the government official but the other passengers aboard his plane, including a child. It turns out that this universe's version of Captain America may be its most sociopathic hero.
The episode's best character-driven moment comes on a park bench when Hughie and Annie accidentally meet. They're both at a turning point. He's uncertain about working with Butcher, not for moral reasons but because, as he puts it, Hughie doesn't exactly have the personality type to be an infiltrator. She's destroyed by her experience with the Deep, but Hughie gives her a pep talk about how it's not the fall but the getting up that matters. The dialogue here is a bit superficial, but the performances elevate it, especially Moriarty, who takes a part that appears to be greatly expanded upon from the source's first few issues and gives it much-needed emotional depth. Believe it or not, the comic is even darker and grimier, and largely told from the perspective of its male characters at the beginning. Balancing Hughie/Butcher with Annie from the start is a smart decision for the show.
In the end, Hughie summons the courage to plant the bug, but he's spotted by Translucent, who follows him back to his shop and tries to kill him. Butcher gets the jump on Translucent, leading to a brawl between our anti-hero and a stupidly named hero (translucent doesn't mean invisible). The choice to have Butcher spit his own blood on Translucent so he can see him enough to have his headbutt connect is a good representation of the tone of this series premiere, a blend of clever choices and somewhat icky nihilism. It's a tough balance for a comic book to maintain, but the source material had the freedom of time between trips into this grimy world, whereas Amazon is asking us to wallow in the muck for eight episodes in a row. Keeping a world in which superheroes sexually assault and murder with a twinkle in their eye from becoming too brutal to take is going to be this show's greatest challenge.
Extra Frames
• Guess who wrote the introduction for the first trade paperback edition of The Boys? Simon Pegg! Believe it or not, Pegg was Ennis's inspiration for the design of the character of Hughie. He wrote an intro to an edition in 2007, explaining how Ennis was a fan of the great show Spaced, one of Pegg's first TV ventures. The end of his intro is pretty fun: "Sick, funny and disturbing, this rather marvelous collaboration answers an old question, 'who watches the Watchmen?' The Boys, of course, and they kick the living, fucking shit out of them to boot."
• The needle drops in the premiere were a bit too direct, right? I like "Barracuda," "Baby Did a Bad Bad Thing," "London Calling," and "The Passenger" as much as anyone else, but let's hope the show gets a little more creative with its soundtrack over the rest of the season.
• Speaking of music references, Hughie says he only listens to soft music like James Taylor, Billy Joel, and Simon and Garfunkel, but he wears a Nirvana shirt! Is that supposed to be a walking contradiction or is Kurt Cobain considered dad rock in this world too?
• It's a little surprising that The Boys is taking so long to introduce us to the rest of the Butcher's gang, choosing to start off with the more likable Hughie/Annie arcs. We haven't even met the titular group. Let's just say that if you think the show is dark now, you ain't seen nothing yet.