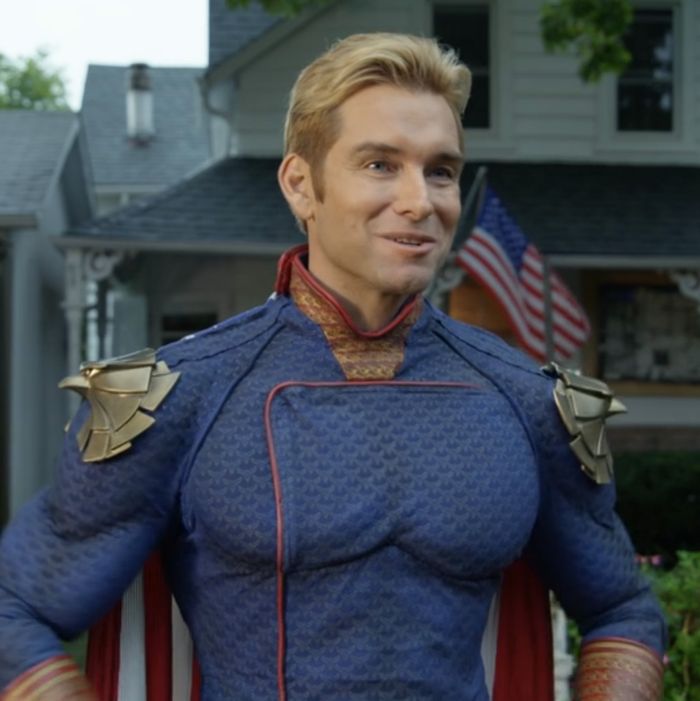 Finally. The way the team behind The Boys have teased out motivations and backstories all season has really left this show feeling thin and superficial through most of it. There's no more proof of this than how much stronger this episode is than what came before, in no small part because Karl Urban finally has something to play other than curse words and snarls. Along with his performance, the clever commentary on image manipulation, further development of Homelander's pathology, and a guest appearance from Haley Joel Osment make this an episode that not only creates legitimate anticipation for the final two, but also for the already-announced second season. This is the balance of character, humor, and plot that one wishes the show had more consistently from the beginning.
"The Innocents" is about two men dealing with trauma. Hughie is trying to move on from the death of Robin and falling deeper in love with Annie. William Butcher can't move on from the trauma of his wife's disappearance eight years ago. In fact, he doesn't even think he should move on. In his mind, that would mean accepting a corrupt, broken, vile system that's run by the Seven. At a support meeting for Collateral Damage Survivors — made darkly humorous by a story about a guy who had his member snap off when he was having sex with a hero who turned to ice — Butcher rails against what could be called "acceptance." Why accept that collateral damage even exists? Why not dismantle the system that causes it? As Butcher says, "Where's your fucking rage?!?!"
We later learn where Butcher's rage comes from, and it allows Urban his most resonant dramatic beats so far. Why did Rebecca Butcher disappear? It turns out she was raped by Homelander. Sitting on the bench where she was last seen alive, Butcher tries to find common ground with Hughie — they both lost their girlfriends to members of the Seven. Now it's time for vengeance.
The throughline for "The Innocents" is a promotional video being created by Vought called "Super in America" (a clear and clever riff on Ronald Reagan's "Morning in America" campaign). The video allows for a bit of background for Queen Maeve and Homelander, embedded in the fact that we know all of this is bullshit now. Supes don't have background. They were created in labs. So when Homelander tours his family home and shows viewers his Little League trophies, it's obviously all a lie. He has a genuine response to a baby blanket that he didn't want to see on set, and we later learn that it's the only real thing from his childhood, spent in a padded medical room. No wonder he has such an Oedipal thing for Stillwell — he never had a real mother.
While the episode returns on and off to "Super in America," allowing for some funny beats with A-Train and The Deep, along with a scene that further details Queen Maeve's broken relationship with another woman, its main plot involves trying to figure out the truth behind the background of Frenchie's "miracle" female friend, who we later learn is named Kumiko. It leads Frenchie and Mother's Milk to a hero named Mesmer, played by Haley Joel Osment! Casting an actor best known for playing a kid who could see things that no one else could as, well, a superhero kid who was on TV seeing things no one else could is a nice bit of meta cleverness. And Osment is very good as a B-level hero, stuck signing autographs and doing readings at a convention with Shockwave, Billy Zane, and Tara Reid of all people. (Is she a hero? Let's hope her powers are Sharknado-related.)
MM convinces Mesmer to read Kumiko by emotionally bribing him, giving him the opportunity to see his estranged daughter for an hour a month. The look on Osment's face when he hugs his daughter reveals the truth he later speaks, that she doesn't want anything to do with him, and he can read that without his superpower. Mesmer fills in Kumiko's background: She's a child soldier, kidnapped by a terrorist group called the Shining Light Liberation Army. She was taken and pumped full of drugs to become a super-terrorist, and it was likely at Vought's command. They're creating supervillains, but now she's with the good guys and just wants to get back to her brother, still under SLLA control. Mesmer sells out his new pals, giving photos of the Boys to Homelander, and desperately asking to have even a lowly job at Vought. The jerk flies off without a response (and with Mesmer's phone).
Butcher takes his mountain of evidence to his contact at the feds, and she basically panics. Won't Homelander just kill them all? How do you take down an invincible lunatic? She won't have anything to do with it. Butcher returns to say that the Boys will have to do the dirty work themselves, and realizes that Hughie is gone. He goes to confront Hughie on his date with Annie, just as our cute couple finally has their first kiss. Butcher is displeased. After all, what will Annie do when she finds out that her new boyfriend is a hero-killer?
Extra Frames
• Finally, a Billy Joel song! The show has referenced him a few times and Hughie has a Billy shirt, but they saved actually using a song for the strong note on which this episode ends: "Big Shot".
• So Annie is in for a rude awakening regarding her backstory, right? Or was she not created in a lab? And how much does her mother know? Is she involved? I never really trusted her.
• It's great to see Osment again. The guy has been solid in a lot of genre TV recently, including Hulu's Future Man and the reboot of The X-Files. I hope he comes back next season here.
• Anyone from the Midwest have the same reaction when they heard that The Deep, forced to go on an apology tour and a sabbatical after what he did to Annie became public, is being banished to Sandusky, Ohio? Cedar Point! One of the best amusement parks in the country is in that small Ohio town. Let's hope we get a shot of The Deep riding the Gemini.
• The way Antony Starr switched on the charm from vicious to smiling when the director called action was chill-inducing. He's been really good this season. If anyone wants to remake American Psycho, he'd make a solid Patrick Bateman.
• If you thought you recognized the actress playing the "Super in America" director named Courtney, you've probably seen Jackie Tohn in the Netflix hit GLOW, where she memorably plays Melanie "Melrose" Rosen.
• For a show that's often a bit too doused in testosterone, there may be something to the fact that the best episode so far was written and directed by women, Rebecca Sonenshine and Jennifer Phang, respectively. Discuss amongst yourselves.