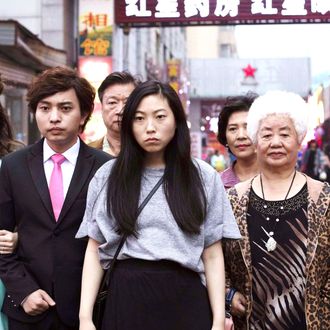 Goes to show you, sometimes putting one sweet grandma in peril is just as effective as half the known universe. And that's a lot of grandmas! According to Variety, director Lulu Wang's The Farewell just beat out Avengers: Endgame for this year's highest per-theater opening weekend box-office average. Of course, The Farewell opened at four North American theaters and Endgame opened at 4,662, so box office total-wise, Thanos still destroyed the competition. Nevertheless, it's good to know that wherever people could see Awkwafina's starring role in the bilingual familial drama, they snapped to it.
The Farewell reportedly made $351,330 at New York's AMC Lincoln Square and the Angelika, and Los Angeles's ArcLight Cinemas and the Landmark combined, giving the film an average of just about $87,833 versus Endgame's $76,601. Not bad considering the power outage that temporarily knocked out the electricity to AMC Lincoln Square Saturday night along with a large swath of Manhattan.
In response, Lulu Wang took to Twitter to jokingly invite audience members to her place for a viewing party. "Come over to my house and I'll screen it. You bring the food, I'll bring the movie," she tweeted, later adding for the extremely literal sticklers prepared to come for her ticket sales: "Obviously joking." The Farewell opens nationwide on August 2.