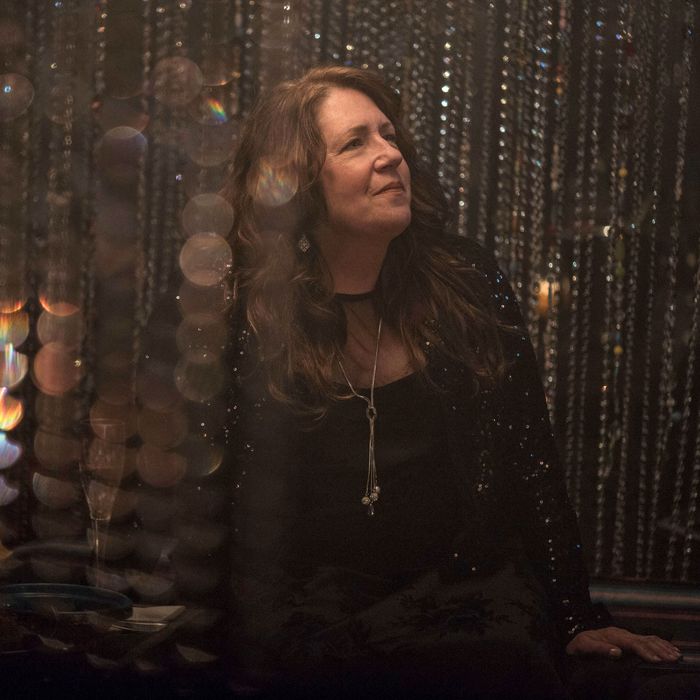 Ann Dowd's Lydia in
The Handmaid's Tale
, pre-Gilead.
Photo: Jasper Savage/Hulu
After three seasons, fans of The Handmaid's Tale are finally getting what they've waited for: a flashback-heavy dive into Aunt Lydia's life, revealing how a former family-court lawyer turned school teacher became a Gilead-abiding taskmaster. But ahead of this week's episode, "Unfit," no one was more excited and anxious to learn the backstory of the show's evil stepmother than Ann Dowd, who won an Emmy playing Aunt Lydia in the first season and has waited 31 episodes to get the character out of her sadistic auntie uniform.
In "Unfit," viewers see a seemingly softer Lydia wearing makeup and blown-out hair, getting close with a student and his young single mother, flirting with her boss, and even showing off some of her karaoke moves. It's a stark contrast to the Aunt Lydia behind several of the show's most disturbing moments, including a mass hanging in the second season. Until it isn't.
"Thank God for the writers, because their way into her I thought was so beautiful because it involved heartbreak," Dowd told Vulture. "It involved what the power of shame really is and what the power of shame can do to derail a life — the thoughts of what could have been for her, if only she could have let the shame down. But she couldn't do it."
The story in "Unfit" doesn't reveal how Aunt Lydia arrived at Gilead or her position within the regime, but deftly shows the roles shame and humiliation play in her psyche. Divorced and with no children of her own, a pre-Gilead Lydia devotes herself to her work and decides to help a struggling mother named Noelle (Emily Althaus) take better care of her son, even spending Christmas with the family. After Noelle encourages Lydia to get out more and gives her a makeover, Lydia goes to an office New Year's Eve party, where she flirts with her boss, Mr. Thorne (John Ortiz), performs karaoke with him, and gets carried away when they are making out in her home later. When Mr. Thorne, a recent widower, tells Lydia he's not ready to sleep with her but wants to continue seeing her, she shuts down and shuts him out. After he leaves, she weeps in her bathroom and shatters the mirror with her hands.
"So much of this season with Lydia is about losing control, and in those moments where she feels like she's lost control, she's humiliated," showrunner Bruce Miller said. The writers had discussed Lydia's backstory since they began developing the show, and in "Unfit," they chose to jump all the way back to a pre-Gilead period to illustrate how shame and humilation have played a crucial role in her life. "What I was looking for in her past was, What does feeling humiliated do to her? These are core things that don't really have anything to do with Gilead," Miller said. "In some ways, what I wanted to show is that Lydia is just as unforgiving to herself as she is to everybody else. That doesn't make her a good person. But it certainly is interesting."
In the episode, Lydia takes out her mortification on the family she's taken in, subconsciously blaming Noelle for the chance she took with Mr. Thorne. She calls family services and has the boy removed from his home, explaining her actions to her boss and hinting at the Gilead that's to come: "The child is vulnerable to a corrupting influence. We are required by law to report moral weakness."
"I was raised in a loving home, but there was huge shame around sex," Dowd says, trying to understand her character. "You have to wait for marriage. It's the work of the devil. Women take a backseat. So this made so much sense to me, the fact that she went a little further than he was ready to go. There's shame that she did it because she's the woman and she shouldn't have done it. If it hadn't been for Noelle, Lydia wouldn't have taken those steps, so I think she connects those things. I better stick to the original plan. I will continue to teach. I do not want romance, sexuality in my life, and I will not allow half-baked mothers to keep their children."
In the same way, in Gilead, Aunt Lydia uses her full authority to match handmaids to homes that need children, taking away every last shred of their freedom and dignity. "Unfit" shows how aunts gather with their handmaid files and glasses of sherry, turning a wheel at the center of a wooden table, as they assign young women to the unbearable job of birthing children for masters who rape them. "Not every household and handmaid is a good fit," says Aunt Lydia, turning the wheel. "Environment cannot be underestimated as an influence. Sometimes it's the apple and sometimes it's the barrel."
"I always thought the aunts go home to their dormitory and their twin bed," Dowd said of the scene. "Something about that depresses me. I know it's kind of stupid, but then to see them sitting around and drinking sherry and gossiping? Thank you very much, I love it."
Dowd also loved her first day of work on the episode, when she and Ortiz shot the karaoke performance of "Islands in the Stream." The writers chose the Dolly Parton–Kenny Rogers song after looking through lists of duets for tunes that would not carry deep meaning for Lydia or Jim. "It's one that comes up when you press 'duets' and it's not too overwrought in terms of choice," Miller said. "You just see a completely different side to this woman because everything is incongruous — the party, the makeup, the hair, the flirting, the comfort with this man, and alcohol."
It was also Dowd's first time trying karaoke in her life. "We had to jump in with everything we had," she said. "John and I got on immediately and it was so fun, as mortifying as karaoke is. Plus, you gotta practice that harmony, man, and there was none of that going on. It was fast and it was just a blast."
Back in Gilead, though, after learning so much about Aunt Lydia's life and backstory, viewers come close to losing her at the end of the episode. Ofmatthew (Ashley LaThrop), who is pregnant for the fourth time and has been provoked by June (Elisabeth Moss), loses it and pulls a gun on a room full of handmaids and Aunt Lydia. June nudges her to shoot Aunt Lydia, but when Ofmatthew points the gun at her, a soldier shoots and kills Ofmatthew before she can will herself to pull the trigger.
"You've been trained to both hate this person and fear this person, and the handmaids have been indoctrinated that this person is untouchable," Miller said, explaining Ofmatthew's reluctance to shoot Aunt Lydia. "You're not wondering when they'll snap, just what will happen when they do. And so, I thought it would have been hard for Ofmatthew."
Besides, there is another compelling reason to keep Aunt Lydia around longer, Miller says. "When the story ends in the book, there's a historical accounting later and you get the sense that Lydia played a very big role in the intervening years in Gilead after June, so I think whatever story we tell, Lydia is central to Margaret Atwood's Gilead. So she's central to ours."