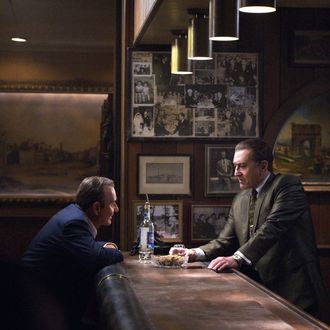 Film Twitter's clowns really thought they could get away with trying to deny Scorsese his throne!
Photo: Netflix
The Irishman is coming! The Irishman is coming! Martin Scorsese's much-anticipated reunion with Robert De Niro, Joe Pesci, and Harvey Keitel will have its world premiere as the opening-night film of the 57th annual New York Film Festival. "The Irishman is so many things: rich, funny, troubling, entertaining and, like all great movies, absolutely singular," NYFF director Kent Jones said in a statement. "It's the work of masters, made with a command of the art of cinema that I've seen very rarely in my lifetime, and it plays out at a level of subtlety and human intimacy that truly stunned me. All I can say is that the minute it was over my immediate reaction was that I wanted to watch it all over again." In addition to being Scorsese's return to the crime genre, the movie will be his first collaboration with Al Pacino.
Based on the nonfiction book I Heard You Paint Houses by Charles Brandt, the movie will follow a few infamous mafia men: Pesci as Pennsylvania mob boss Russell Bufalino, Pacino as Jimmy Hoffa, and De Niro (and his platforms) as Frank Sheeran. The Irishman, set to stream on Netflix after its theatrical release, will also use de-aging technology to make its actors look decades younger. The New York Film Festival, presented by Film at Lincoln Center, will run from September 27 to October 13.